Cigarette butts 'block corrosion'
By Matt McGrath
Science correspondent, World Service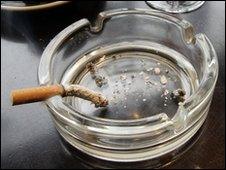 Scientists working in China say they have found a novel use for discarded cigarette butts.
They have discovered that chemicals extracted from these filters can protect steel pipes from corrosion.
The research is published in the journal Industrial and Engineering Chemistry Research.
The work could make the prospect of recycling cigarette butts financially viable, experts say.
On pavements, nature trails and especially on beaches, wherever you find people on this planet you inevitably find cigarette butts.
Around 4.5 trillion of these remnants find their way into the environment every year.
Capable of surviving up to 15 years in the sea, cigarette ends contain chemicals that are toxic to many forms of fish.
Now researchers in China say they have found a novel use for these chemicals that could make the recycling of cigarette butts financially worthwhile.
The scientists found that by immersing the butts in water they were able to extract nine different chemical compounds, including nicotine.
When these extracts were applied to a type of steel widely used in the oil industry they were found to be very effective in preventing corrosion, even under harsh conditions.
The replacement of rusting steel pipes is a major ongoing cost for oil producers around the world.
China itself has no shortage of cigarette butts for scientists to experiment with - one third of the world's cigarettes are consumed there.
Related Internet Links
The BBC is not responsible for the content of external sites.