What's in the education minister's in-tray?
By Sean Coughlan
BBC News education correspondent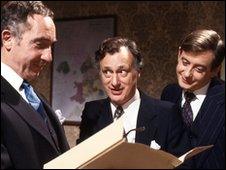 What's going to be waiting in the in-tray for whoever takes over running education in England?
Regardless of any other political ambitions, there will already be some big items on the to-do list.
Before anyone even gets the chance to swivel in the big chairs in the education department, the first challenge will be to get a grip on the primary school Sats tests, which might or might not be taken this week.
If the ash cloud of the general election hadn't blotted out coverage, this would have been seen as an unprecedented challenge to the authority of any schools minister.
The boycott by head teachers has cast a fog of confusion over these compulsory national tests.
It remains unknown how many of the 600,000 pupils who should be taking Sats will be doing so - and how much the annual school league tables will be disrupted.
It is also entirely unclear what happens when such figures of authority as head teachers decide not to do something that the government says is their statutory duty.
There will be tricky choices for ministers on how to respond to this classroom rebellion.
Should they act tough with head teachers? Or should they offer a flag of truce? Will ministers look weak if heads can pick and choose which policies they carry out?
If they agree to change the testing regime, will it set a precedent for heads to ditch other ministerial projects?
If they pick a fight with the heads, how much harder will it be to push through any other plans? While ministers propose, in the end it's thousands of head teachers who are central to making things happen.
An even thornier issue will be waiting for higher education ministers: raising tuition fees.
This had been kicked into the long grass with a review that was conveniently scheduled not to report until safely after the election.
But the election result has mowed the grass and left this topic ticking away in full view, waiting for a minister brave enough to approach when the review reports back later this year.
It's something of a perfect storm.
More people than ever before want to go to university. It's become an expectation of middle England and the aspiration of many more. Disappointing these families is going to make them very unhappy voters.
University places are very expensive and the government is desperate to limit public spending on higher education. They won't be able to pay for the thousands of extra places needed to meet the surging demand.
But universities still need funding and many of them want to be able to charge higher fees - maybe £5,000, £7,000, £10,000 per year. In the US, leading universities charge three times as much.
It's a poisoned chalice for any minister, particularly when they're keeping a weather eye on another election. Do they want to be identified with a plan to double or treble the cost of going to university?
There are already cynics suggesting that in a climate of political uncertainty, the fees review might be spun out even longer.
Both schools and higher education face another iceberg on the horizon. Funding. Or more particularly, the lack of it.
Funding is going to be a recurrent problem for education ministers - likely to appear in many guises, affecting staffing, places, buildings, pay, outsourcing, vocational courses, equipment and innovation.
These will compete for attention alongside hardy perennials such as worries about exam standards, behaviour and school admissions.
The curriculum, as ever, will be promised to be "slimmed down" at the same time as a list of new things are promised to be added.
Any incoming minister will want to make their mark with a raft of eye-catching policies - but this time they are going to be severely constrained on spending. The pressure will be to cut costs rather than to announce expansion.
New ideas will have to be launched without much new money - and that's without factoring in extra spending that can't be avoided. For instance, there is going to be a continuing need for more primary school places in many parts of the country as the birth rate continues to climb.
The years of splashing the cash look like they're over. It's going to be about clever savings and targeted spending. The challenge for ministers could be trying to find ways to sell less as more.