Angela Merkel eyes quick eurozone reform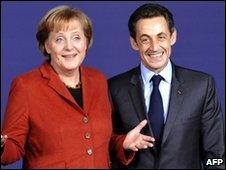 German Chancellor Angela Merkel has called for an "acceleration" of efforts to regulate the finance sector in the eurozone.
At a gathering of eurozone leaders in Brussels, she said there was "no more time" to reform market regulations.
The meeting is being held to discuss how to prevent the Greek debt crisis from spreading.
Mrs Merkel and French President Nicolas Sarkozy say they want rules that limit government spending to be enforced.
The pair added they were "fully committed to preserve the solidity, stability and unity of the eurozone".
Speaking before the meeting, Greek Prime Minister George Papandreou stressed the importance of the summit.
"The Greek people have endured the strain and the pain of the economic crisis during the last few months," he said.
"At the same time there is unprecedented volatility throughout the world and the world economy. That is why today's meeting here in Brussels is so important."
Separately, finance ministers from the G7 group of nations have held a conference call to discuss Greece and the eurozone.
And US President Barack Obama told Mrs Merkel by phone that he backed efforts to rescue Greece.
"We agreed on the importance of a strong policy response by the affected countries and a strong financial response from the international community," President Obama said.
Earlier on Friday, German politicians approved the country's contribution to a European Union (EU) and International Monetary Fund (IMF) bail-out for debt-laden Greece.
They have pledged as much as 22.4bn euros ($28.5bn; £19.3bn) in loans to be offered to Greece over three years - part of the wider 110bn-euro EU and IMF rescue deal agreed earlier this week.
Despite having been opposed to the move, Germany was ultimately pushed into action by its own economic interest, with Mrs Merkel describing it as "the only way to ensure the stability of the euro".
In a letter to France's Le Monde newspaper, Mrs Merkel and Mr Sarkozy set out several initiatives to try to stabilise financial markets by forcing eurozone countries to take a tighter grip of their finances.
The recommendations include:
stricter monitoring of eurozone member debt
a financial sector bail-out fund paid for by banks
a clampdown on credit rating agencies.
The way that Greek finances suffered after ratings agency Standard & Poor's downgraded its government debt "should make us think about the role of credit rating agencies in the propagation of a crisis", the letter says.
Also speaking ahead of the summit, European Commission President Jose Manuel Barroso said he would do "whatever necessary to ensure that financial markets are not a playground for speculation".
Meanwhile, monitoring European debt remains a hot topic after Greece's deficit surpassed 13% of its gross domestic product (GDP).
As a condition of entering the eurozone, members are supposed to keep their public sector deficits under 3% of GDP.