Cannes Film Festival 'ready' after freak storm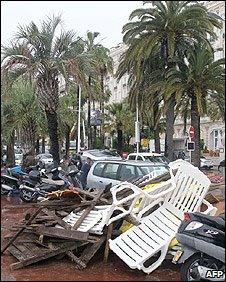 Cannes Film Festival organisers have said the French resort will be ready for the start of the event after it was hit by severe weather.
Freak waves caused millions of Euros of damage to waterfront cafes on the town's landmark Croisette.
"We will need several days to clean up, but it should all be ready on time," said city councillor David Lisnard.
The film festival runs from 12-23 May and will attract thousands of people to the south of France.
Some 10,000 film industry people and an additional 4,000 journalists are expected to attend the event.
Ridley Scott's Robin Hood, starring Russell Crowe and Cate Blanchett, will open this year's festival with stars of the film expected on the red carpet.
The film, about the birth of the Robin Hood legend, also stars William Hurt.
Alice in Wonderland director Tim Burton will head this year's Palme d'Or jury.
A total of 16 directors will compete for this year's top honour, including South Korea's Lee Chang-dong and France's Bertrand Tavernier and Xavier Beauvois.
The Croisette - Cannes' beachside thoroughfare - is the focus for the festival's action, with screens on the sand and numerous restaurants and cafes.
Mr Lisnard told the AFP agency that work to set up for the film industry had only just got under way when the bad weather struck.
He added that the festival's infrastructure would be "safe, sound and clean" in time for its starting date.
Related Internet Links
The BBC is not responsible for the content of external sites.