Actor Corey Haim died of natural causes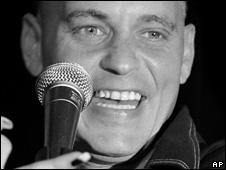 Lost Boys star Corey Haim died of pneumonia not directly linked to drug abuse, a post-mortem examination found.
The 1980s film actor, who died in March aged 38, had low levels of drugs in his blood, but not "at a level that would have contributed to his death".
Haim's lungs were damaged and his heart and liver enlarged, added Los Angeles coroner's spokesman Craig Harvey.
The Canadian-born star had long battled drug abuse, including prescription medication.
Haim collapsed in his mother's apartment and had been suffering from flu-like symptoms.
California's attorney general said he had been obtaining prescription pills from various sources using a variety of names, known as "doctor shopping".
He had used this method to obtain various painkillers including Oxycontin.
But none of the drug was found in his system during the post mortem examination, Mr Harvey said.
He added that it was unclear how long he had been ill for and if earlier treatment might have saved him from the effects of pneumonia.
In recent years Haim starred in reality TV show The Two Coreys with his friend Corey Feldman, which was cancelled after two series.