University and college lecturers strike hits students
By Katherine Sellgren
BBC News education reporter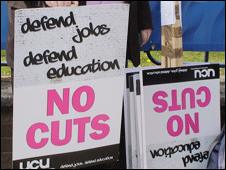 Thousands of students preparing for exams have been disrupted by a walk-out by lecturers over funding cuts.
Lecturers at 14 universities and further education colleges in England staged a one-day strike on Wednesday.
The University and College Union (UCU) said it opposed "massive" cuts which would lead to job losses.
Union members at 11 London colleges, Westminster University, King's College London and Sussex University took part in the action.
The UCU organised the walk-out, saying universities face funding cuts of nearly £1bn, while the further education sector has to make savings of £340m in the next academic year.
Pete Green, UCU representative at Westminster Kingsway College, said the vast majority of union members had taken part in the action.
"I would say the mood was extremely positive and very determined and prepared for further action if necessary, regardless of what party wins the election," he said.
"We are sending a message to whoever wins the election that we will not stand for this."
The strike action comes as universities face a period of funding cuts and record numbers of applications for courses.
In England, universities face real terms budget cuts next year of 1.1% and Welsh universities are likely to face a major review into how they are run, to ensure they deliver value for money.
Scottish universities have been told they will have a 1.2% increase on funding.
The squeeze on funding coincides with record numbers of young people applying to university.
Figures published by university admissions service, Ucas, showed a 16.5% increase in applications this year on last year.
UCU general secretary Sally Hunt said: "People are losing their jobs and access to education is disappearing.
"We believe in the power of education to make a real difference to people's lives and do not think we should be slashing funding at a time when more people than ever need access to education.
"UCU members are still on the side of education and we will be fighting to save jobs and defend education."
The 11 colleges involved are Barnet College; City and Islington College; College of Haringey, Enfield and North East London; College of North West London; Greenwich Community College; Hackney Community College; Lambeth College; Lewisham College; Richmond upon Thames College; Tower Hamlets College and Westminster Kingsway College.
Staff at University College London were due to be taking part in the walkout.
But on Tuesday it was announced the university and union had come to an agreement over jobs and the action would not go ahead at UCL.
Related Internet Links
The BBC is not responsible for the content of external sites.