Goldman Sachs faces shareholder lawsuits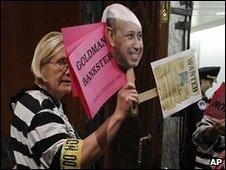 Goldman Sachs has revealed that shareholders have filed a series of lawsuits against the bank, accusing it of various forms of mismanagement.
The shareholders want the bank to pay out compensation and called for corporate governance reforms.
Goldman has already been charged with fraud by the US financial regulator and reports suggest it is also under criminal investigation.
The Wall Street giant has denied all accusations of wrongdoing.
It refused to comment on the shareholder lawsuits.
A filing by the bank with the regulator, the Securities and Exchange Commission (SEC), said several lawsuits had been brought against it, accusing the firm of a "breach of fiduciary duty, corporate waste, abuse of control, mismanagement and unjust enrichment".
Shareholders accused Goldman of failing to implement proper risk management procedures while designing and selling complex mortgage-backed derivatives that lost investors huge sums of money.
"[The] defendants failed to implement controls with respect to the evaluation, approval and management of the structure, risk, marketing and distribution" of the derivatives, the filing said.
They also alleged there was a conflict of interest in the way in which the derivatives were sold.
"[The] transactions were neither approved or reviewed by independent members of the [Goldman] board, but instead were reviewed and approved by long-term members of management whose compensation was directly linked to the approval and completion of the proposed transactions."
Shareholders also accused the bank of not fully disclosing facts that should have been made public.
In one action against the firm, shareholders alleged the bank was forewarned it may face charges concerning its role in the sale of the complex derivatives, but failed to disclose this fact.
As a direct result of Goldman's dealings in mortgage derivatives, and the resultant charges of fraud by the regulator, shareholders said the bank "has been significantly and materially damaged, faces billions of dollars of liability and has suffered serious damage to its reputation and image".
In its filing, Goldman said it expected further shareholder actions to be brought against it.
Last month, Goldman was charged with fraud by the SEC, wiping billions of dollars off the firm's stock market value.
Related Internet Links
The BBC is not responsible for the content of external sites.