M&S: What's in store for its new chief Marc Bolland?
By Russell Hotten
Business reporter, BBC News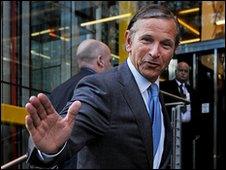 Rarely does the arrival of a new chief executive warrant so many headlines. But, then, Marks and Spencer is no ordinary retailer. It is a British institution.
Actually, that's not quite true. M&S's problem is that it has, in fact, become just an ordinary retailer. And Marc Bolland's job now is to return this High Street stalwart to its former glory.
The former Morrisons chief executive officially started at M&S on Tuesday, replacing Sir Stuart Rose, who remains as chairman.
Mr Bolland, 50, walks into M&S with a big reputation - but also with a bulging in-tray awaiting him (and an £8.5m pay package).
On almost every front, he faces what executives like to call, euphemistically, "challenges".
The retailer's core operations - clothing and food - need reviving.
But Mr Bolland has other areas to address: international expansion, lacklustre marketing, building the internet presence, improving relations with the City, modernising the infrastructure, mollifying (or even replacing) executives who were passed over for the top job.
This is not to suggest that M&S is in crisis. Today's problems are nothing compared to those that faced Sir Stuart when he took over six years ago - seemingly terminal decline and takeover predators at the door.
Sales growth in the last quarter was ahead of analysts' forecasts, and M&S shares are still above what they were 12 months ago.
Yet, as Richard Jeffrey, chief investment officer of Cazenove Capital Management, argues: "It's been a brand under pressure for quite a long while.
"I think Stuart Rose, when he came in, seemed to do a pretty good job. But I think he did a good job at papering over some cracks. And some of the cracks are opening up again.
"The problem for M&S is that it's cache is not strong enough in premium food brands, where it's been overtaken by Waitrose. And it's probably not strong enough in fashion either.
"And so there's no must-have [products] to go into M&S [for] at the moment," Mr Jeffrey said.
Sorting out the clothing division has to be a priority. The operation faces tough competition from trendier High Street rivals.
There were encouraging signs from recent sales figures that M&S clothing is enjoying a resurgence.
That said, M&S is far from overcoming its perennial problem: How can it attract a youthful customer without alienating traditional shoppers whose average age is put at about 45 years?
Nick Bubb, analyst at Arden Partners, said: "When he arrives he needs to ask Kate Bostock [head of clothing] what the difference is between the brands, and who buys what."
To bolster sales, M&S has expanded the number of sub-brands: Per Una, Indigo, Autograph, Speziale, Weekend, plus Portfolio for the older woman, and Blue Harbour for men.
But, says Mr Bubb: "At the moment it's over-complicated and is trying to be all things to all women."
Some analysts believe that, lacking experience in clothing retailing, Mr Bolland may struggle to square this circle. Yet others argue that his undeniable marketing flair should see him through.
In the food business, M&S is losing market share. The recession boosted the attractions of supermarkets' own-label brands. M&S responded by cutting prices, but this has hit margins.
One answer could be to invest in a bigger home delivery service. But competing with the all-conquering Tesco.com could be a risky strategy.
Greg Lawless, analyst at Collins Stewart, said it is essential that Mr Bolland sort out Simply Food, M&S's stand-alone groceries store.
"Is [Simply Food] a food store, or a food store that also sells a limited range of non-foods? Mr Lawless asks.
He believes the food business has gone "backwards" since the 1990s. M&S must "become famous again for innovation and prepared foods," he said.
Once Mr Bolland sorts out his strategy - who the audience is, and what he is going to offer them in the way of clothing and food - he must then devise how he is going to target them.
M&S's brand image, and the way it marketed itself to bolster that image, was key to the retailer's success.
Investors will be looking for Mr Bolland to repeat the rebranding success he had at Morrisons, where celebrities such as Richard Hammond and Denise Van Outen were used to boost sales.
Some analysts, including Arden's Mr Bubb, have questioned how much change Mr Bolland will be able to make while Sir Stuart's presence still dominates at M&S.
Sir Stuart had a difficult relationship with the City, a legacy of the rows over him taking on the roles of both chairman and chief executive, which some felt breached corporate governance rules.
But a failure to conjure up an instant strategy should not be misinterpreted, Mr Lawless cautions.
"Bolland will take six months to formulate his strategy, and update the market in the autumn, probably at the interims [half-year results]. This is exactly what he did at Morrisons," he said.
Related Internet Links
The BBC is not responsible for the content of external sites.