Volcano ash: EU ministers agree air travel action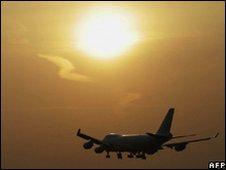 EU transport ministers have agreed measures they say will help prevent further disruption to air travel as a result of volcanic ash.
The measures include speeding up current plans to integrate Europe's air space, creating a "single European regulator for a single European sky".
The European Commission will also draw up guidelines to allow national governments to compensate airlines.
Airlines are estimating losses of tens of millions of pounds due to the ash.
The disruption last month grounded planes in Europe for six days, leaving millions of passengers stranded.
Speaking after the meeting, the European Transport Commissioner Siim Kallas said it was important to ensure that "millions of people and businesses never have to re-live the crisis of the last few weeks".
"This is going to continue to happen. It might be next week. It might be in 20 years. But it will happen again; and volcanoes do not obey rules," he said.
The extraordinary meeting of European ministers follows criticism from the airline industry that governments took an over-cautious approach to the crisis, grounding flights unnecessarily.
It is hoped that creating a single regulator responsible for all of Europe's airspace will provide a faster and more coherent response to similar situations in the future.
The plan was already scheduled for 2012, but will now be brought forward to this year.
Airlines have also complained about the complexity of the current system, arguing that they currently have to negotiate 27 different air spaces across the EU.
The commissioner also said the EC would "stand ready" to draw up guidelines to allow governments to compensate their airlines for losses incurred as a result of air space closures.
No money from the EU itself will be committed, but in earlier comments Mr Kallas said he was open to the idea of compensation despite the strict EU rules on state aid.
Aer Lingus is the latest airline to quantify the effect of the disruption. It estimated that it lost about 20m euros ($26.3m; £17.2m) as a result of the stoppages.
Meanwhile airlines including Ryanair have called for EU compensation for money they have paid out to accommodate and feed stranded passengers.
In the UK, the Association of British Insurers estimates that travel insurers will pay out about £62m to passengers hit by the disruption.
Mr Kallas also indicated a desire to build "pan-European" transport networks that will be able to take over from the airlines should flights be grounded again.
But he added that the commission "would never compromise on safety".
Related Internet Links
The BBC is not responsible for the content of external sites.