US economy grows by 3.2% in first quarter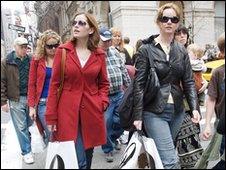 The US economy grew at an annualised rate of 3.2% in the first three months of the year, official figures have shown.
The continued recovery in the world's biggest economy was founded on strong personal consumption, the Commerce Department said.
The economy grew at a rate of 5.6% in the final quarter of 2009.
Part of the reason for the slower growth was reduced government spending and a fall in exports.
The first-quarter figure is an initial estimate based on incomplete data and will be revised either up or down in the coming months.
Personal consumption rose by 3.6% between January and March, compared with an increase of 1.4% in the previous quarter.
"Retail sales are up, people are spending money," said Michael Woolfolk at BNY Mellon.
"We're seeing the beginning of the process of a broad-based recovery."
Exports grew by 5.8%, significantly less than the 22.8% growth rate in the final three months of 2009.
The annualised rate of economic growth takes the growth over a three-month period and projects what it would be over a 12-month period.
President Barack Obama said that the figures showed the US wasmoving in the right direction and were "an important milepost on the road to recovery".
Related Internet Links
The BBC is not responsible for the content of external sites.