Ash cloud passengers unite to publish magazine
By Jamillah Knowles
Online reporter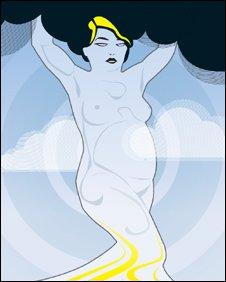 The ash cloud that shut down British airspace, stranding thousands of people has produced an unlikely creative connection; a collaborative magazine.
The as yet nameless publication was the brain child of writer and editor Andrew Losowsky, who found himself stranded in Dublin.
Stuck with very little to do for work, Andrew put a call out online for editors, illustrators, designers, photographers and other creative people who were grounded in similar circumstances to take part in the project.
Around 50 people contacted him.
"This is an event that is hopefully coming to an end so whatever we make will be an artefact of that time," he told Radio 5's Pods and Blogs.
All of the volunteers were asked to collect the same information for comparison.
First, they were told to take a photograph of the bed they were sleeping in, wherever and whatever that might be.
Andrew also asked those who responded to head to the nearest bar, ask the bartender to create a drink called a Volcano and write down the recipe. The various skills of participants were also identified for various individual commissions.
A US horror writer was stranded in the UK and he wrote a story set inside the ash cloud. A Belgian DJ stuck in Singapore has created a playlist to play in abandoned airports.
"A friend of mine saw the project and sent me a link, said Max Davis, who was stuck in Milan, waiting for a flight into London Heathrow.
"I knew I would be stuck for a few days and this gave me something to work on."
Max creates hand-drawn zines and so was asked to create one based on his journey.
"I'm really looking forward to holding a copy of the magazine. I met a lot of strangers while I was stranded, all talking about their experience, all brought together by the same thing," he said.
Matt McArthur, another volunteer, was tasked with the mission to create a poster sized image depicting the volcano as though it was something to be worshipped.
Andrew Losowsky says he hopes that the magazine provides an intriguing item for people to remember what happened at the time.
He will be creating a digital version of the magazine, but the main objective is to create a physical magazine using the print on demand service from Magcloud.
The service allows users to upload their own PDF files to create magazines which can be ordered and printed to sell anywhere in the world.
"In this case it felt like the right time to make a physical item rather than digital one" explained Andrew.
"To create a website would be something continually updated for a while but eventually it would wither away and die in a corner of the internet.
"To make a physical product means that it exists on your bookshelf that you can pick up and read and remember. It happens in a more serendipitous way in your life; it brings back the emotional resonance again."