Miles Davis
Jazz trumpeter, bandleader, songwriter.
Born 26 May 1926. Died 28 September 1991
Miles Davis
https://ichef.bbci.co.uk/images/ic/960x540/p01bqgpr.jpg
1926-05-26
https://musicbrainz.org/artist/561d854a-6a28-4aa7-8c99-323e6ce46c2a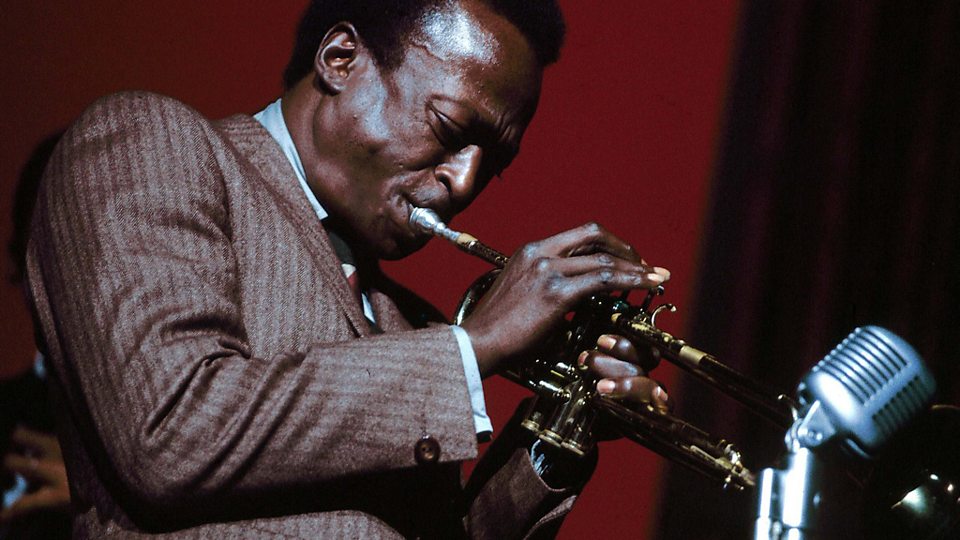 Miles Davis Biography (BBC)
The single most dominating figure in jazz for the second half of the 20th century, Davis influenced virtually every aspect of the music from bebop to cool jazz, from modal improvisations to free jazz, from funk and rock fusions to the dawn of the jazz-meets-world-music revolution.
He is regarded as the heir to the trumpet tradition pioneered by Louis Armstrong and Dizzy Gillespie, and his style is characterised by a clear-toned beauty on his open horn, and the delicate shading of the Harmon mute which produces a pinched, nasal and immediately identifiable timbre.
Davis began playing in and around St Louis, and came to New York to study at the Juilliard School, which he soon abandoned in favour of playing on 52nd Street with Charlie Parker, replacing Gillespie as the saxophonist's trumpet partner. He worked regularly with Parker from 1945-8, apart from Parker's spell in drug rehab during 1946-7.
Davis's first great album was Birth of the Cool recorded by his nonet in 1949-50, with arranger Gil Evans and a number of other great talents including saxophonists Gerry Mulligan and Lee Konitz, trombonist J. J. Johnson and pianist John Lewis. Davis's own drug problems blighted his early 1950s work although he made some fine discs with Sonny Rollins and Horace Silver in his line-ups.
In 1955 he formed a new quintet with John Coltrane on tenor that became one of the leading bands of the 1950s. He was reunited with Gil Evans in a series of discs including Porgy and Bess and Sketches of Spain that pitted Davis's solo trumpet against a large jazz orchestra.
In 1959, with a sextet that included Coltrane, Cannonball Adderley and pianist Bill Evans, Davis recorded what is thought to be the most popular jazz record of all time, Kind of Blue, which uses modal improvisation.
In the 1960s he formed a new quintet with Wayne Shorter, Herbie Hancock, Ron Carter and Tony Williams that set the standard for the decade's small group jazz, and it drew him towards a freer approach to rhythm and his first experiments with rock beats. In the late 1960s with new bandmembers Chick Corea Keith Jarrett, Dave Holland and Jack DeJohnette, he moved into a period of further experiment with free jazz and fusion including the discs In A Silent Way and Bitches Brew.
After a time away from the public eye in the late 1970s, he returned in the 1980s to lead a series of fusion bands, and to make a sequence of highly successful and popular albums starting with We Want Miles. He played right through the summer of 1991 at various international events, including - for virtually the only time in his career - reunions with members of his former bands, as well as a Montreux concert of his Gil Evans collaborations.
Miles Davis Biography (Wikipedia)
Miles Dewey Davis III (May 26, 1926 – September 28, 1991) was an American jazz trumpeter, bandleader, and composer. He is among the most influential and acclaimed figures in the history of jazz and 20th century music. Davis adopted a variety of musical directions in a five-decade career that kept him at the forefront of many major stylistic developments in jazz.
Born and raised in Illinois, Davis left to study at the Juilliard School in New York City, before dropping out and making his professional debut as a member of saxophonist Charlie Parker's bebop quintet from 1944 to 1948. Shortly after, he recorded the Birth of the Cool sessions for Capitol Records, which were instrumental to the development of cool jazz. In the early 1950s, Miles Davis recorded some of the earliest hard bop music while on Prestige Records but did so haphazardly due to a heroin addiction. After a widely acclaimed comeback performance at the Newport Jazz Festival in 1955, he signed a long-term contract with Columbia Records and recorded the 1957 album 'Round About Midnight. It was his first work with saxophonist John Coltrane and bassist Paul Chambers, key members of the sextet he led into the early 1960s. During this period, he alternated between orchestral jazz collaborations with arranger Gil Evans, such as the Spanish-influenced Sketches of Spain (1960), and band recordings, such as Milestones (1958) and Kind of Blue (1959). The latter recording remains one of the most popular jazz albums of all time, having sold over four million copies in the U.S.
---
---
---
Miles Davis Tracks
Miles Davis
Honky Tonk
https://ichef.bbci.co.uk/images/ic/256x256/p063dynm.jpg
link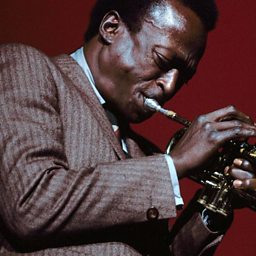 Sort by
---