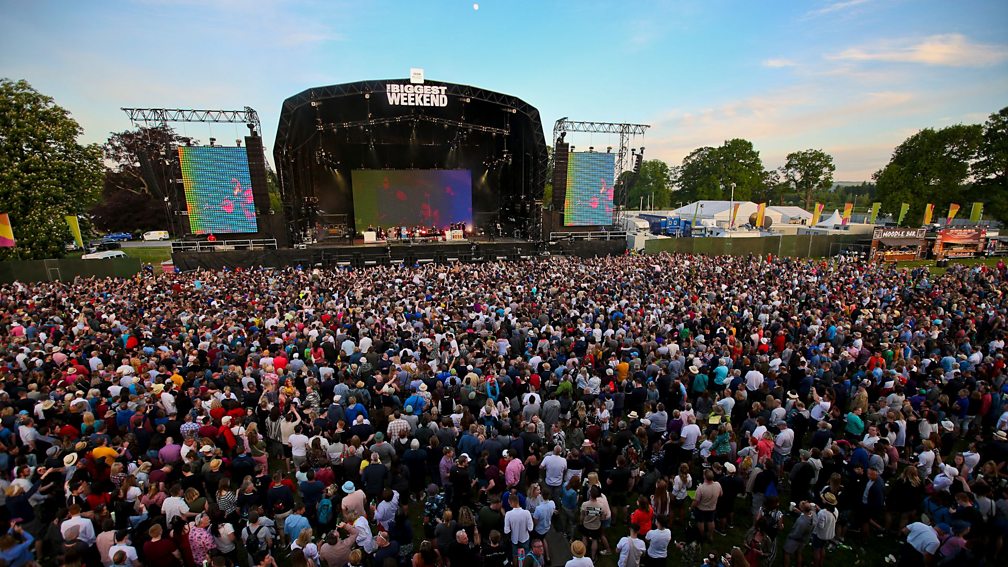 So many things have happened at The Biggest Weekend, it's been hard to keep track of them all.
Here are some of the smaller moments that you may have missed...
The Orbital fan who does what he likes
Orbital united young and old in dance on Friday night, as you can very well see. But something you may have missed is the guy who was having none of it. Despite making his way to the front, the mystery man (whose black sunglasses just added to the air of mystique) then proceeded to stand with arms folded, a stark contrast to the joyous revellers surrounding him. Does he prefer their older stuff? Or is he simply of the opinion that Chime is "too mainstream"? "Shut up and don't play the hits!" We'll never know.
Maya Jama hiring Ed Sheeran for her wedding
Interviewing Ed Sheeran backstage at Biggest Weekend in Swansea, Maya Jama had an interesting proposition for the singer. "I'm not engaged or going to get married yet, but if I do, can I offer you Stormzy to perform at your wedding, and you perform at ours?" she proposed, adding: "Not to put you on the spot, and you can actually say no." Sheeran didn't decline, but he did have one stipulation: "He'd have to perform my songs and if I performed at your wedding, I'd have to perform his". We can't wait to hear Ed's acoustic cover of Big For Your Boots and Stormzy's grime take on Galway Girl.
The return of Noel Gallagher's scissors player
Having made her debut on Later... with Jools Holland last year, Noel Gallagher's scissors-playing band mate was back during the High Flying Birds' headline set in Perth on Saturday night. The musician in question is called Charlotte Marionneau. She's French, wears a cape on stage and Noel has previously explained that the idea for turning a pair of snippers into an instrument came during one rehearsal where Marionneau said she couldn't play a tambourine. The pair compromised and Noel has since called Marionneau's scissors playing the "greatest thing" he's ever seen. We have to say, it's definitely up there.
Niall Horan's Welsh welcome pack
Some bands ask for beer on their riders, while other artists opt for green tea, carrots and dip. Niall Horan's arrival in Swansea for the Biggest Weekend, however, was marked with a Cymru-themed hamper of Welsh cakes, Welsh whiskey, Welsh sea salt and... socks. Thoughtful and practical.
Sam Smith's lovespoon
For those unacquainted with traditional Welsh gifts: a lovespoon is a custom-made carved wooden spoon given by Welsh people to prospective romantic interests. Radio 1's Huw Stephens was recently handed a lovespoon by women at a shop in Swansea and asked to pass it on to Sam Smith. Huw did just that and now Smith is the proud owner of a Welsh lovespoon.
Christine and the Queens's photobomb
You're backstage, calmly sipping on a drink before heading out to perform to thousands at the Biggest Weekend and you accidentally find yourself photobombing someone's Instagram snap. We've all been there, Chris, we've all been there.
Craig David's Swansea serenade
If you didn't catch Craig David's Biggest Weekend performance in Swansea on Saturday, you missed not only a revolving door of hits (Fill Me In, 7 Days and Re-Rewind, among them), a cameo from Bastille's Dan, but also Craig brilliantly working "Swansea" into almost every song he performed, each time sung with his signature elongated warble. As one fan put it: "Respect to Craig David for slotting Swansea into his classic lyrics but I'd love to see him play Llanfairpwll".
Greg James getting a new gig
Graham Norton arrived at the Biggest Weekend in style - and wearing a rather fetching paisley shirt. His arrival was such a big deal that he was greeted at the gates by Radio 1's very own Greg James. If you had to pick your own bodyguard, surely Greg would be up there. Surely...?
Liam Payne helping the Queer Eye gang prank each other
The Fab Five from Netflix's hugely popular (and massively heartwarming) Queer Eye were special guests of Radio 1's at The Biggest Weekend in Swansea, hanging out with the likes of Years & Years' Olly Alexander backstage. They even bumped into Liam Payne, who helped culture guru Karamo get his own back on culinary expert Antoni. On the train to the festival, the latter had crushed Karamo's biscuits and stuffed them in his shoes. So what was Karamo's revenge? Getting the former One Direction-er to repeatedly refer to Antoni by the name "Andrew". Brutal.
The cardboard Ed Sheeran
Some fans were in such disbelief at being able to watch a mega-star like Ed Sheeran open the festival at midday on Saturday that they brought along their very own cardboard cut-out of Ed, just in case. Luckily, Sheeran didn't get stuck in traffic from his previous night's show in Manchester, so there was no need to resort to the paper stand-in.
Anne-Marie watching you watching her
Anne-Marie arrived at the Biggest Weekend in Swansea by a private jet on Saturday, and she had plenty of time to savour every moment of her set on the Main Stage. What you may not have seen watching at home or from the crowd was the star getting a sneak peek of the massive audience gathered to see her shortly before taking to the stage. It made for a brilliantly candid moment.
When Camila Cabello and UB40 couldn't help singing the same song
Birmingham's pop-reggae legends UB40 first covered Elvis Presley's Can't Help Falling In Love in 1993, so it's fair to say they beat Camila Cabello, who also covers the song live, to the punch. But whose version do you prefer? We've put together a handy mashup to help you decide.
Ash taking BBC 6 Music back to where it all began
When 6 Music first came on air back in 2002, the first song to be played on the new station was Ash's Burn Baby Burn, from their album Free All Angels. So, when Downpatrick boys Ash played on the 6 Music stage in Belfast on Saturday, well, what else could they open with?
Florence blessing the faithful
Florence + The Machine's Sunday night set in Swansea felt like a religious experience, so it's no wonder Florence Welch came over a little messianic, passing her divine energy right into the scalps of some lucky fans. What kind of man loves like this? A very happy one, it looks like.
Panic! at the Disco's big black button
Our sharp-eyed photographers spotted this ominous-looking button among Panic! at the Disco's guitar pedals. Really, though, what does it do? Release the bats? Unleash the glitz? Does it power Brendon Urie's really quite inhuman falsetto? We must know.
Charlie Sloth's Biggest Weekend's biggest chair
Whoever stuck this on Charlie Sloth's chair has a lot of cheek, that's all we're saying...