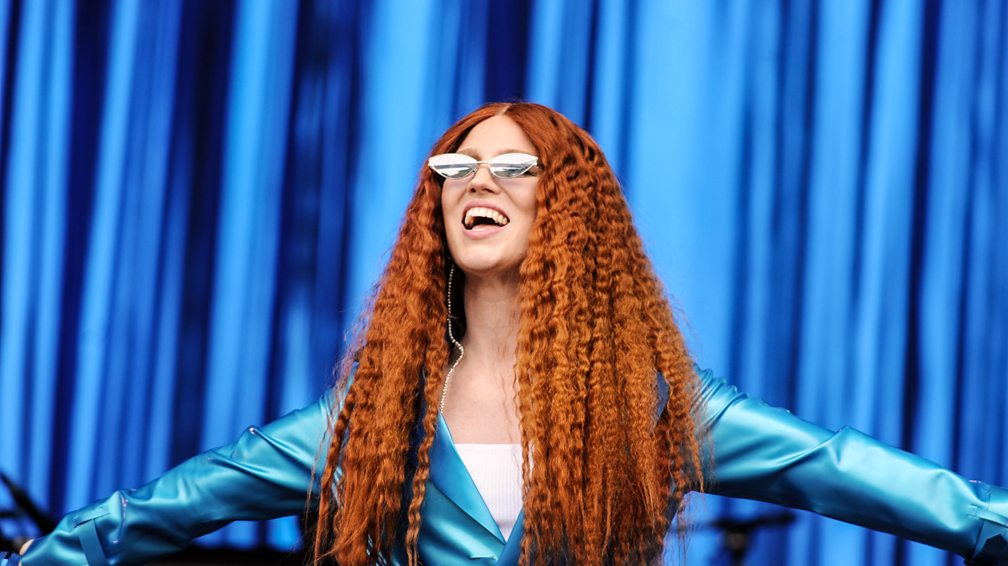 On stage and off, there were some excellent styles on show in Swansea, Belfast, Perth and Coventry - from Lykke Li's Matrix coat to three outfit changes from Years & Years' Olly Alexander.
Here's a selection of some of the strongest sartorial choices over the course of the Biggest Weekend in music.
Lykke Li / Belfast - Main Stage / Friday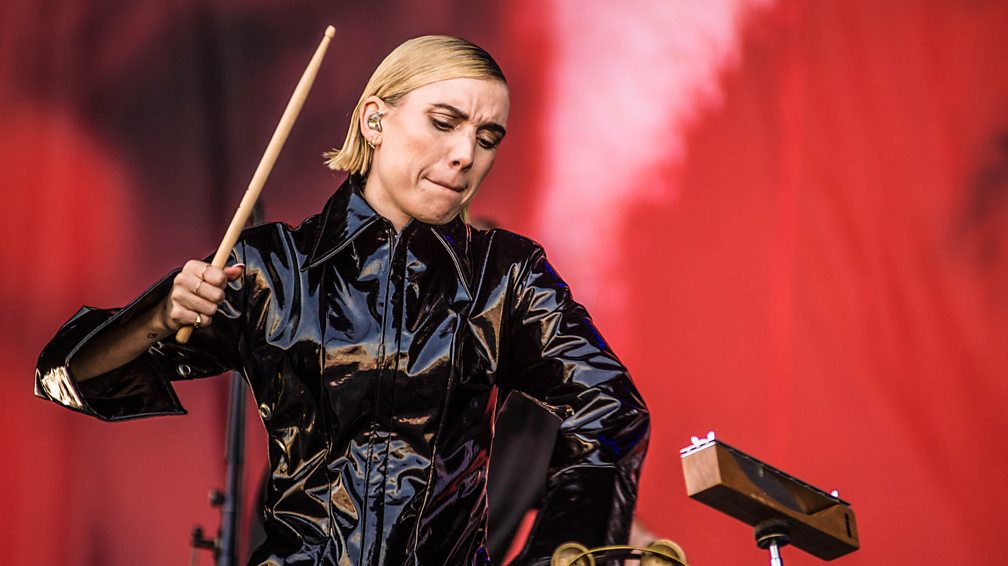 Have we slipped into the Matrix? No, it's just Swedish queen Lykke Li, bringing a stern-but-sexy look to Belfast in head-to-toe black PVC, like the gothic-hearted wonder she is. Stark, simple, and devastatingly effective.
Neneh Cherry / Belfast - Main Stage / Saturday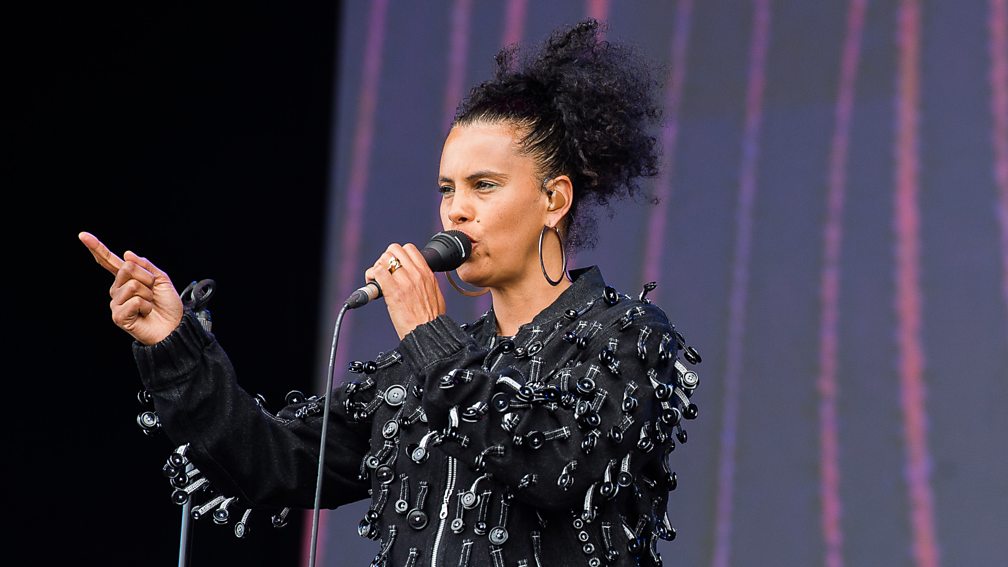 Sometimes it's all in the small details, like your haberdashery. Something as small as a button can really make or break an outfit. So Neneh Cherry is showing sound sartorial logic here by putting AS MANY BUTTONS AS POSSIBLE on her super-cool outfit.
Young Fathers / Belfast - Main Stage / Saturday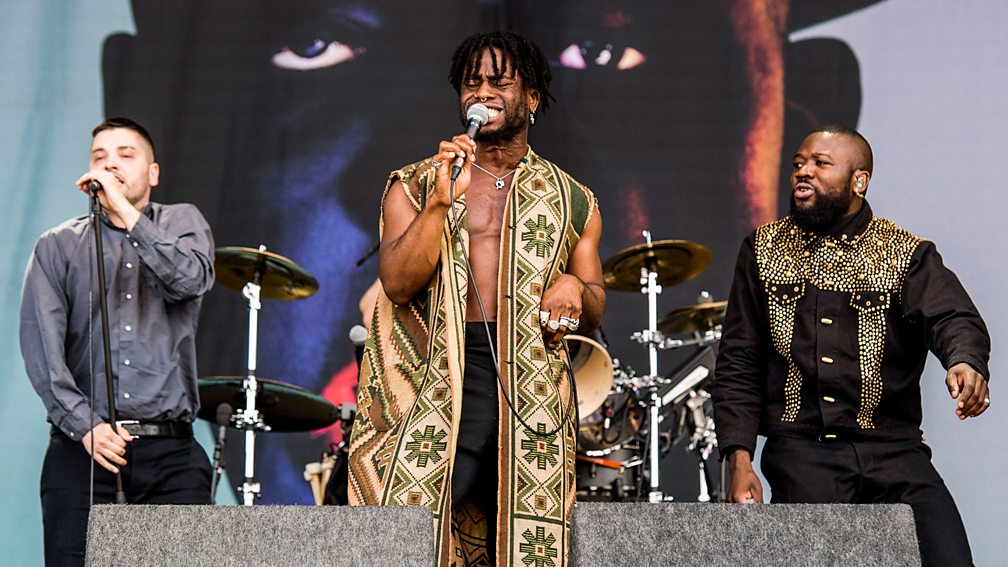 Three strong ensembles from Edinburgh trio Young Fathers: Graham "G" Hastings went for a sober, classy dark-grey shirt and black trousers (we'd definitely give him the job), while Alloysious Massaquoi went for a glitzier take on traditional menswear in a gold-studded western shirt. Kayus Bankole, however, went all out in a long, fringed, woven number over a bare chest: both striking and weather-appropriate.
Lauren Mayberry of Chvrches / Swansea - Radio 1's Other Stage / Saturday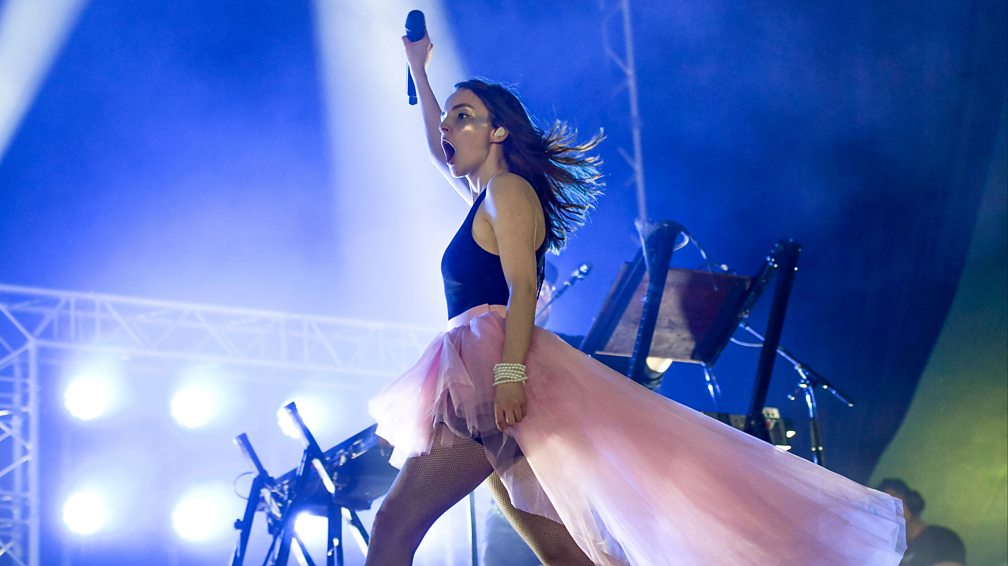 Few people do the classic 90s tutu/tough-as-nails boots combo as well as Chvrches' Lauren Mayberry, and this is a particularly floaty/stompy example. We like to think she's channeling Buffy at the prom - she's certainly slaying.
Billy Ocean / Coventry - Main Stage / Sunday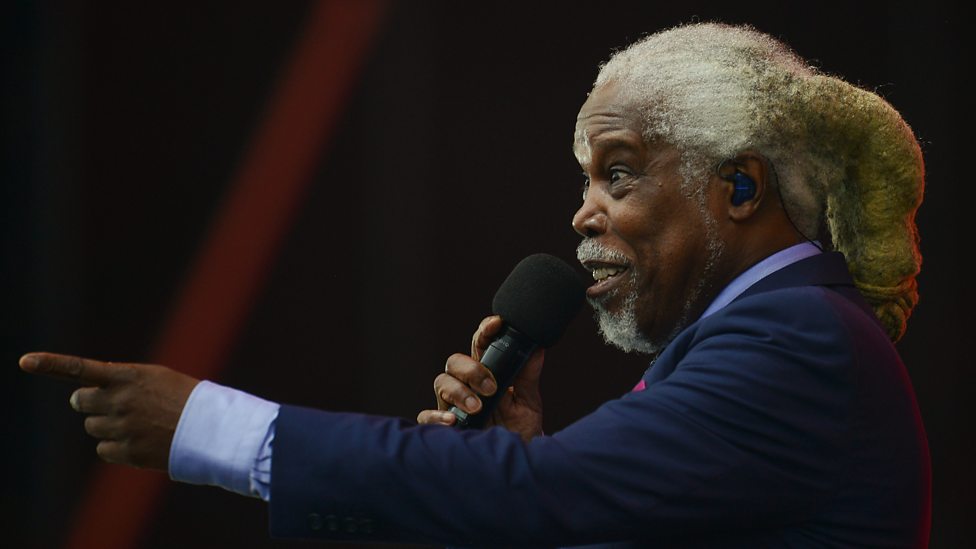 Did you know that supercool 80s R&B crooner Billy Ocean used to work on London's famed Savile Row as a tailor? No? Well, can't you tell just by looking at that suit? Sir, we applaud you, particularly that fuschia-pink pocket detail. When the going gets tough, the tough get cutting.
Yukimi Nagano of Little Dragon / Belfast - Main Stage / Saturday
Eclectic Swedish indie crew Little Dragon's dynamo frontwoman can always be relied upon to put some effort into her stage outfit, and she didn't let us down in Belfast. Her silver, purple and gold space kaftan came bedecked not with bells and whistles, but with pompoms, paired with elbow-length blue evening gloves. Classy, and also allowing for ease of motion when enthusiastically banging a tambourine.
Stefflon Don / Swansea - Radio 1's Other Stage / Sunday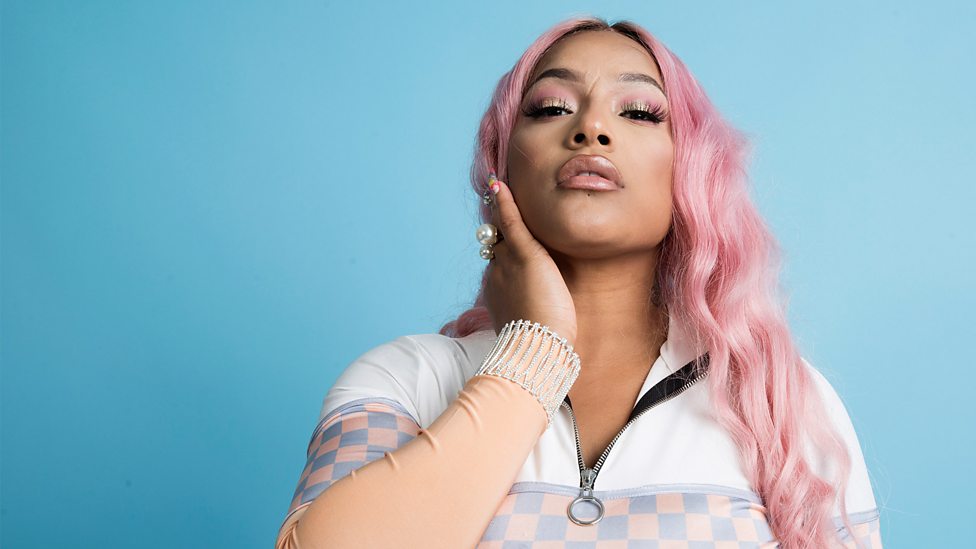 Candyfloss-pink hair and Penelope Pitstop-does-Formula 1 vibes? Only Stefflon Don and her ultra-limber dancing crew could pull off a look of this power, and boy, did they.
Sam Smith / Swansea - Main Stage / Saturday
His style is as smooth as his golden pipes, and Sam Smith stunned us for his Saturday night headline set with a delightfully cut puppy-tooth check jacket, and beneath, an equally glorious patterned shirt.
Jess Glynne / Swansea - Main Stage / Saturday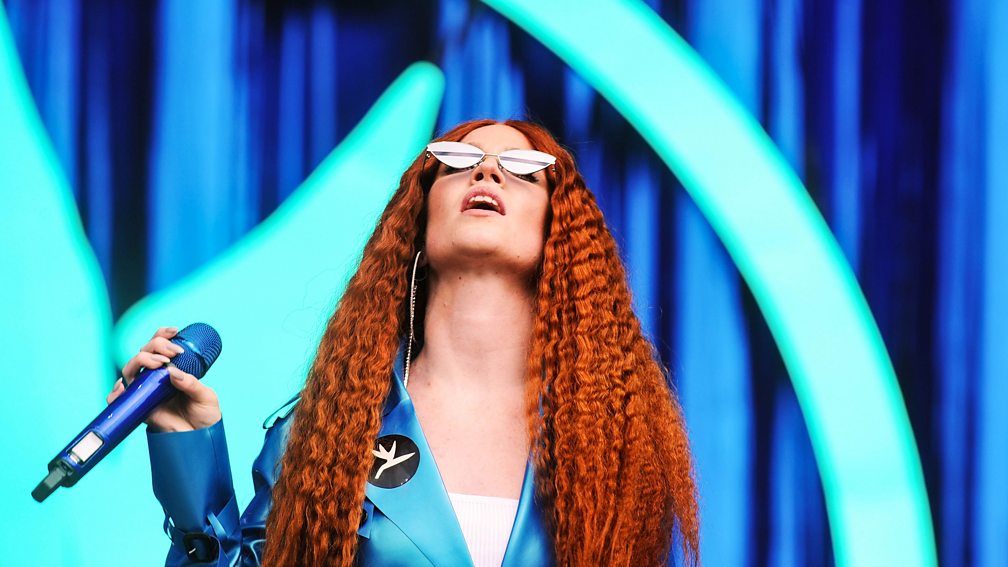 There was a distinctly mid-90s feel to Jess Glynne's looks, with backwards flat caps and sportswear for her backing dancers, and a quite-something pearlised pastel-blue rain mac for her. That's not to mention the Carole King-style centre-parted mane and the lilac-tinted oval-framed glasses. It was idiosyncratic, it was bold, and frankly, we were sold.
The Queer Eye Fab Five / Swansea / Saturday
We can't all get festival chic right without a little help, but Radio 1 had Big Weekenders' backs in Swansea, enlisting the Queer Eye gang to hand out onsite makeovers. Scottish dad Bruce would, he confessed, rather have been watching the 6 Music lineup in Belfast, but much to the delight of his pop-loving kids, he threw himself both into the Swansea lineup and also his new role as a fashion guinea-pig, being given "a little pop-culture swag" by the Fab Five before introducing Years & Years on the Main Stage. The Queer Eye gang were so impressed with the performance that they made Years & Years's Olly Alexander an honorary member. So what do we call them now? The Swank Six?
Rita Ora / Swansea - Main Stage / Sunday
Rita Ora's Bond villain-worthy, Cher-inspired black-and-white getup was one of the most striking of the weekend. And what's even more impressive, is that she put it all together herself at the last minute. Yes, she actually bought one pair of black boots and one pair of white so she could wear one of each. That, my friends, is true dedication to the cause of fashion.
Jared Leto of Thirty Seconds to Mars / Swansea - Main Stage / Sunday
You can always trust modern Renaissance man and confirmed Gucci addict Jared Leto to bring some eye-catching high-fashion looks, and this intriguing tracksuit bottoms/sharp jacket/beaded evening gloves combo for Thirty Seconds to Mars's Main Stage set was a triumph of contrasts.
Olly Alexander of Years & Years / Swansea - Main Stage / Saturday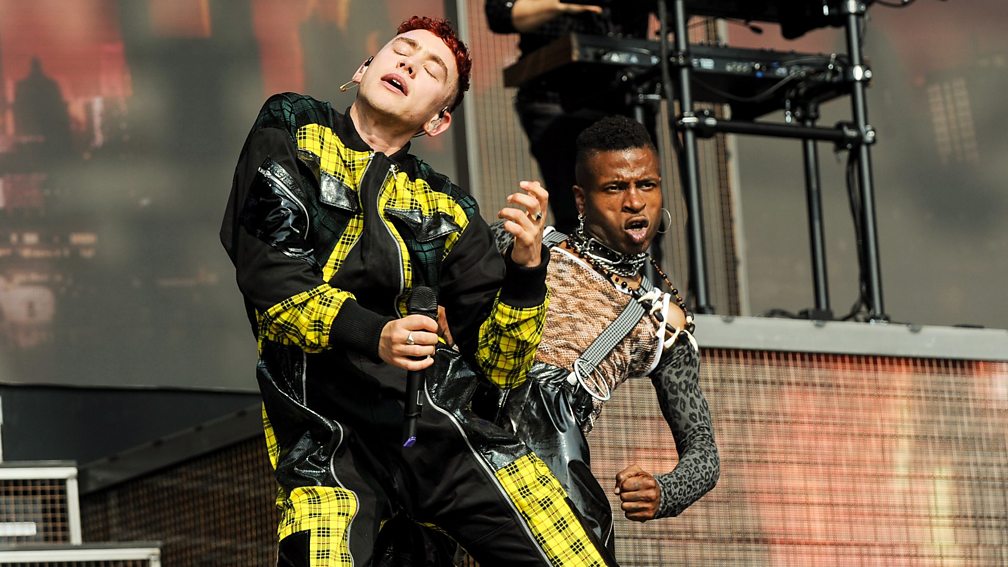 Outshining almost everyone in not one, but three incredible intergalactic outfits, Years & Years style king Olly Alexander lived up to his new role as honorary Queer Eye member. Outfit 1: multi-tartan and black boiler suit with cybergoth shoes. Outfit 2: spangly emerald-green jumpsuit with black-and-silver sci-fi overdress. Outfit 3: spangly emerald green jumpsuit with bare chest. Frankly, it's the look(s) to beat of the weekend.