Arctic Monkeys: Tranquility Base Hotel + Casino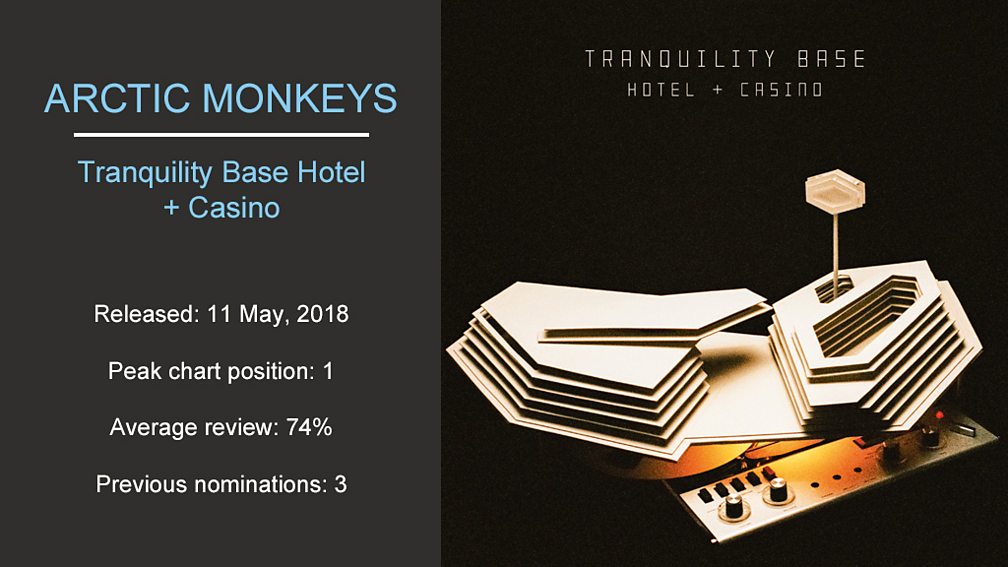 As guitar music continues to wither and die, Alex Turner's Arctic Monkeys take a meandering detour into space-lounge art rock for their sixth album, Tranquility Base Hotel + Casino.
Five years in the making, it's steeped in the louche, zonked-out sounds of Serge Gainsbourg and Scott Walker; as Turner croons one-liners ("I just want to make a simple point about peace and love, but in a sexy way") over his beloved Steinway piano.
The critics said: "Whilst your first few visits to the Tranquility Base Hotel + Casino may feel alien and unwelcoming, you will gravitate ever closer to its shimmering outer-space treasures with each stay." (Clash Music)
Everything Everything: A Fever Dream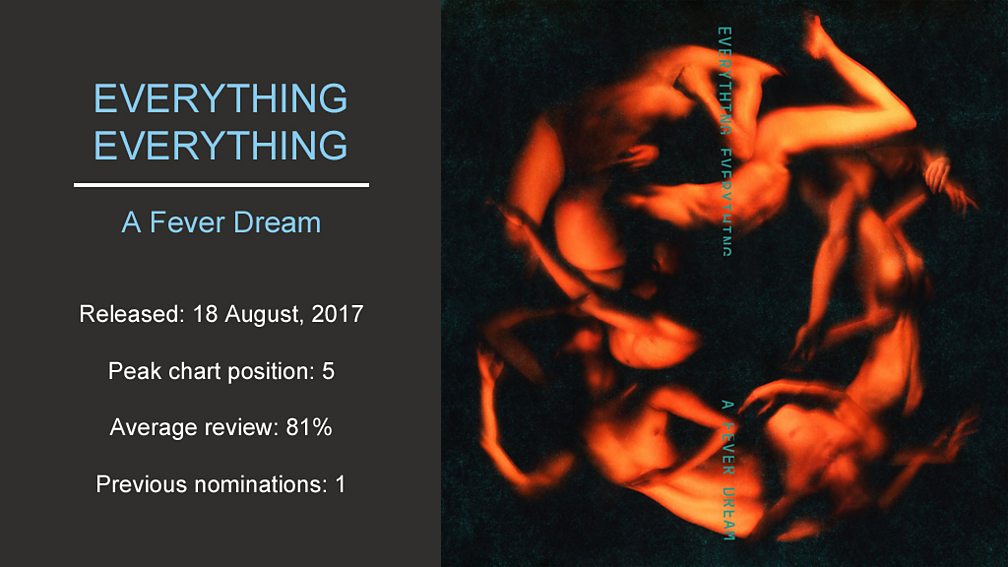 Mancunian pop oddballs Everything Everything named their fourth album Fever Dream as a reference to the "surreal, nightmarish things happening day after day," in the news.
With stomach-churning anxiety, they address the rise of Donald Trump ("even little children see through you") and how politics is dividing communities ("I hate my neighbours / they hate me too"), while Jonathan Higgs' soaring melodies provide some salve to the onslaught.
The critics said: "Shimmers and bristles with warmth and invention." (Financial Times)
Everything Is Recorded: Everything Is Recorded by Richard Russell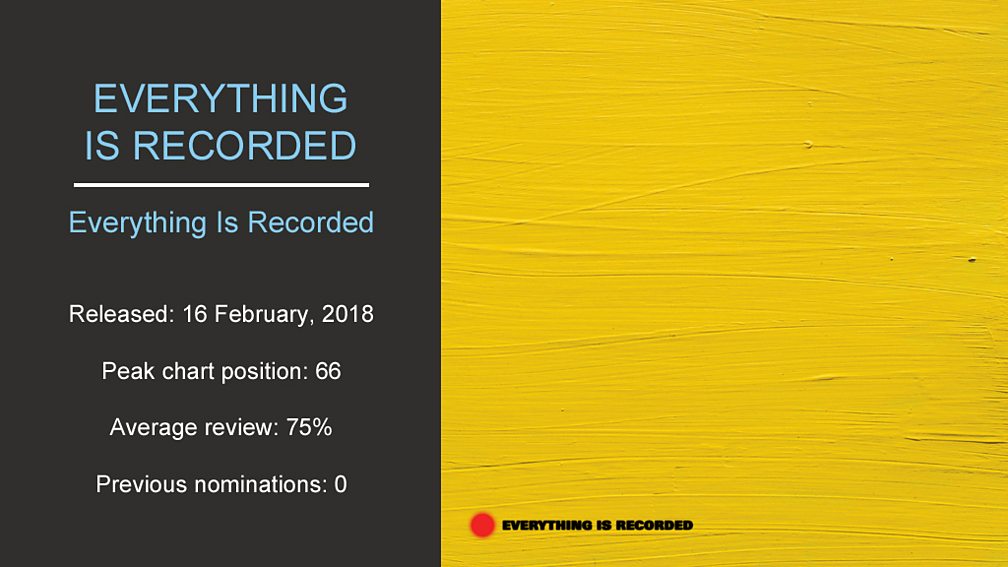 As the head of XL Records, Richard Russell has shaped the sound of UK music for three decades, signing, developing and producing artists like Adele, The Prodigy, Radiohead and Dizzee Rascal.
Everything Is Recorded is his first "solo" album – made with a revolving cast of inter-generational collaborators including Damon Albarn, Brian Eno, Peter Gabriel, jazz saxophonist Kamasi Washington, rapper Giggs and last year's Mercury Prize-winner Sampha. A love of 70s soul infuses the album, with a few shrewdly-chosen samples (Curtis Mayfield, Gil Scott-Heron) illustrating the continuum from Russell's influences to the artists he works with now.
The critics said: "A subtle and seamless love note to music" (Record Collector)
Florence + the Machine: High As Hope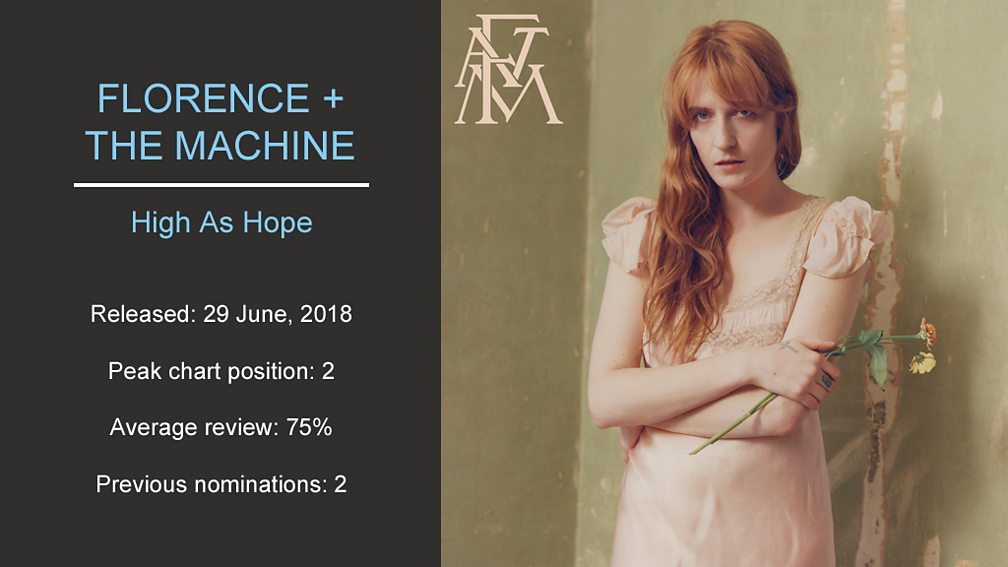 Florence Welch said the harrowing and vulnerable songs of her third album How Big, How Blue, How Beautiful had to be "dragged out of me".
High As Hope was the opposite. "I went back to how I started making music - just for fun," she told Radio 1. "I'd found the joy again."
Calmer and more reflective than her previous albums, the record finds Welch exploring new textures to her voice; and includes tributes both to her sister Grace and her "spiritual godmother" Patti Smith.
The critics said: "It's raw, human, stripped of all excess and laid bare - and it's quite possibly the most beautiful thing the band has ever released." (Drowned In Sound)
Jorja Smith: Lost And Found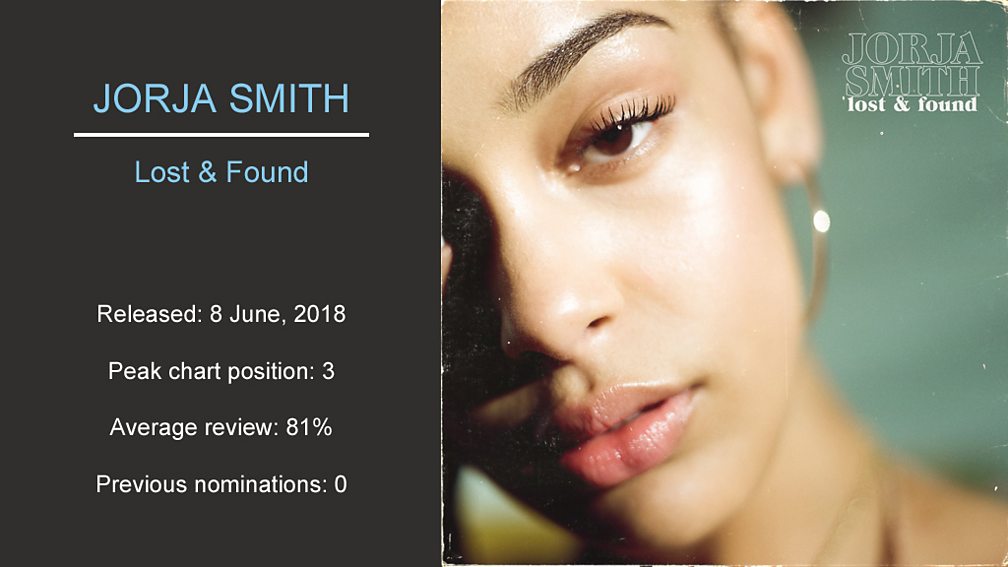 Jorja Smith's rich, soulful vocals are the anchor for this collection of hazy, laid-back RnB.
Largely written while she was working in Starbucks as a teenager, the songs show Smith working out her place in the world and other people's place in hers. A shimmering debut.
The critics said: "One of those rare records that's adventurous but can also appeal to that aunt or sister-in-law who finds a new artist they like every 15 years." (Variety)
King Krule: The Ooz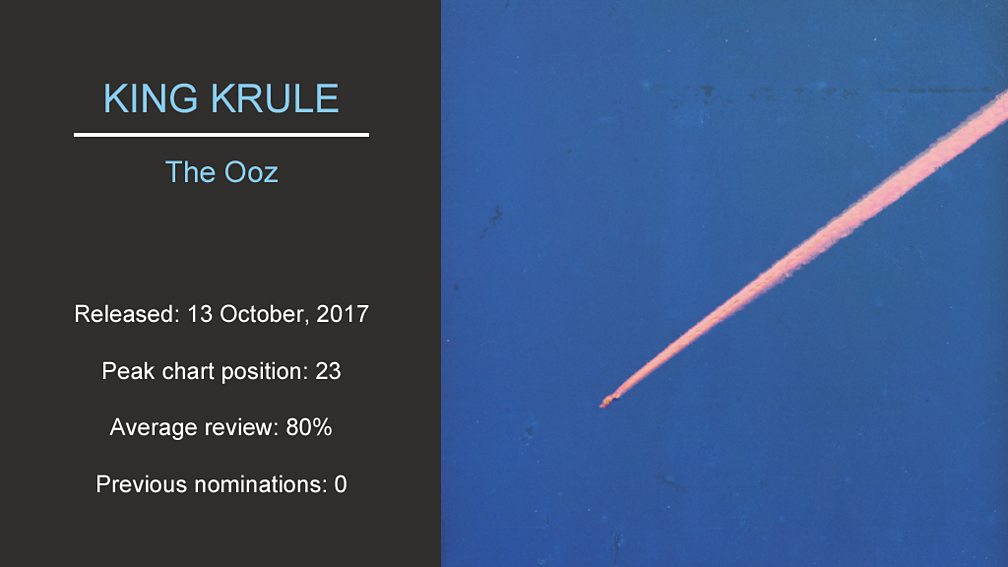 King Krule, aka Archy Marshall, described this record as being inspired by the "earwax and snot and bodily fluids that come out of you on a day to day basis".
It certainly sounds sticky: the 19 swampy, semi-improvised songs are coated in the gooey residue of late-night musical experimentation, as Marshall dissects break-ups, mental illness and the loneliness of the city.
The critics said: "A meandering, disorientating trip through punk, ska, jazz and hip hop - held together by Marshall's menacing vocal sneer." (The Line of Best Fit)
Lily Allen: No Shame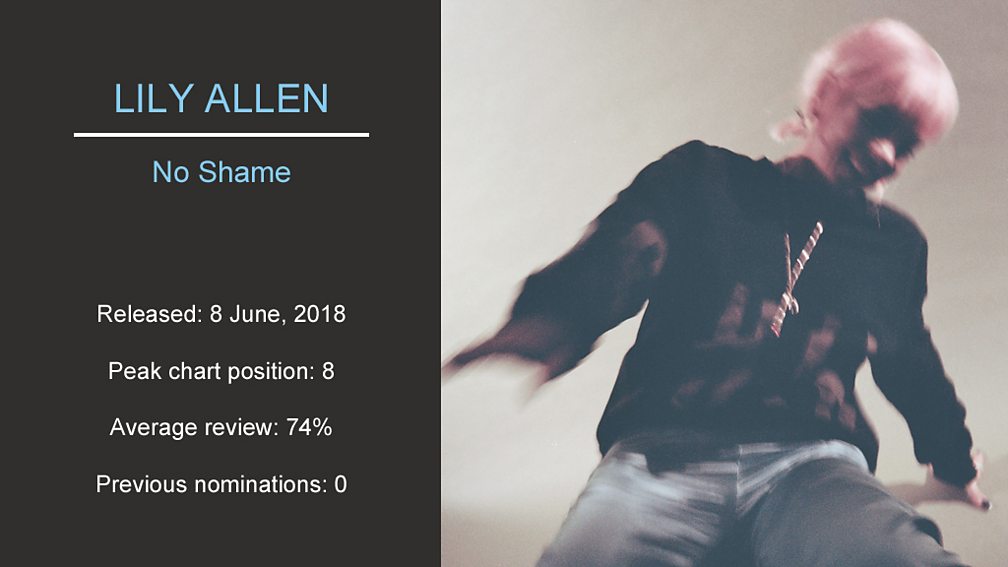 Ten years after her debut, Lily Allen's fourth album finds her just as we left her – spilling tea like Mrs Overall.
But while she lines up some of her usual targets (the press, internet trolls, celebrities) it's her heartbreakingly honest lyrics about divorce and loneliness that make No Shame such a potent pop record.
The critics said: "Her sonics have become more gentle [but] Allen's truth bombs have become even more explosive." (Rolling Stone)
Nadine Shah: Holiday Destination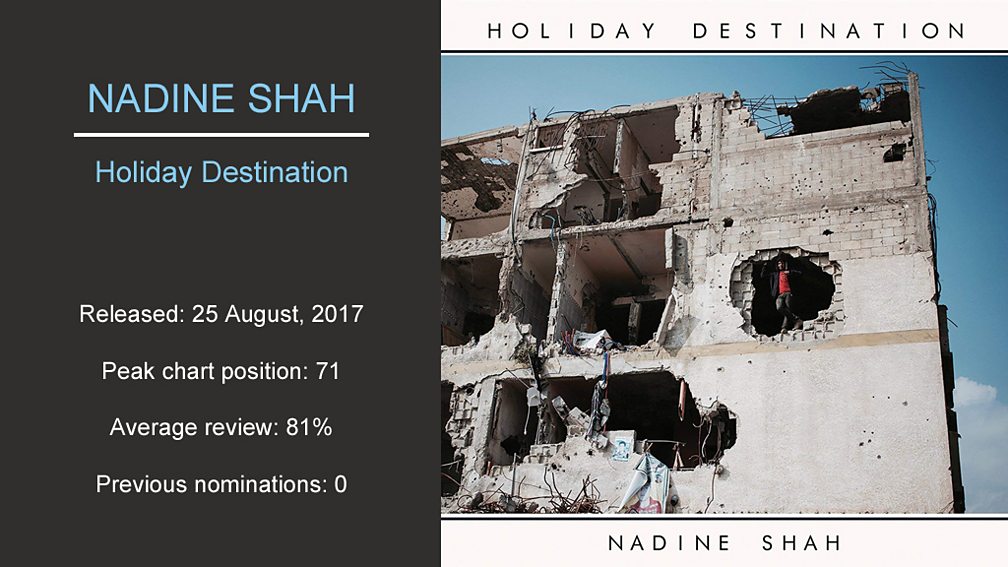 "I'm not well versed in politics, but I'm a member of this society and, surely, I'm allowed to comment on the world we live in," said Nadine Shah last year, pre-empting criticism of her third album, which chews over the refugee crisis, Islamophobia and the rise of right-wing, anti-immigration politics.
Shot through with nervous, punky energy, the album's thoughtful and unsettling songs act as a rallying cry for empathy and understanding. No surprise, then, that the criticism she anticipated never materialised.
The critics said: "Holiday Destination needs to be uncomfortable and it is. A beautifully realised disturbance of any remaining peace." (Mojo Magazine)
Noel Gallagher's High Flying Birds: Who Built The Moon?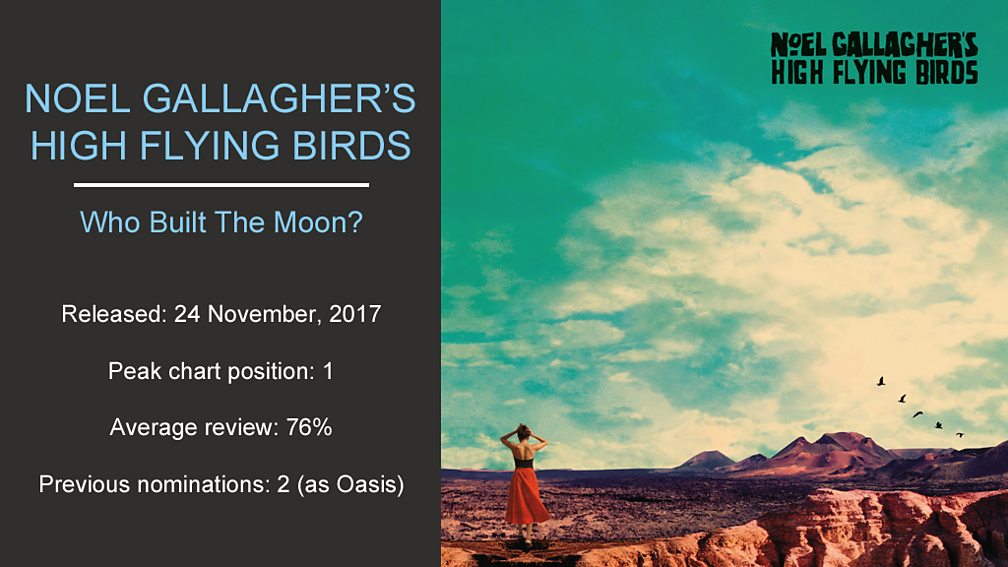 Noel Gallagher's frequently flirted with dance and psychedelia, most notably on his collaborations with The Chemical Brothers, but he finally sealed the deal on this, his third solo album.
Recorded with David Holmes – best known for soundtracking films like Ocean's 11 – it's an expansive, blissed-out record that captures the sound of a star rediscovering their sense of purpose.
The critics said: "A riot of musical colour." (The Independent)
Novelist: Novelist Guy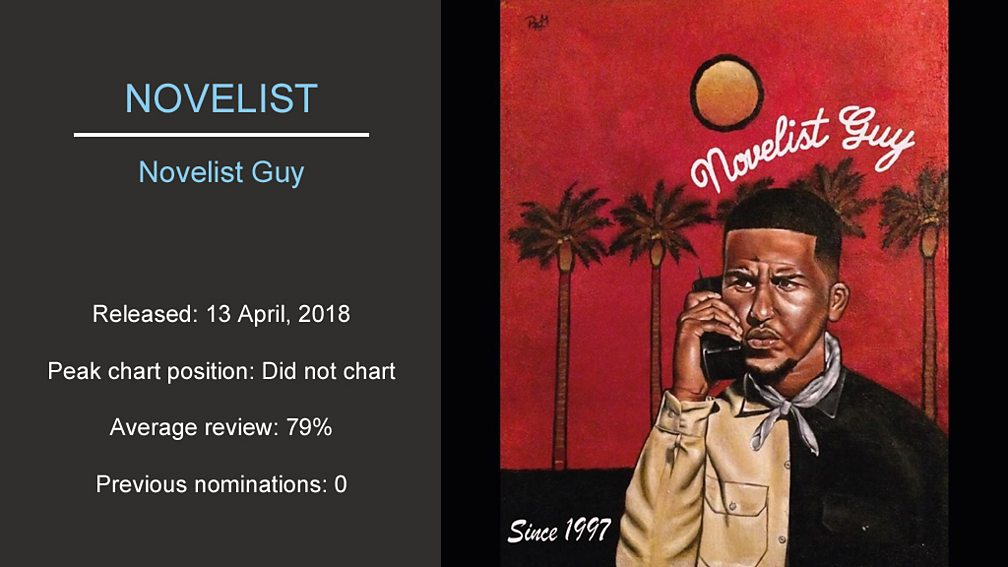 Admirably resisting grime's more restrictive genre trappings, Novelist's debut album is laser-focused, politically-aware and entirely self-produced (in his bedroom, no less).
The inventive beats incorporate his love of video games and 80s cop films, while paying tribute to the pirate radio scene where the 21-year-old, whose real name is Kojo Kankam, served his apprenticeship.
But it's the lyrics that set him apart. "Money, drugs, cars, girls, that's for the films," he states on Afro Pick, establishing a socially-conscious perspective on inner-city life that rejects violence and embraces clean living.
The critics said: "He is as switched-on as they come, a conscious lyricist with one eye on the rest of the world." (Crack Magazine)
Sons Of Kemet: Your Queen Is A Reptile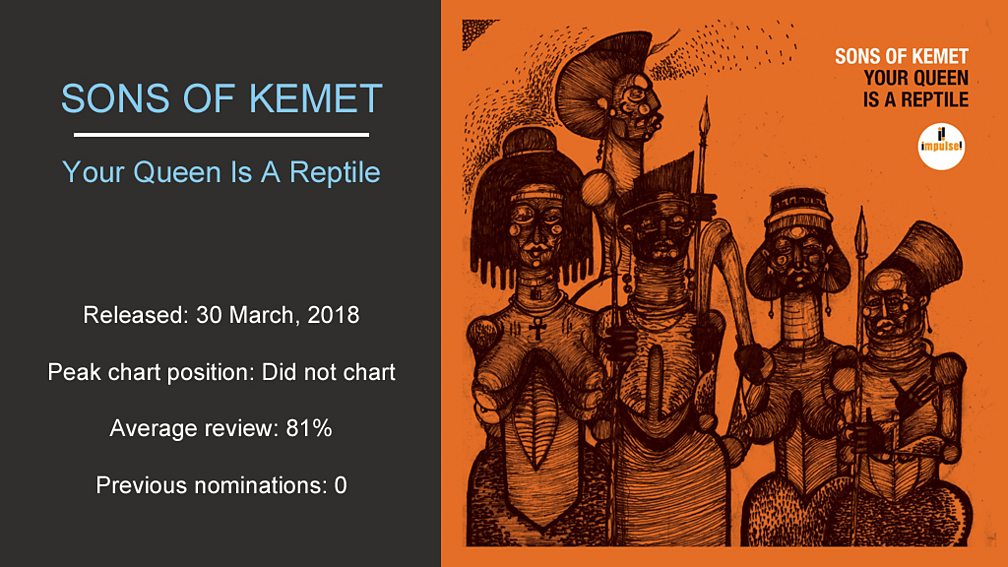 This is the second Mercury nomination for saxophonist Shabaka Hutchings, whose cosmic side project The Comet Is Coming made the shortlist in 2016.
His main band are an unusual prospect – comprising a saxophone, a clarinet, a tuba, and two drummers – but they're a limber musical unit who don't feel any undue reverence to jazz; embracing soca, Afrobeat and reggae rhythms throughout their third album.
The title is a pot-shot at the British monarchy – while each track crowns and celebrates an inspirational black "queen", from Ghana's Yaa Asantewaa, who led a war against British colonialism, to Hutchings' own great-grandmother Ada Eastman.
The critics said: "Tight, furious, joyous, and inspirational." (Allmusic)
Wolf Alice: Visions Of A Life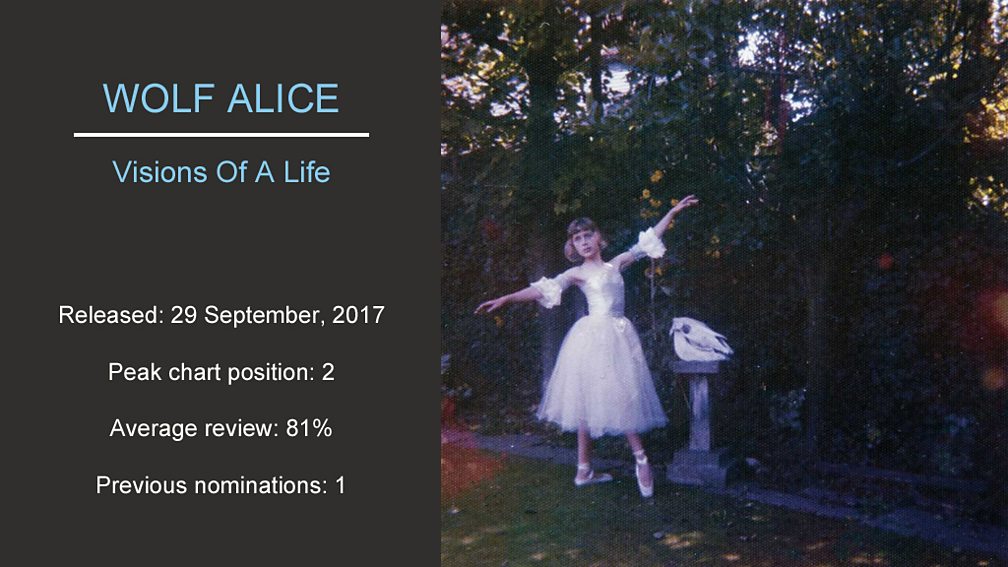 If indie is dying, how do you explain Wolf Alice? After their Mercury-nominated debut, the London four-piece cemented their status as future headliners with this hypnotic jumble of grunge, dream-pop and shoegazy stoner rock.
It all coalesces around Ellie Rowsell, an enigmatic frontwoman who can switch from a shy ingénue (Don't Delete The Kisses) to a screaming, vengeant She-Ra (Yuk Foo) without pretence or artifice.
The critics said: "This is music that merges raw physical pleasure and dreamscape explorations. The stakes are high, and the payoffs are real." (Rolling Stone)
Related links