It's classical music's biggest party, and for 2018 the Last Night of the Proms had a fabulous lineup of performers and pieces, new and old, alongside – of course – plenty of traditional favourites.
First, though, it's been an extraordinary season of music-making, from the spectacular First Night, which saw the premiere of a spectacular co-commission between composer Anna Meredith and design company 59 Productions, Five Telegrams, through to a glorious performance of Handel's dramatic oratorio Theodora at Prom 74.
Please enjoy The Proms 2018 in 19 unmissable moments. Also, here's a recap of the season in just four minutes...
[WATCH] The 2018 Proms season in a thrilling 4 minutes
Jess Gillam warms up
Sir Andrew Davis was conducting the BBC Symphony Orchestra and Chorus at this year's Last Night. It was his 130th Prom and 12th Last Night.
With him was the Canadian baritone Gerald Finley and saxophonist Jess Gillam, finalist at BBC Young Musician, 2016. Jess is believed to be the youngest ever soloist at the Last Night.
"It's a big responsibility," she told the Telegraph ahead of the night. "It does faze me slightly but only in the way that knowing that so many musicians that have inspired me since I was very young have taken to that stage. To be coming to it so early in my career does feel a bit surreal, but I just want to try and enjoy it."
Above, Jess warmed up ahead of the big night, next to the famous bust of Sir Henry Wood, legendary chief conductor of the Proms from its foundation in 1895 to 1944, the year of his death. And so, to the first of the Last Night traditions...
Let the music begin!
The Last Night began in soaring style, with the overture from Hindemith's comic opera Neues vom Tage (1929), followed by a Proms premiere – Fantaisie sur la Tempête de Shakespeare (Fantasy on Shakespeare's The Tempest) from Berlioz's Lélio (1832), which was intended to be a sequel to the French composer's Symphonie fantastique.
A world premiere of Songs of Darkness, Dreams of Light by Roxanna Panufnik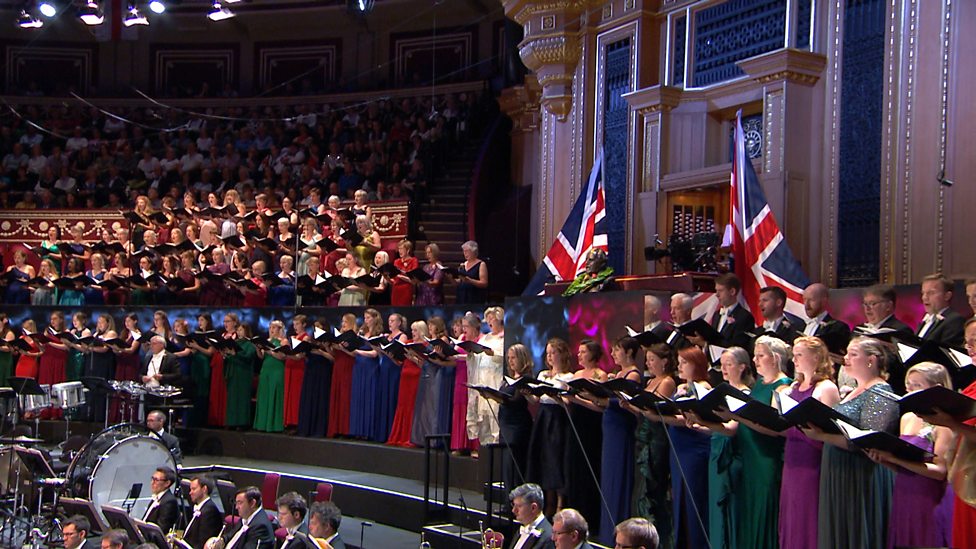 [WATCH] Roxanna Panufnik: Songs of Darkness, Dreams of Light
Roxanna Panufnik is one of Britain's most-renowned composers, and the first outing of Songs of Darkness, Dreams of Light was the final premiere in a season that specifically highlighted new works by women composers.
The piece is scored for two choirs and orchestra, and draws on complementary religious traditions. It commemorates the centenary of the end of the First World War, which has been a theme of the season.
Panufnik told Radio 4's Front Row ahead of the premiere: "I came across this wonderful poem [In the Underworld] by Isaac Rosenberg, who was a World War I English-Jewish poet. He sadly died months before the war finished. And when you read this poem, it sounds like somebody writing back home to a loved one from the trenches saying, 'How could you possibly imagine what this is like?' He talks about 'terrible darkness' and 'breathing breath impure'. Actually, it was written before World War I and [concerns] unrequited love. I thought it was strangely prophetic.
"And then I found some beautiful lines by Khalil Gibran, the prophet, which seemed to soothe and assuage the Rosenberg fears. So that's the BBC Symphony Chorus, and the BBC Singers are the Rosenberg."
Enter Gerald!
What an honor it was to have Gerald Finley at the Proms. The Canadian baritone first performed at the festival in 1990 and was last here four years ago.
He first sang Irish composer Charles Villiers Stanford's Songs of the Sea from 1904, a cycle of five songs set to poems by Henry Newbolt, followed by another Stanford work, The Blue Bird.
Remembering Hubert Parry 100 years after his death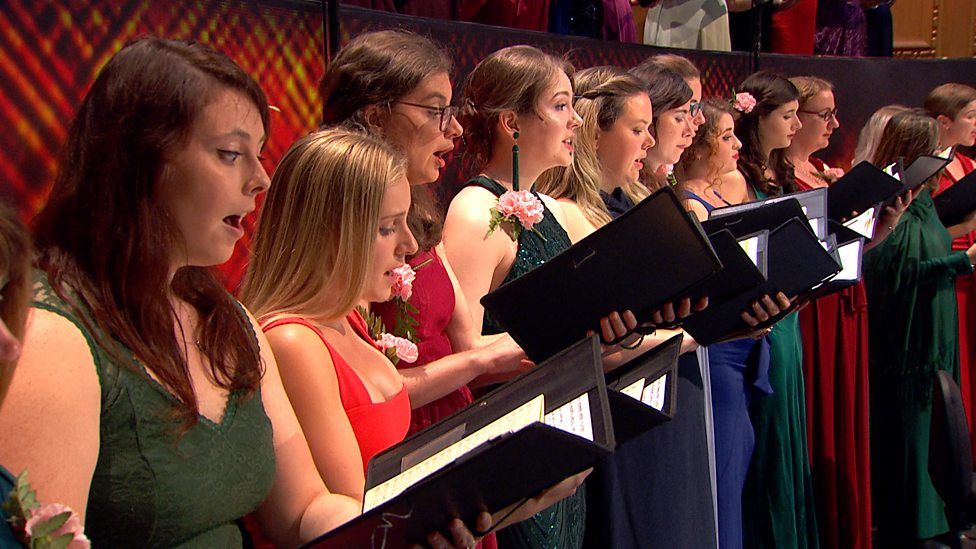 [WATCH] Hubert Parry: Blest Pair of Sirens
Many anniversaries were recognised during the season – 100 years since Leonard Bernstein's birth, and 100 years since the deaths of Lili Boulanger, Claude Debussy and Hubert Parry.
Parry is best-known to Prommers – and the nation – as the composer of the choral song Jerusalem (more of which later), but how about this a wonderful first-half performance of his Blest Pair of Sirens? Notice the splendid bow-tie action in the choir!
Here comes Jess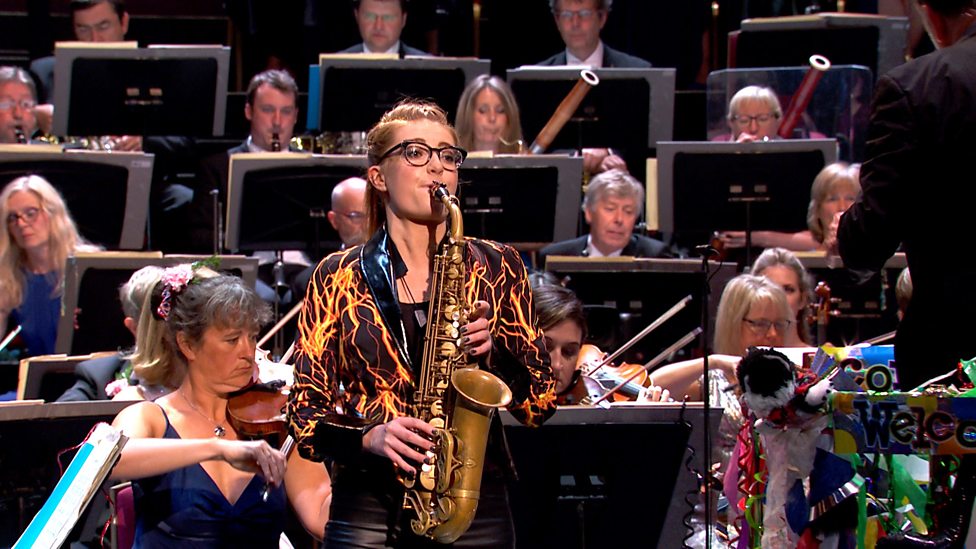 [WATCH] Darius Milhaud: Scaramouche
The second half of the Last Night began with Camille Saint-Saëns's Marche militaire francaise from the French composer's Suite algérienne, before Jess appeared on stage to play – with pure joy – Darius Milhaud's Scaramouche from 1939, also receiving its first-ever Proms performance.
It's certainly unusual to hear a saxophone soloist at the Last Night. Last time we can remember hearing one was in 1995 for the premiere of Sir Harrison Birtwistle's Panic.
This was Jess's second performance of the night. Earlier, she played Michael Nyman's If (from The Diary of Anne Frank) at Proms in the Park, across the road in Hyde Park. Congratulations to Jess for making it into the Royal Albert Hall so speedily, and for having time for a costume change!
Not long after, Jess was back on stage for a duet with Gerald, on a selection of World War I songs arranged by Anne Dudley. And all across the nation at the various Proms in the Parks sites war songs were being sung. Here's Katherine Jenkins singing Keep the Home Fires Burning from Ivor Novello's Oh! What A Lovely War in Colwyn Bay:
Ready for some Proms classics?
What would the Last Night be without Fantasia on British Sea Songs, arranged by Sir Henry Wood in 1905 to mark the centenary of the Battle of Trafalgar? An essential part of the celebrations, the medley comes complete with traditions, such as having a good (mock) cry during the cello solo of Tom Bowling, fourth song in the set of nine.
Another classic of the Last Night is Land of Hope and Glory from Elgar's Pomp and Circumstance March No 1 (below), which offers Prommers the chance to have a really, really good sing-song. Prommers, we salute you!
And did those feet in ancient time...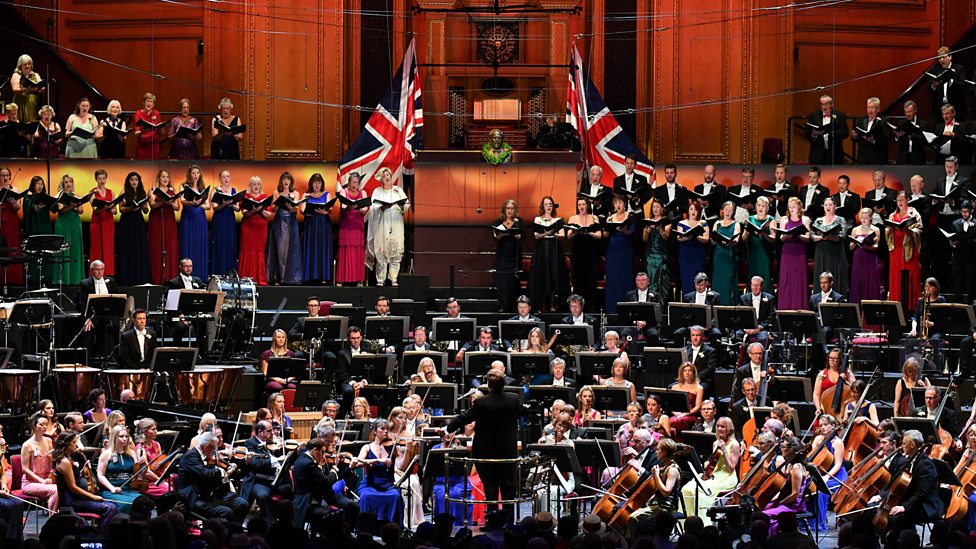 [WATCH] Hubert Parry: Jerusalem (orch. Elgar)
If you thought the singing was loud on Land of Hope and Glory, have a listen to this. The tremendous sound of the entire Royal Albert Hall at top volume for Jerusalem. Goosebumps, anyone?
This was quite the closer!
A glorious end to a breathtaking Last Night: The National Anthem, followed by a rousing rendition of Auld Lang Syne, sung with joy and perhaps a tinge of sadness that another season of the Proms is over.
Want to re-live the Last Night in full?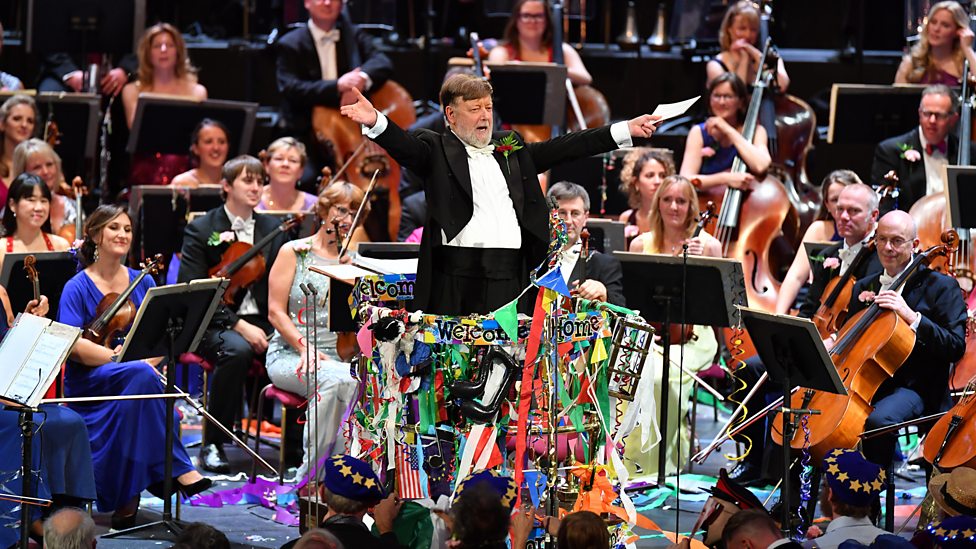 [WATCH] Last Night of the Proms
To hear more clips from across the season, please search the Proms site