Radio 2 Live in Hyde Park 2018 was simply unmissable, with a line-up boasting pop icons such as Kylie Minogue, legendary groups like Boyzone and All Saints, plus much more.
But if you somehow managed to miss the action, here are some of the must-see moments that got everybody talking - from a Kylie and Jason reunion to big hats and even bigger dance moves... plus the odd Mexican wave thrown in for good measure.
Kylie and Jason, reunited at last
Kylie has enough pop hits in her arsenal to wow a Hyde Park crowd on the quality of her back catalogue alone. Marking her 50th birthday this year though, Minogue wanted to make her set a special celebration.
And what more special a moment could there have been than a touching reunion with fellow Neighbours alum Jason Donovan? Yes, Scott and Charlene reunited and it was like no time had passed at all. Well, maybe their hairdos have changed just a little bit...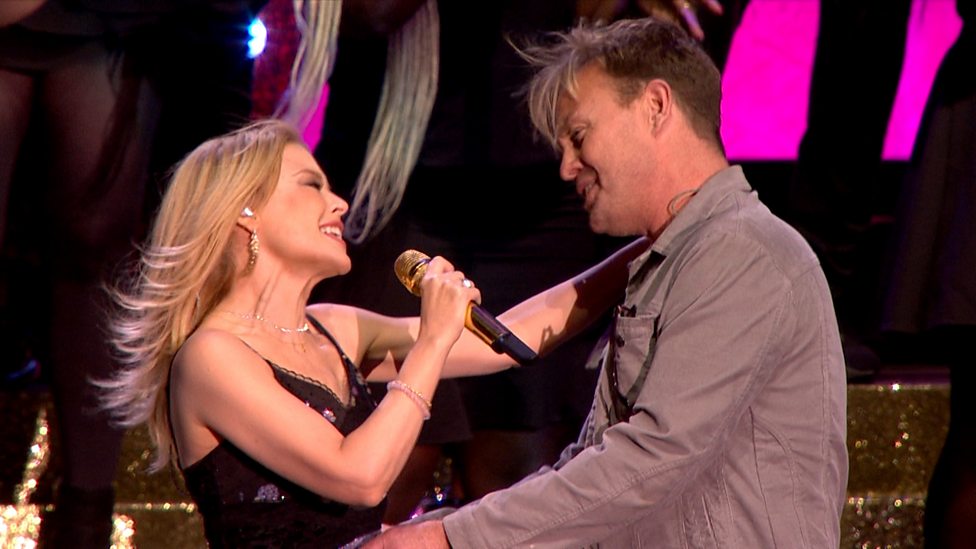 Lenny Kravitz kicked things off and raised the fashion stakes
Earlier in the day, Lenny Kravitz was tasked with the job of getting everyone in dancing spirits by opening festivities. It may be the tail-end of the summer, but Kravitz ensured that everyone made the most of the September sunshine with feel-good new single, 5 More Days 'Til Summer, as well as a Bob Marley cover and a rendition of his classic hit Fly Away.
Lenny was on his fashion A-game too. There are some people who can really pull off a big and bold hat: Pharrell Williams is among those who definitely can, and Kravitz is too, rocking a rather fetching hat and scarf combo. It may have been early in the afternoon, but Lenny made sure the bar was set high on the outfit front.
Speaking of great hats...
Kravitz wasn't the only one with great hat game, though. Treating fans to tunes aplenty with a DJ set in between performances, Radio 2's Craig Charles saw Kravitz's hat and raised him some funky dance moves too, turning Hyde Park into a pretty massive house party in the process.
Rita Ora brought the dance moves
One of the many great things about Radio 2 Live In Hyde Park is how it brings people of all ages and generations together. The line-up itself is no different, with music legends side by side with pop's biggest stars of today.
Rita Ora's stellar Hyde Park set showed why she's in such demand, with recent hit Anywhere a particularly stunning highlight. At the top of her game, Rita showcased some impressive dance moves. All in all, she was an absolute pro.
The Band of Love were a supergroup with a twist
Not many bands make their first-ever live performance at a mammoth setting like Hyde Park, but then again not many acts are like The Band of Love, a folk supergroup brought together by their love of disco classics.
Dishing out gems like Night Fever and We Are Family, they provided the crowd with a very happy dilemma: should they be river dancing or disco dancing?
Meanwhile, backstage...
The Band of Love weren't the only supergroup coming together at Hyde Park. Backstage saw Claudia Winkleman rubbing shoulders with All Saints. Could Claudia be joining the Black Coffee stars? We really hope so...
But that wasn't the only potential pop collab
While acting as an amateur sleuth backstage, Stacey Solomon could be found hanging out with legitimate music legends - Michael Ball and Lenny Kravitz included. Solomon may be more active in the presenting world these days, but if either stars were ever looking for a duet partner, we're sure Stacey could be convinced to crack the mic back out.
The crowd was quite the sight to see
The sheer scale of a packed-out Hyde Park crowd is truly a thing to behold. There were so many in attendance at Radio 2 Live in Hyde Park, in fact, that the audience could be seen from the very sky. As this great aerial photo shows...
The Shires pulled off a massive Mexican wave
What's one sure-fire impulse you're bound to get when you're looking out over such a huge mass of people? To attempt a Mexican Wave, of course.
The Shires did exactly that during their Radio 2 Live in Hyde Park set, managing to unite all in a sea of sprawling limbs. Good job, folks!
Boyzone got to the bottom of a very burning question
It's one of music's biggest mysteries: are Boyzone still a boy band despite all of them being parents these days? Well, backstage at Radio 2 Live at Hyde Park, we got an answer to that vital question.
"It's still the 90s records, so it does catapult you straight back mentally, perhaps not quite so physically," Shane Lynch argued, adding: "We're Boyzone." So, there you have it!
Kylie's set had another big surprise
Jason Donovan wasn't the only surprise guest Kylie had in store for us. Later, she welcomed Rick Astley onto the stage for Never Gonna Give You Up and a duet of Kids, with the Rickroller himself taking on Robbie Williams' part. "We've known each other for so long," Astley sang during the first of the two songs, with Kylie chiming in: "Since 1987, I think."