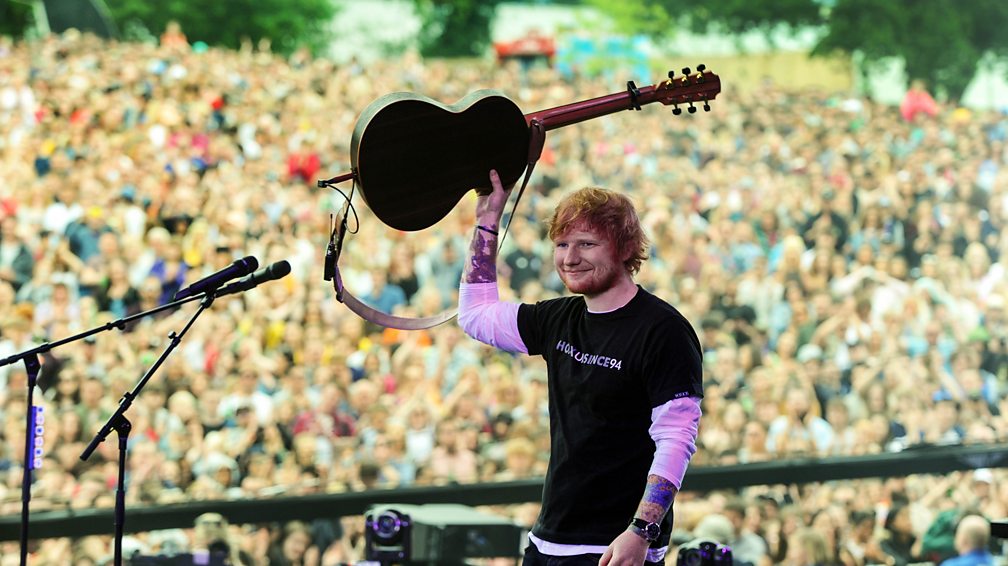 Ed Sheeran's mammoth UK tour, which kicked off earlier this week, sees everyone's favourite guitar-yielding redhead playing stadiums all over the country, including four nights at Wembley. But his Biggest Weekend set on Saturday was slightly more low key.
Despite his busy schedule, Ed still managed to fit in an appearance in Swansea early this afternoon, finding a short gap between his gigs in Manchester on Friday and Saturday night.
Sheeran opened the festival at midday, a strange deja-vu moment that probably brought the singer back to his earlier days. The punters flooded in, with most charging straight to the front.
Here's the story of Ed's incredible journey...
2010 - Sleeping on the tube and playing house shows
Sheeran's early years are well mythologised. As modern pop legend goes, the Suffolk troubadour would play gig after gig, night after night, staying up with friends and fans after shows, waiting until public transport started back up again and then proceed to nap on the Circle Line for a few hours, before starting the cycle all over again. Supposedly, he once slept under an archway outside Buckingham Palace during this time, a period that inspired his song Homeless.
The shows Sheeran would play during these years were mostly tiny venues or special house shows - far cries from headlining Glastonbury or opening the Biggest Weekend.
2011 - Playing eight(!) shows at Glastonbury
With buzz around his live shows beginning to grow, Sheeran played pretty much anywhere and everywhere during the build-up to the release of his debut album +.
In his first appearance at Glasto (six years before he would headline the Pyramid Stage), Ed performed a whopping eight times over the course of the weekend. Among these performances included an appearance at the tiny solar-powered Croissant Neuf cabaret tent and a slot on the BBC Introducing stage, playing alongside acts such as Zona Circo Bassline Cabarave and the Biggles Wartime band.
2012 - Supporting Gareth Malone in front of the Queen
After scoring a number one album (+) and a top three single (The A Team), Sheeran earned a four-and-a-half minute slot at the Queen's Jubilee concert, performing alongside musical greats ranging from Stevie Wonder, Paul McCartney and Elton John to Tom Jones and Cliff Richard. A long way from napping outside Buckingham Palace.
However, still not quite a household name yet, Sheeran's cameo came quite early into proceedings, taking to the stage after Madness but before Gareth Malone and his choir of Military Wives. You couldn't see that running order happening these days.
2014 - Rubbing shoulders with Coldplay and Calvin Harris at Big Weekend in Glasgow
Not quite the Biggest Weekend, but Ed Sheeran is no stranger to playing some pretty big weekends. In fact, he played Radio 1's Big Weekend in Glasgow during 2014, warming up for headliners Coldplay and Calvin Harris.
2017 - Headlining Glastonbury as a one-man band
One of the more divisive Glasto headliner announcements in recent years (second perhaps only to Kanye West in 2015), Sheeran proved his doubters wrong at Worthy Farm while armed only with a guitar, loop pedal and a checked shirt.
"I'd like to say it was a dream of mine, but I never thought I'd get to the point where I was playing this stage, let alone headlining it," he told the crowd at one point.
But there he was, playing many of the same songs that we was previously performing to a handful of people in venues above pubs. And, boy, did he manage to make the step up.
2018 - Opening the Main Stage at the Biggest Weekend in Swansea
The Biggest Weekend was Sheeran's first time playing in Swansea since 2011 and the singer thanked fans for "turning up so early", admitting that there was a part of him that worried about nobody showing up.
"My job is to warm you up a little and get your voices warmed up... We need to lose our voices by the end of the day," Sheeran told the crowd, staying true to his word and opening with a joyous singalong of Castle On The Hill and leading into the likes of early hit The A Team, tender ballad Perfect and Gaelic-inspired ode Galway Girl, closing, of course, with the ever-present smooth jam that is Shape Of You.
A show-stopping start to a blockbuster day at the Biggest Weekend in Swansea.