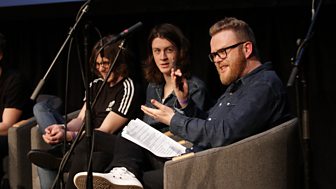 Huw Stephens and Blossoms at BBC Music's Conference in 2015
Digital Music: Navigating the Teen Years
BBC Music Conference 2016: The Future of Music is back for its third year on Friday 4th November.
This year, BBC Radio 1's Annie Mac will be hosting the half-day music conference.
Annie will be joined by a range of industry experts, including Chris Price (BBC Radio 1), Ben McOwen Wilson (YouTube), Jeff Smith (BBC Radio 2 & 6 Music), Ben Cooper (BBC Radio 1 and 1Xtra), Roman Tagoe (Deezer) and many more…
Throughout the day we will hear from three incredible BBC Introducing artists: Frances, Alice Jemima and Billie Marten.
The aim of the afternoon is to bring together key industry experts from across the sector to debate a range of issues facing the digital music industry as it moves from its infancy to its teen years. Some of the topics being explored at this year's conference will be:
Radio & Streaming: Can They Co-exist?
Live Music in a Digital World
The End of Innovation in Digital Music?
The conference will be held on Friday 4th November 2016, between 1pm and 7pm, at BBC Radio Theatre (Broadcasting House, Portland Place, London, W1A 1AA).
If you would like to attend this event, please email maria.fant.ext@bbc.co.uk. Please note that numbers for this event are restricted so we wont be able to accommodate everyone.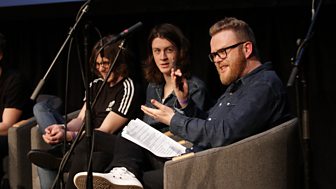 Huw Stephens and Blossoms at BBC Music's Conference in 2015