Last year, we selfishly ruined your listening pleasure of 10 songs forevermore by pointing out some strange quirks - from recording clangers and studio bloopers to ingenious samples and off-kilter noises - that, once you're aware of them, you can never unhear.
But those odd anomalies don't just crop up in audio form - there's plenty a music video with strange little kinks hiding in plain sight that you'll easily be able to ignore until someone points them out. And from that point on, your eye will be eternally drawn to them like a giant attention-distracting magnet. Here are seven of the most notable, from before-they-were-famous cameos to wardrobe malfunctions, continuity errors, fan-pleasing references and gravity-defying miracles.
The Walking Dead's Norman Reedus chopping off his hair in Björk's Violently Happy
[Warning: contains flashing images]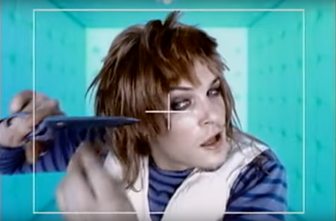 Today, American actor Norman Reedus is best known as the tough, moody survivor Daryl Dixon on zombie TV drama The Walking Dead. Scour through some old music videos, though, and there's a chance you'll be rewarded with some strange glimpses of a pre-fame Reedus: in the mid-90s, he popped up in promotional treatments for bands such as R.E.M., Keith Richards and Goo Goo Dolls.
One of the more startling appearances is his turn in Björk's 1994 video for Violently Happy, in which he plays an inmate in a psychiatric ward who roughly hacks off his own hair with a pair of scissors. The following year, he gave an equally memorable performance in Radiohead's treatment for Fake Plastic Trees, causing havoc in a futuristic supermarket while Thom Yorke is carted around in a giant trolley.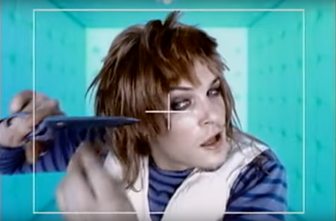 Axl Rose's mysterious vanishing t-shirt in Guns N' Roses' Welcome to the Jungle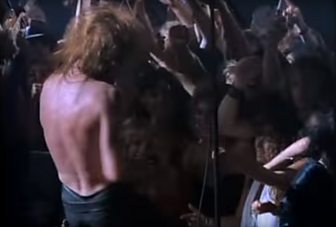 Given that Guns N' Roses videos would become sprawling, big-budget monsters - the epic November Rain cost roughly $1m to make, with its combination of Slash playing guitar while circled by helicopters and model Stephanie Seymour's expensive wedding dress - it's strange to think that Geffen Records boss David Geffen had to fight tooth-and-nail to persuade MTV to even broadcast their film for Welcome to the Jungle. Stranger still is the continuity error which made it through the edit: at about 2:48 in the video above, a t-shirt clad Axl Rose falls to his knees; when he's on the ground, shot from behind, his shirt has mysteriously vanished, showing just his sweaty back; then, when he gets up again, it's inexplicably back. Any theories?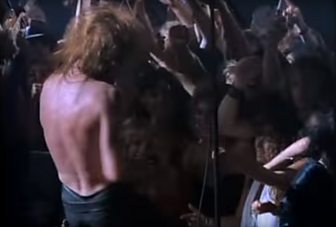 Nicki Minaj fumbling for her belt in Massive Attack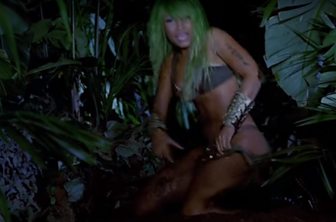 Another clothing-based mishap, here, in Nicki Minaj's promo for her 2010 single Massive Attack (featuring Sean Garrett), which was helmed by renowned video director Hype Williams. Among its more dramatic scenes - which include Minaj and model Amber Rose speeding through the desert in a pink convertible while pursued by a helicopter - there seems to be a bit of a gaffe. Shortly before the end of the video (2:50), a green-haired Minaj dances in a muddy jungle when her snazzy military-style belt comes loose, causing her to fumble to try and stop it slipping off without missing a beat.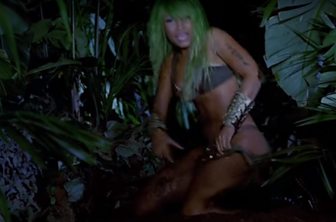 Dave Grohl suddenly changes car before driving off a cliff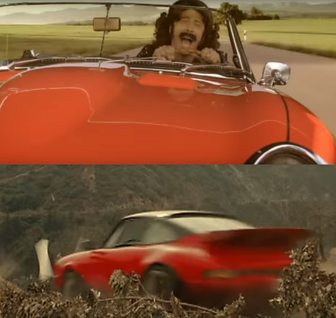 The video for Long Road to Ruin sees the Foo Fighters and the gang channelling cheesy 80s hospital soap opera vibes, with Dave Grohl playing actor Davy Grolton, who in turn plays romantic lead Dr Hansom Davidoff. Rashida Jones does a guest turn as Grolton's love interest; eventually, his fame as leader of the Davy Grolton Band (yes, it's all very meta-meta) drive them apart, and Grolton is driven, quite literally to despair as he guns his vintage, convertible E-type Jaguar over the edge of a cliff to a fiery doom. Or does he? If you look closely, the car that actually takes the jump seems to be a less-valuable, 90s Porsche, which isn't a convertible, or the same shade of red. It's either a tongue-in-cheek nod to similar continuity goofs in 80s TV, or just a very sensible budgeting decision.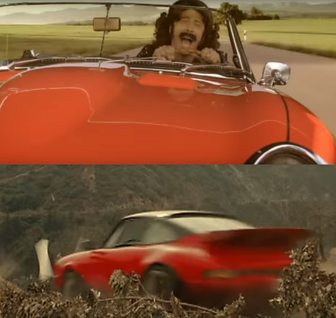 Norman Cook's subtle appearance in Praise You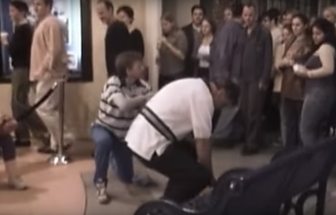 In most cases, an artist appearing in the video for their own song hardly constitutes a strange quirk, but it took very beady eyes to notice Fatboy Slim (Norman Cook) in the Spike Jonze- and Roman Coppola-directed promo for 1999's Praise You. The award-winning film, which reportedly cost just $800 to make, was shot guerrilla-style outside a cinema in Los Angeles and featured Jonze as Richard Koufey, leader of fictional dance company the Torrance Community Dance Group. They spring their kooky, b-boy moves on an unsuspecting crowd of movie buffs with Cook playing the role of just one of many bemused onlookers. See him best at the two-minute mark.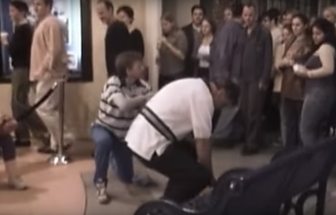 Thom Yorke shares an elevator with some familiar faces in Radiohead's Lift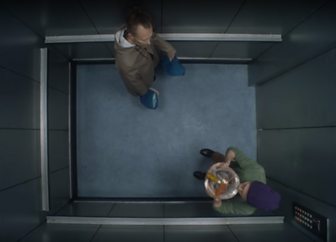 This year, Radiohead lovers' cups have truly runneth over: not only did the Oxford band finally release the single Lift - a track originally recorded for their classic 1997 album OK Computer which they decided to leave off the final tracklisting despite it becoming a live staple - they also offered a nifty bit of fan-service with the video. Director Oscar Hudson promised a trove of inside jokes and Easter eggs for devotees to pick up on, including cameo appearances from Thom Yorke's girlfriend and daughter, and references to some of the band's most memorable videos. We won't spoil them all here (it's fun trying to see how many you can spot), but do keep an eye out for a certain purple-hatted wearing chap in a green jumper awkwardly clutching a fishbowl - he's a real-flesh version of Robin, protagonist of the band's animated Paranoid Android video.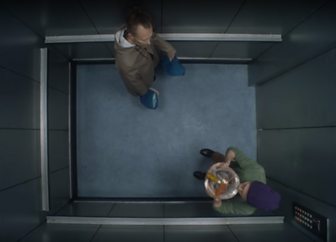 Prince's disappearing guitar at the Rock & Roll Hall of Fame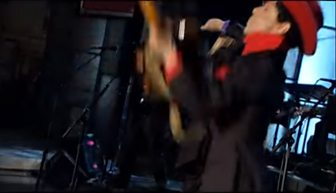 Both Prince and George Harrison were among the artists inducted into the Rock & Roll Hall of Fame in 2004. Prince not only opened the award ceremony with a performance of his own, but also closed it in mic-drop style during a performance of While My Guitar Gently Weeps in honour of Harrison, who had died in 2001. As the song begins, Prince near the back of a stage shared with Harrison's son Dhani, Tom Petty, Steve Winwood and Jeff Lynne, the mood is sombre, and respectful. Then Prince, in flashy red Stetson, steps forward and proceeds to rip out an utterly phenomenal solo; for him, the best form of tribute is clearly making the song sound as absolutely cosmic as possible. Having completely owned the stage, at 6:10, he removes his guitar, casually throws it up it to the sky, and strolls off as if nothing much just happened. Where is the guitar? Is it still up there?
Like us on Facebook, on Instagram at bbcmusic, or follow us on Twitter @bbcmusic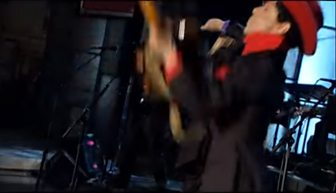 Related links