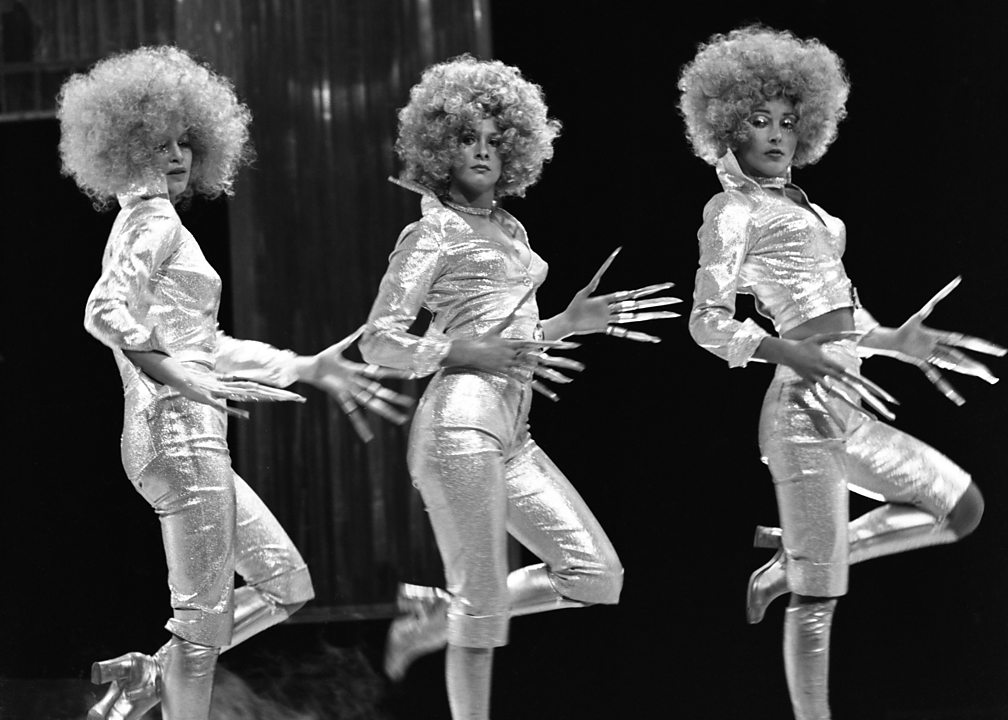 Imagine that you're a harassed TV producer working on one of the BBC's most popular weekly shows, in an era before the glitzy music video had become ubiquitous. There's a new hot smash hit in the charts, and you have to play it, or there'll be anarchy in the studio. But disaster! The band in question are touring abroad, and there's no way they can make it to BBC Television Centre to record. What are you going to do? The answer is, of course: make your own impromptu music videos with a talented troupe of high-energy dancers.
For 19 years, different Top of the Pops troupes danced out the dreams of young pop fans from R&B through punk to disco and all stops in between: first the Go-Jos (1964-1968), then Pan's People (1968-1976), Ruby Flipper (1976), Legs & Co. (1976-1981) and finally Zoo (1981-1983).
As well as first loves for many young viewers, they were icons, high-kicking their way into the heart of pop culture. And even after they hung up their lamé leotards, some of them went on to have lives scarcely less incredible than their lives during TOTP.
Wendy Hillhouse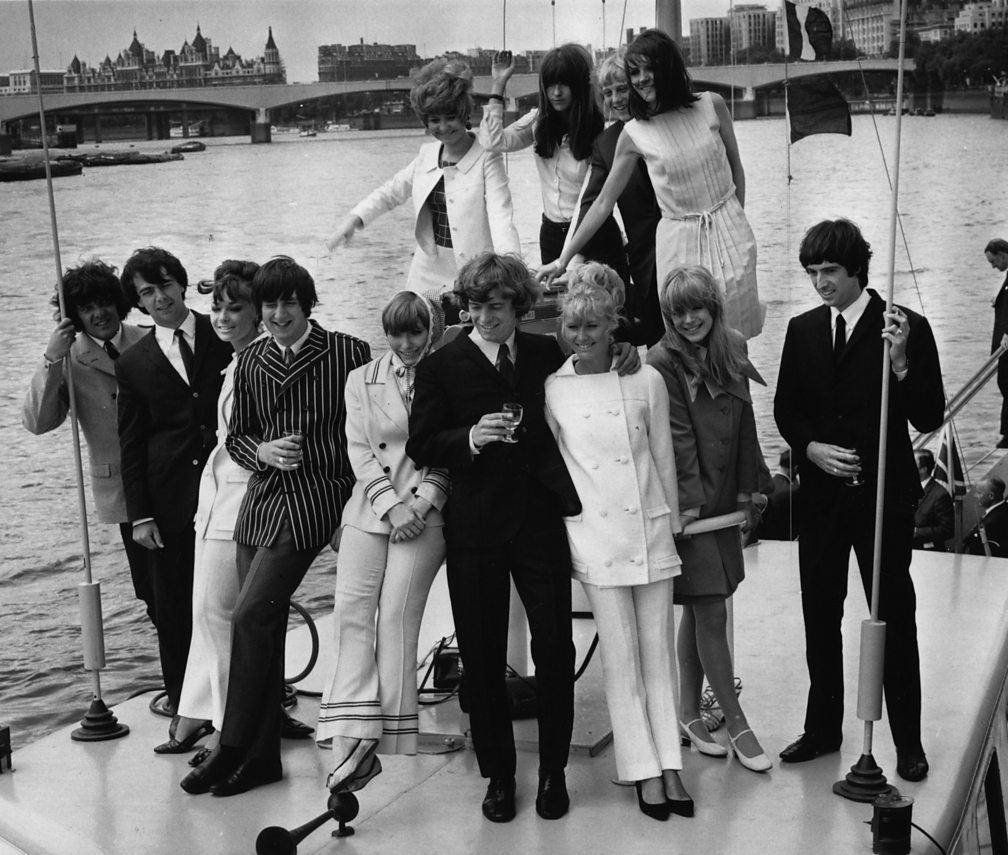 Pop group Unit 4 + 2 and the Go-Jos with Marianne Faithfull (front row) and (back row from left to right) Lulu, TV presenter Cathy McGowan, and Sandie Shaw, London, 1966
Classically trained dancer Hillhouse started her professional career in touring shows and cruise ships, shimmying around the world. On her return from an Australian jaunt, she heard that Jo Cook, a former member of the proto-Pan's 60s dance group the Beat Girls, was holding auditions for her new troupe, the Go-Jos. Hillhouse got the part, and performed on The Val Doonican Music Show, The Goodies and The Morecambe and Wise Show, as well as Top of the Pops.
"We had to do a lot of retakes because they kept making us laugh," she said of being on The Morecambe and Wise Show. "The same thing happened when we worked with The Goodies on their show. I was Bill Oddie's dance partner in the Come Dancing episode and, because he kept making me laugh, we had to keep re-shooting! I look back on those days on television in the 60s with happy memories and nostalgia."
It wasn't always good times, but the group had a strong solidarity: "Jo Clark did everything to look after us and was always very concerned about our lives," Hillhouse said. "She was very good to me when my father died in Westminster Hospital the night after dancing live to Jumping Jack Flash on Top of the Pops and she comforted me."
After her career as a dancer came to an end, Hillhouse taught dance for many years, then, when her children had grown up, retrained as an arts therapist. In 2000, she opened a practice in Scotland working with trauma sufferers, including ex-servicemen.
Lesley Judd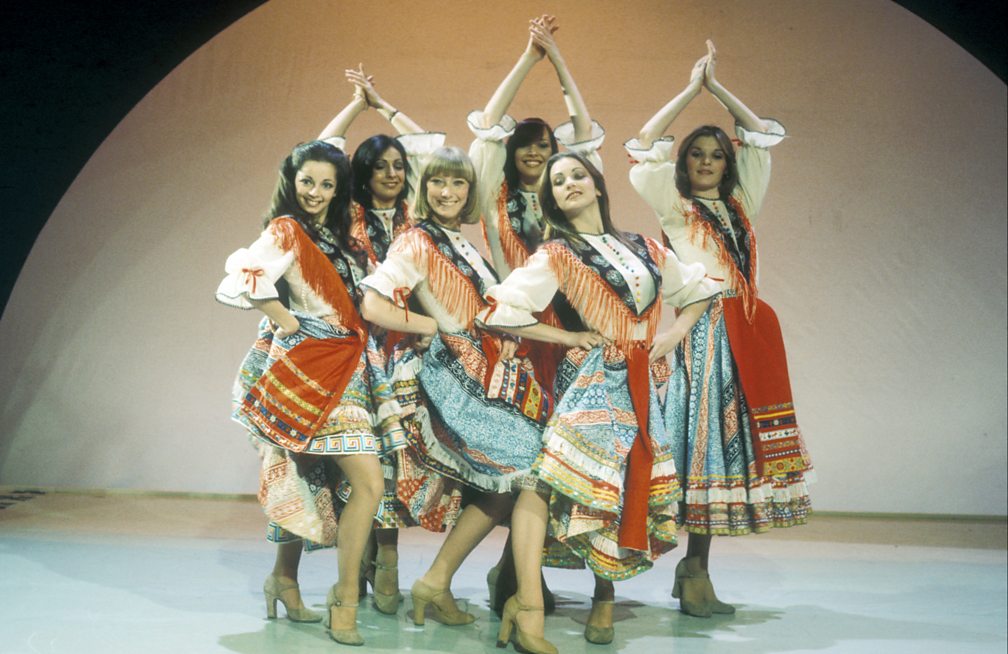 Lesley Judd (centre left) dancing with the Pan's People on Blue Peter, 1976.
Lesley Judd was fleetingly a member of the Beat Girls, as well as the Go-Jos and Pan's People. As a child actor, she appeared in Heidi and Z-Cars, and later in the first Monty Python film, And Now for Something Completely Different.
Lesley is perhaps best remembered as a Blue Peter presenter alongside the classic line-up of Valerie Singleton, John Noakes and Peter Purves. After seven years at Blue Peter, she presented a children's chat show, In the Limelight with Lesley, as well as Woman's Hour on Radio 4, and appeared as a newsreader on nuclear apocalypse drama Threads. She now lives in France and works as a conference organiser.
Flick Colby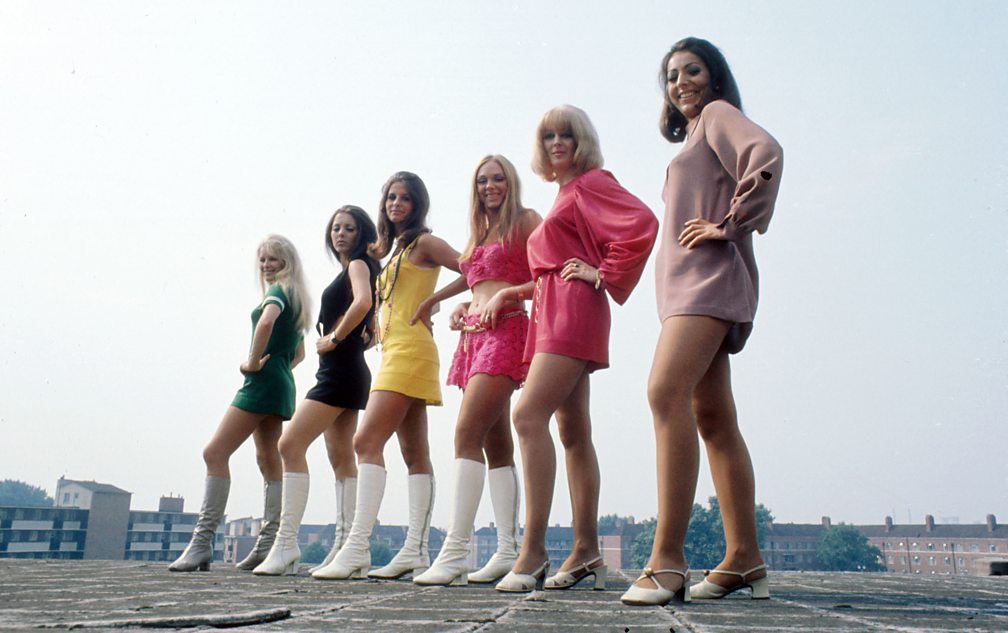 Flick Colby (right) with Pan's People on the roof at Television Centre, 1969
The choreography mastermind behind nearly all of the Top of the Pop's dance troupes, Felicity 'Flick' Colby learned to dance in Boston in her native US before moving to London in 1966 at the age of 20. Like Jo Clark, she was founder-member of the Beat Girls, but after a disagreement with their manager, she split from the group to form Pan's People with Babs Powell and Dee Dee Wilde, later adding Louise Clarke, Andrea Rutherford and Ruth Pearson. After a few TV appearances on the likes of The Bobbie Gentry Show and Happening for Lulu, they made their TOTP debut in 1968, their first full performance being for U.S. Male by Elvis Presley.
The weekly pop chart was published on a Tuesday and Top of the Pops was recorded on Wednesdays, meaning that Colby had just one day to devise a whole routine - making those moves even more impressive. Colby would later put together the troupes Ruby Flipper, Legs & Co. and Zoo, by which time she was credited as dance director. She also choreographed Jack Good's rock musical adaptation of Othello, Catch My Soul and in 1979 published the book Let's Go Dancing. After her association with Top of the Pops ended, she moved back to the US, living in Clinton, New York, where she ran a gift shop called Paddywacks. She died of breast cancer in 2011, aged 65.
Dee Dee Wilde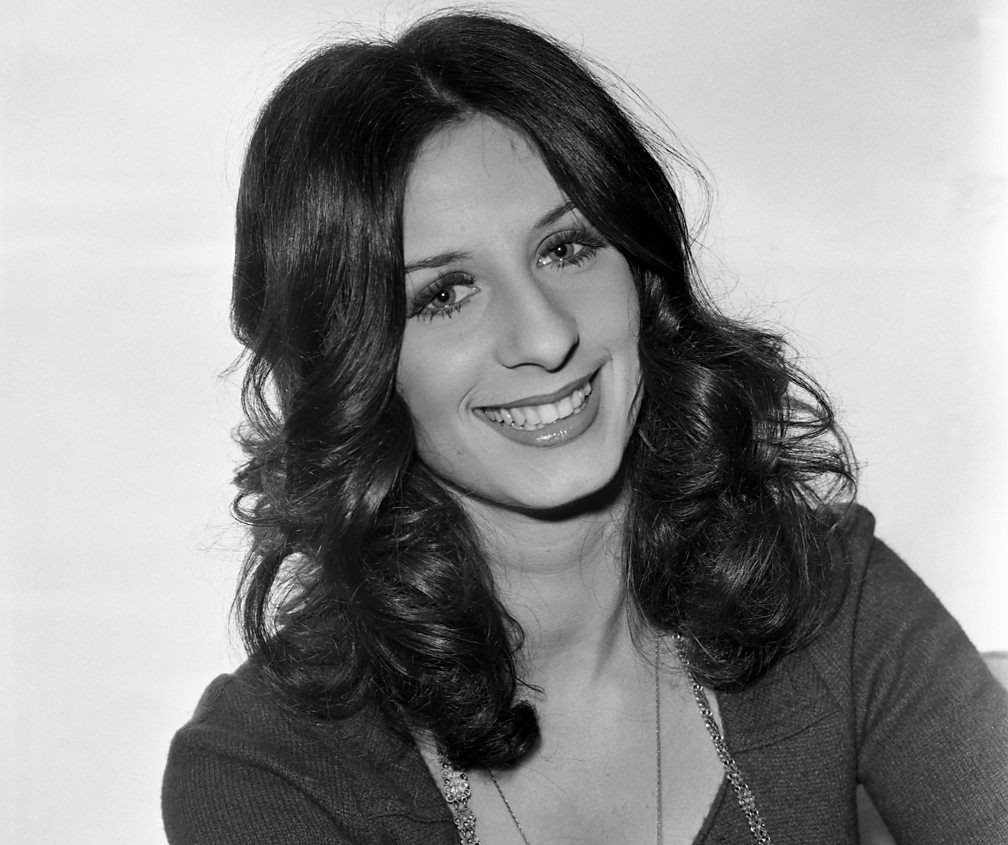 Perhaps the Pan's People dancer with the name most clearly destined for rock 'n' roll, Dee Dee Wilde trained at the not-too-rock environs of the Elmhurst School for Dance in Surrey. A former Biba shop girl, she was part of the original Pan's People line-up, and indeed nearly named the troupe, though Dionysus's Darlings was rejected in favour of Flick Colby's snappier Pan's People.
She married Henry Marsh of the pop group Sailor, and as of 2016 was still dancing and teaching classes in Wiltshire. "I still have my marabou stole from the Beatles' Get Back dance I wore in 1969," she told the Mail in 2011. "I also kept Arthur, the fake crocodile I dragged around during our routine to Elton John's Crocodile Rock in 1972. And I've got the tartan knickers from our dance to Rod Stewart's Maggie May in 1971."
Babs Lord (now Babs Powell)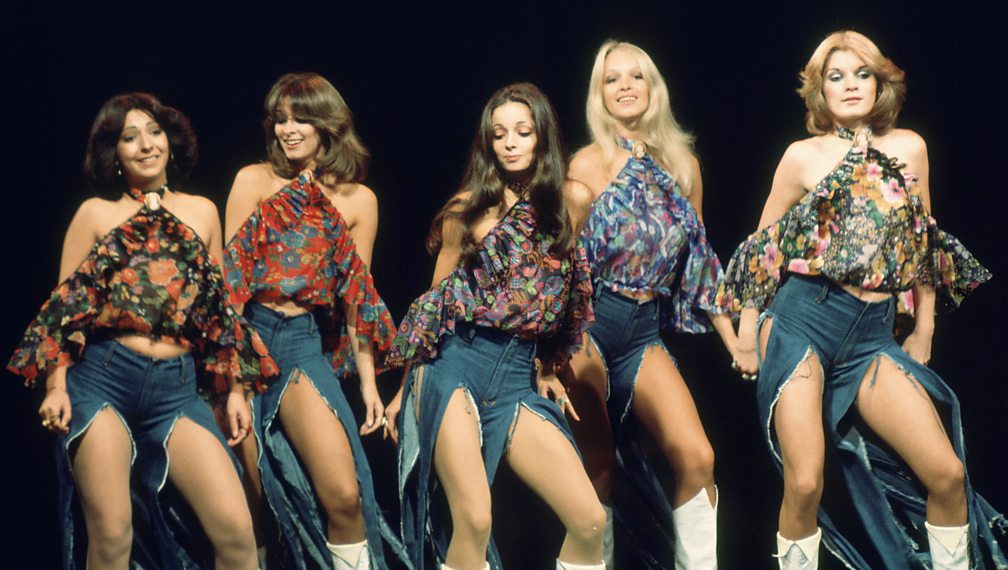 Pan's People on Top of the Pops in the 1970s. Babs is second from right
"I'd always wanted to be a ballet dancer," Babs Powell, née Lord, told the Daily Mail in 2011. "Pan's People was my way of realising my dream." And a Pan Person's life was the stuff of dreams, she recalled, hanging with the likes of The Rolling Stones, Hendrix, and even Gene Kelly. "And we almost met Prince Charles when he visited the studio, but someone realised our white dresses were see-through, so we were asked to wander off."
In more recent years, Lord has taken up charity adventuring, beginning with the London Marathon and moving on to round-the-world yachting, trekking to both poles, walking the Great Wall of China and the Sahara. "Last weekend, during a trek," she told the Daily Mail. "I got stopped by a woman who told me she loved the group and asked for my autograph."
Cherry Gillespie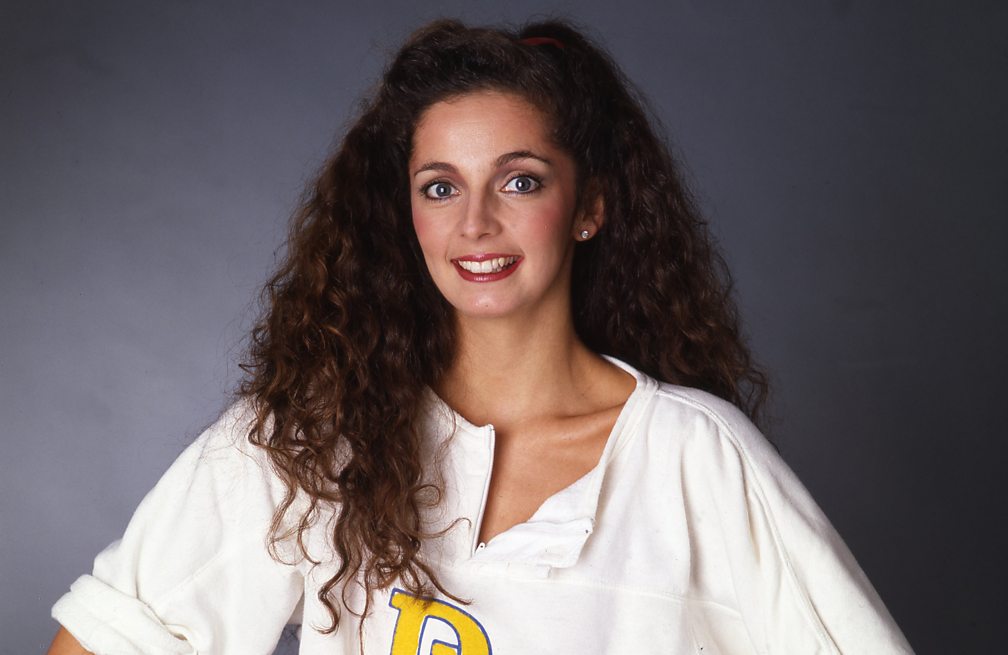 Cherry Gillespie was one of the few dancers to make it through from Pan's People to the next Top of the Pops troupe, the short-lived Ruby Flipper, which featured male and female dancers, before choreographer Flick Colby was forced to reassemble an all-female group. Post-Flipper, Gillespie took on various acting roles in the likes of Minder and Bergerac, but most memorably played cult member Midge alongside Roger Moore as Bond in Octopussy.
She also has some pretty cool musical credits. In August 1974, Pan's People released a double A-side single You Can Really Rock and Roll Me / The Singer Not the Song with Gillespie as lead vocalist, but sadly it failed to chart. That same year, though, Pan's People danced at some Jethro Tull gigs in London, and the band's singer Ian Anderson composed the track Pan Dance for them. Gillespie would perform with Tull again in 1976, and in 1978 she appeared as a backing vocalist on Steeleye Span singer and folk-rock legend Maddy Prior's debut solo album Woman in the Wings.
Anita Chellamah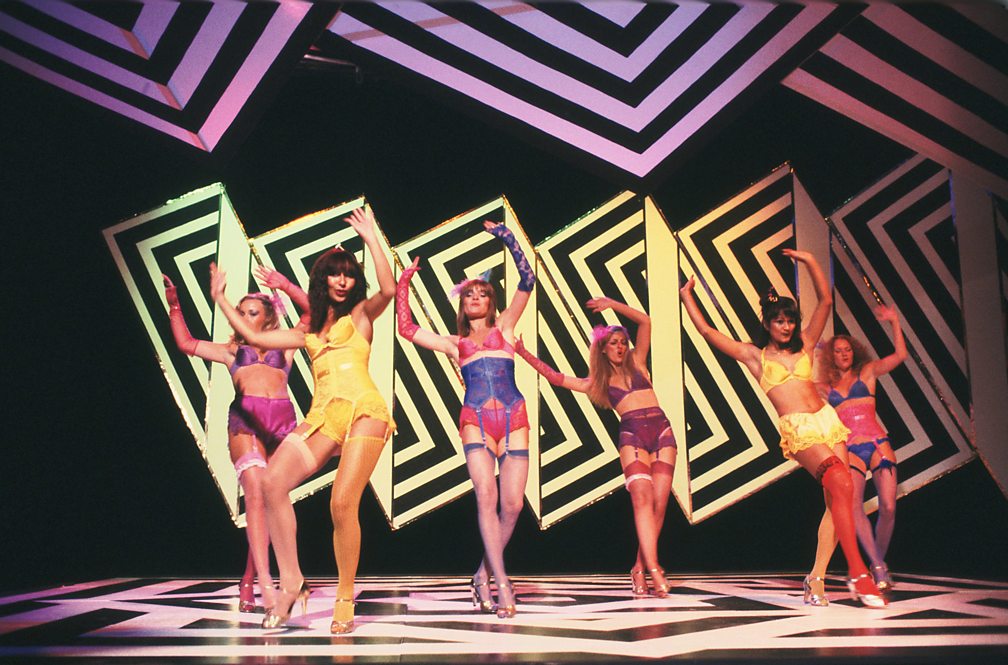 Legs & Co. on Top of the Pops, 1980
Chellamah joined Legs & Co., the successor to Ruby Flipper, in 1981 (the band was named through a TOTP audience competition). Her first performance was Ain't No Stopping by Enigma, but even more workaday moments as a TOTP dancer could be filled with glamour. "I was rehearsing at the BBC rehearsal studios at North Acton when I stepped into a lift with the late, great choreographer Flick Colby and saw David Bowie," she told Muso Muso. "Then in the canteen, David Bowie walked back to the line, he looked at me, my mind wandered, and I imagined him telling me how he liked my dancing and all that. He then said: 'Excuse me, can I get to the cheese?' I looked at him and just said, 'Yeah.' I spent the rest of the time imagining the different conversation we could have had."
The troupe would only continue for one more year, and from then on, Chellamah focused on her main love - music - performing in the new wave pop group Toto Coelo (alongside Blockbusters presenter Bob Holness's daughter Ros). They had a Top 10 hit with I Eat Cannibals in 1982, which saw Chellamah return to TOTP as an artist, not a dancer. Subsequent singles, including the tantalisingly named Dracula's Tango (Sucker for Your Love) and their album Man O'War, weren't as successful and Chellamah left the group.
She'd been working on a solo album with Andy McCoy of Finnish rock band Hanoi Rocks, and when the latter split following the death of drummer Razzle, McCoy rang her up to ask if she wanted to form a new band. So were born The Cherry Bombz, who released a mini-album and supported Poison on tour, but only survived a couple of years. Chellamah recently returned to music, however, with members of The Cherry Bombz, and released the EP Give Me the Answer under her own name in 2016.
Downtown Julie Brown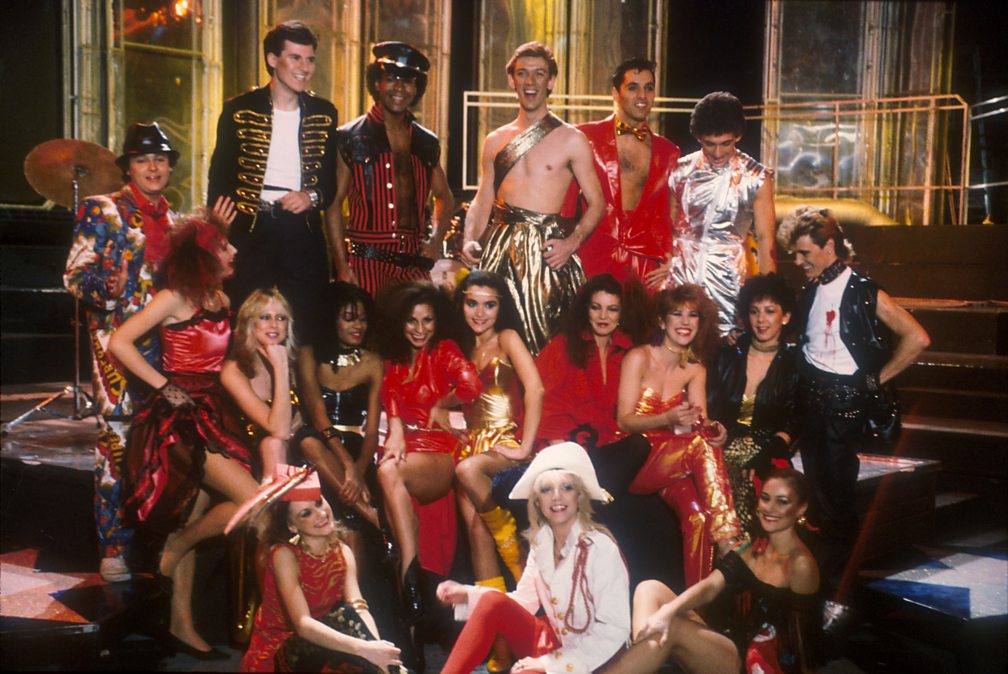 Zoo who debuted on TOTP at the end of 1981 replacing Legs & Co.
Julie Brown, daughter of an English mother and a Jamaican father in the RAF, grew up on air force bases from Cyprus to Singapore. After her family settled in Bridgend, she developed her talent for disco dancing, winning first the UK championships and, in 1979 at the age of 16, the world championships. In the early-80s, she joined Zoo, the final TOTP dance troupe, once more assembled by Flick Colby. Zoo had a more shifting and diverse line-up than previous troupes, with members from a range of different dance and movement backgrounds - ballet, circus, club
Brown combined co-presenting children's TV show Crackerjack with dancing to the likes of Earth Wind & Fire, Kool & The Gang and Shalamar. However, the days of interpretive dance on TOTP were numbered, as the rise of the music video presented producers with a much easier and cheaper alternative when artists couldn't be booked to perform their hits. Brown took an 'if you can't beat 'em...' approach, first becoming a presenter on the European video channel Music Box and later landing one of the 80s most coveted roles, as an MTV VJ, coining a catchphrase 'wubba wubba wubba' when she read a crew member's t-shirt instead of the cue-cards they were holding on live TV.
In 2003, she appeared on the first series of the US version of I'm a Celebrity… Get Me Out of Here! She currently presents on Sirius XM's channel 90s on 9.
Like us on Facebook, on Instagram at bbcmusic, or follow us on Twitter @bbcmusic
Related links