New series of BBC World News' Horizons uncovers technology that could change the world
Presented by the award-winning business journalist Adam Shaw, Horizons continues its journey around the globe discovering the latest technologies and innovations that could revolutionize the way we live.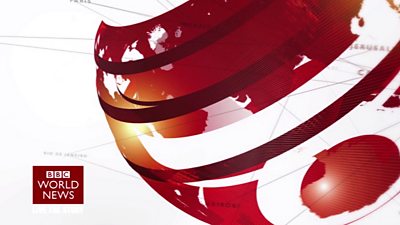 We've been travelling the globe for series four of Horizons and I've continuously been struck by the ingenuity of the people we met. Not just from those you'd expect, like scientists and academics, but ordinary people with brilliant ideas. And what's most exciting is that these ideas have the potential to change millions of lives.
From discarded mobile phones that could provide a reliable solution to illegal deforestation, lettuce leaves that could help fight polio, HIV and cholera and seaweed that can be turned into biofuel, this series will continue the search for the ideas and people tackling some of the big challenges facing our planet.
Talking about the new series Adam said: "We've been travelling the globe for series four of Horizons and I've continuously been struck by the ingenuity of the people we met. Not just from those you'd expect, like scientists and academics, but ordinary people with brilliant ideas. And what's most exciting is that these ideas have the potential to change millions of lives."
In the first episode of the series Adam travels to New York, London and the Netherlands to meet the innovators using ground-breaking ideas in light technology to illuminate lives all over the world.
While the global lighting economy is worth more than 70 billion euros a year, there remain more than a billion people who live without access to the electricity to generate light. In this programme Adam meets Jim Reeves, the inventor of a light that is powered purely by gravity, which is helping to bring light to homes in Africa and India.
Adam then heads to New York to meet Jessica O. Matthews, the CEO of Uncharted Play, who whilst working near the bright artificial lights of Times Square, came up with a clever solution to create light for the developing world, without the need for electricity.
Jessica has designed a football and a skipping rope that charge a battery as they are used which then enables a light to be plugged in.
"By showing people what is possible with the power of play, we invite communities around the world to rethink the status quo in an accessible, tangible way. Innovation, science and play can be combined to improve the quality of life of people around the world," says Jessica.
Also in the programme, Adam meets the experts who have come up with exciting and ground breaking ways to harness the power of light. Adam discovers new developments in quantum dots and looks at the potential uses of this technology for lighting and the next generation of televisions.
Finally, Adam travels to the Netherlands to meet the Dutch innovator using light to benefit our surroundings. Daan Roosegarde has invented the Smart Highway which uses photo-luminescent paint to light roads at night and an environmentally friendly cycle path which lights up at night with Van Gogh inspired images.
And for this series it will be even easier for audiences to keep up to date with Horizons, wherever they are, with the launch of the new Horizons app. The app will give audiences access to all the behind-the-scenes clips and video diaries from Adam and will provides users with a tailored experience with easy-to-find content based on location and theme, and the ability to favourite clips.
Richard Pattinson, Commissioning Editor, bbc.com, said: "With the BBC World News series about how science and technologies are transforming businesses and the way we live entering its fourth season, it seemed like the perfect occasion to bring all of our Horizons content together in an app, so our audience can enjoy video, blogs and infographics from the programmes wherever they are."
The Horizons app will be available to download on iOS and Android.
Horizons Episode 1 'Let there be light' will be broadcast on BBC World News on Saturday 10 May at 01:30 and 08:30 and Sunday 11 May at 14:30 and 20:30 (all times GMT.)
The Horizons series, sponsored by DuPont, airs weekly on Saturdays at 01:30 and 08:30, Sundays at 14:30 and 20:30 (all times GMT). For programme highlights and an insight into the future of science and technological innovations visit bbc.com/horizonsbusiness.
For all the latest news, behind-the-scenes pictures/videos and updates from Adam Shaw please follow at facebook.com/horizonsTVseries and on twitter at @horizonsbiz.
For more information contact: Jessica Culshaw on +44 (0)7718 696636 or email jess.culshaw@bbc.co.uk or Claire McMahon on +44 (0)7718 120065 or email claire.mcmahon@bbc.co.uk
Biography
Adam Shaw is the award-winning presenter of Horizons, looking at the future of science and technological innovations, broadcast on BBC World News. He recently won the British Business Broadcaster of the Year award, presented by the ABI, which represents major investors and insurers.
During the first series of Horizons, Adam filmed in 18 different countries, visited 120 different companies and organisations and interviewed 150 industry and thought leaders.
Adam is one of the best-known financial personalities on television and radio in the UK. He has been the business presenter of the BBC's flagship news and current affairs programme, the Today Programme, which is listened to by seven million people every day. He regularly on BBC One's The One Show and for many years presented BBC Two's Working Lunch.
He has also presented Dealers for the Discovery Channel, Drive To Buy for ITV and in his long and distinguished career has been the presenter of BBC One's Business Breakfast, Radio 5 live's Wake Up To Money and Radio 4's Financial World Tonight.
Before that, he worked as a business reporter for BskyB and travelled extensively in Eastern Europe reporting on the growth of business there. He has also reported on businesses in Asia and Canada.
Adam has interviewed most of the chief executives of the UK's biggest companies. His reporting and presenting has won him many awards. In addition to his most recent award, The Plain English Campaign made him their Broadcaster Of The Year. He was awarded the Best Broadcast Journalist of the Year by the Association of Investment Companies. His business coverage on the Today programme won the Best Business Radio Programme award from the Institute of Financial Accountants. On top of  that, he was twice made the Proshare personality of the year for his work in reporting on the world of shares and investments.
In addition to his work on television and radio, Adam has written for a number of newspapers including the Independent, Mail on Sunday and Metro. He has written and co-authored a number of books: Political Rhubarb, Money And How To Make More Of It, Managing Credit and Investing Basics.
1. Let There Be Light - 10 May
We all need to illuminate our lives and kick darkness into touch. There have been rapid technological advances in how we do this, ones that make brighter, sharper bulbs, diodes and screens. Mankind is also making incredible leaps in energy efficiency for lighting. Through creativity and innovation we can start to see lighting, well in a… new light. We look at Quantum Dot technology, soccer balls and gravity-fed devices that can generate energy and light for the developing world.
2. Physics And Me - 17 May
Understanding the universe down to the tiniest constituents of matter such as the so called "God particle" may appear to be an esoteric pastime. But there are real practical benefits. Discoveries in particle physics at the Large Hadron Collider have made a significant contribution to medicine, such as the positron used in nuclear medicine imaging. We visit CERN in Geneva and look at digital lasers developed in South Africa and demonstrate why physics matters.
3. Space - 24 May
Outer space has existed in the collective subconscious of humanity since the dawn of time; it represents the unknown, the final frontier. It has inspired mankind to gaze at the stars, ride rockets and walk on the moon, as well explore the boundaries of our knowledge. For most of us down here on earth, there is an even bigger question - how can space research produce real economic value, how can it make a difference here on planet earth? We look at the construction of the world's biggest telescope, a couple who are aiming to take us to the edge of the atmosphere and fusion propulsion which will take us to Mars in 30 days.
4. Robots And Drones - 31 May
Robots and drones are the "it" technology of our time. Advances in processing power mean robots are doing things reliably now that would have sounded implausible a few years ago. Together these technologies represent a scale of change that hasn't been experienced since the Industrial Revolution. We look at how they are revolutionising agriculture, mining and delivery of disaster aid.
5. Extreme Recycling - 7 June
A step change in recycling will be essential as our growing global population consumes a lot more. We need a major shift in how we view and deal with our waste. We should see everything we throw away as a resource. We've all seen composting toilets and recycled plastic, but what next and where next; who and what are pushing the boundaries of recycling? We look at new food packaging made from fish skin, urine-powered robots and next generation recycled plastic.
6. Next Generation 3D Printing – 14 June
The future may already be building itself. Three dimensional printing, or "additive manufacturing," has now gone mainstream - businesses, academia and government are all using it. We look at how printed goods are moving out of laboratories and into kitchens, playrooms and regular consumption patterns. We also look at 4D printing.
7. New Materials – 21 June
After the Stone, Iron and Plastic Ages, we look set to be entering into a New Age of Materials, where packaging and building fabrics are a lot smarter, use less of our precious resources and are kinder to the environment. With commodity prices tripling in the last ten years there is a need to find high-performing, cheaper and lighter alternatives. We look at recyclable building materials and fire-retardant settlement houses in Africa.
8. Fuel For Thought – 28 June
The world desperately needs highly productive energy sources that don't emit toxic pollutants and greenhouse gases. The economic and technical obstacles around most sources of renewable energy are still substantial but the hunt goes on. We explore the potential of geothermal power and the use of seaweed as biofuel.
9. Gates: Money And Science: Improving Lives - 4 October
Bill Gates, founder of Microsoft has a vision for how science and technology can be employed around the world in order to reduce the global burden of disease, promote education and slash poverty. Bill and his wife Melinda talk to Horizons about innovations in healthcare, vaccines and nutritional solutions.
10. Bionic Bodies – 11 October
The exploding pace of advancements in computing, biotechnology and nanotechnology will give engineers the ability to make bionic bodies. Advancements in prosthetics are accelerating and brain-computer interfaces are now more sophisticated. We will increasingly rely on devices that enhance human perception, movement and sensation. We look at next generation prosthetics for hands and legs, bionic eyes and meet some of the people now using these technologies.
11. Connected Cities – 18 October
Urbanisation is the defining trend of the 21st century. The rate and extent of this trend, especially in Asia and Africa is unprecedented in human history. The scale of city building needed within the next few decades is going to be extraordinarily challenging. We will have to future-proof our urban space, harness the latest technology and wired infrastructure, as well as adapt our older cities and be smarter about how we monitor aspects of city life. We head to the connected city of Songdo in South Korea and speak to the Executive Vice President of Cisco, Wim Elfrink in San Francisco.
12. Frontier Seas – 25 October
Around the world, mankind is exploring ways we can utilise the oceans – they cover roughly 70 percent of the Earth's surface. The focus on finding solutions offshore, rather than on dry land has grown enormously over the last few years. From floating neighbourhoods and aqua-architecture to cutting edge technology that harnesses the power generated by wind and wave energy – our oceans hold a lot of potential. We head to the Netherlands, South Korea and the US to find out how we can better exploit our watery world.
13. Medicine: Diagnostics & Delivery – 1 November
As life expectancy increases, so does the number of people on the planet. This will continue to challenge the ability of healthcare systems to make affordable treatment available to everyone. Medicine needs to adapt. We look at new micro-needles, plants that can grow human vaccines and dissolvable bone screws.
14. Food Technology – 8 November
Healthier, more nutritious and cheaper food, which doesn't ruin the environment, is essential with more of us on the planet. Many scientists argue that our current production, storage and distribution systems mean we consume too much energy, too few nutrients and too many animal products. But the food and agriculture industry is not standing still. In this show we feature egg substitutes, new biscuits for the under-nourished and new fridge technology in India.
15. Cost Conscious Science – 22 November
There is a lot we can learn from technology in the developing world. When there are significant constraints on resources - from money to energy, time and know-how - it spurs innovation. Small-scale entrepreneurs are increasingly making cheap and ingenious discoveries that will improve the lives of many. It's called frugal innovation and it is spreading. We look at microscopes that sell for 50 US cents, and talk to the world's leading expert in Reverse Innovation, Vijay Govindarajan.
16. The Brain – 29 November
We still know surprisingly little about the human brain other than it is the most complex structure in the known universe. Solving the mysteries of its structure will be one of the biggest scientific projects of the 21st century. The 86 billion nerve cell question is - will we ever understand this three-pound bag of cells and chemical transmitters that forms 100 trillion connections? We look at the brain-machine interface more closely, scientists growing brains in a laboratory and research into understanding the causes of Alzheimer's.
Related BBC Links