Joint statement issued at the BBC's Safety of Journalists Symposium
This statement was issued at the BBC's Safety of Journalists Symposium on Monday 7 April 2014, hosted by BBC Global News and CFOM, the Centre for Freedom of the Media at the University of Sheffield, in cooperation with the BBC College of Journalism.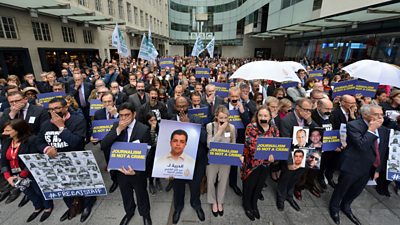 The following participants at the Symposium have endorsed this Statement and called for increased safety and protection of journalists:
"We have gathered to protest at the increasing attacks on journalism around the world and the damage to free speech that can result from the rise in violence and intimidation against the media.
"UNESCO has just published detailed evidence which shows that journalism has become increasingly dangerous in many parts of the world. Only last week the acclaimed Associated Press photo-journalist Anja Niedringhaus of AP was killed in Afghanistan.
"In too many countries journalists are facing serious intimidation and violence, which in turns leads to disturbing patterns of censorship and self-censorship. We stand against these abuses and today we call on the governments concerned to investigate each one of those crimes promptly and effectively so as to bring those responsible to justice. We will now observe a minute's silence to illustrate the silencing of journalists and of free speech.
"Today also marks 100 days since the arrest and detention in Egypt of three respected and highly professional Al Jazeera journalists, Peter Greste, Mohamed Fahmy and Baher Mohamed. No credible evidence has been produced to justify their imprisonment and prosecution. A number of other journalists have also been held in Egypt for extended periods without adequate access to justice. We call for the release of all those individuals and the freeing of more than 200 other journalists around the world who are now held behind bars only because they were doing their jobs. Journalism is not a crime; it is essential for a free and open society.
"We are especially concerned that since the start of the Syrian conflict three years ago more than 90 journalists have been killed, and scores of others have been kidnapped. Many of those who have been abducted remain unaccounted for today. Among them are the French journalists Didier François, Nicolas Hénin and photographers Edouard Elias and Pierre Torres.
"Our urgent concerns are directed at governments. They must bear the primary responsibility to ensure effective protections for free speech and the safety of journalists, whose task is to provide reliable and unbiased information within and across national borders. UNESCO, the United Nations agency which monitors attacks against journalists, reports that a staggering total of 547 journalists were killed between January 2007 and today.
"It is an affront to justice that in recent times fewer than one in ten of all killings of journalists have resulted in convictions for the perpetrators. Such a climate of impunity has a chilling effect on whole societies and impedes the work of both local and international news organisations. We welcome last December's decision in the UN General Assembly to declare November 2 the International Day to End Impunity for Crimes against Journalists. It was on November 2 last year that two French journalists, Ghislaine Dupont and Claude Verlon, were brutally murdered while on assignment in Mali by members of the armed group which had kidnapped them. The increase in such attacks and killings directed against members of the media who seek to report at first-hand about significant events undermines the public's right to know what happens and should be a cause of grave public concern. The increase underlines the urgency of establishing a safe and enabling environment for journalism, which is the declared and proper goal of the UN's Action Plan on the Safety of Journalists and the Issue of Impunity."
This statement is supported by the following organisations:
Peter Horrocks - BBC Global News Director
David Hayward - BBC College of Journalism
Matthew Eltringham - Editor, BBC College of Journalism
William Horsley - CFOM International Director
Jackie Harrison - CFOM Chairman and Professor of Journalism Studies, University of Sheffield
Lada Price - CFOM Editorial Assistant and Website Manager
Nicholas Tsagourias - CFOM & Professor at University of Sheffield School of Law
Stewart Chisholm - Open Society Foundations (OSF) Program on Independent Journalism (PIJ)
Edward Pittman - OSF Program on Independent Journalism
Judge Sanji Mmasenono Monageng - Vice President of the International Criminal Court
Fadi El Abdallah - Spokesperson of the International Criminal Court
Michael Marsden - Embassy of Brazil, London
MEDIA HOUSES/EDITORS
Ben De Pear - Editor, Channel 4 News
Paul Ingrassia - Managing Editor, Reuters
Sarah Whitehead - Sky News, Deputy Head of Newsgathering
Dan Williams - Head of International News, Sky News
Tim Singleton - ITV Foreign News Editor
Jamie Wilson - Guardian International Editor
Marcelo Moreira - TV Globo Editor
Andre Caramante - Investigative journalist, formerly Folha de S.Paulo, Brazil
Kadri Gursel - On behalf of IPI Turkey
Aidan Sullivan - Co-founder of A Day Without News? & Getty Images Vice President, Photo Assignments
Cherilyn Ireton - Executive Director, World Editors Forum
Mr Salah Negm - Director of News, Al Jazeera English
Mr Sami Al Haj - Head of Human Liberties, Al Jazeera
Eleanor McClelland - Researcher, Al Jazeera Public Liberties and Human Rights Department
Hany Beshr - Al Jazeera London Correspondent
Paul Steiger - Executive Chairman, ProPublica,
Faysal Aziz Khan - Geo TV Bureau Chief, Pakistan
Owais Aslam Ali - Head of Pakistan National Coalition on Media Safety
INTERNATIONAL NGOS
Thomas Hughes - Article 19, Executive Director
Ricardo Gonzales - Article 19, Head of Protection Networks
Joel Simon - Committee to Protect Journalists, Executive Director
Elizabeth Witchel - Committee to Protect Journalists, UK
Christophe Deloire - Reporters Without Borders, Secretary General
Lucie Morillon - Reporters Without Borders, Deputy Director (Advocacy and New Media)
Jesper Højberg - Director, International Media Support
Heba Morayef - Former Director, Human Rights Watch, Cairo
INTERNATIONAL LAWYERS
Can Yeginsu - Barrister
Taras Shevchenko - Ukrainian Media Law Institute
INTERNATIONAL BROADCASTERS (NON UK)
Marie-Christine - Saragosse President, France Medias Monde (RFI, France 24, MCD)
John Maguire - RFI, Director International Relations, FMM
Mattieu Mabin - Senior Reporter, FMM
David Ensor - VOA Director
Robert Zaal - Director, Radio Netherlands Worldwide
BBC FOREIGN EDITORIAL
Fran Unsworth - BBC Deputy Director of News and Current Affairs
Ricardo Acampora - Current Affairs Editor, Brazilian Service, BBC Global News
Andrew Roy - World Editor, BBC News
Liliane Landor - Editor, BBC World Service News & Programmes
Behrouz Afagh - BBC World Service Head of Asia Pacific Region
Simon Marr - BBC Head of High Risk
Murat Nisancioglu - Head of Turkish Service, BBC Global News
Aamer Ahmed Khan - West and Central Asia Editor, BBC Global News
Paul Rasmussen
BBC Global News Press Office
+44 7711 415 102