Delivering the Best: How BBC Studios plays a critical role in securing the BBC's financial and creative success
Speech by Tim Davie, CEO, BBC Studios, to the Autumn Conference of the Voice of the Viewer & Listener
Published: 27 November 2018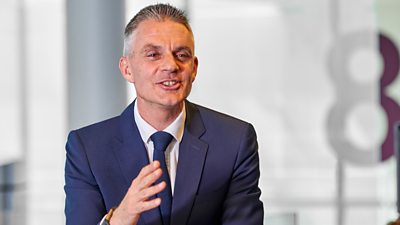 Check against delivery
Introduction
Good morning, and let me say what a pleasure it is to be back at the VLV conference.
I remember well my first visit a decade ago - just after my appointment as Director of BBC Radio. It was at the height of the so-called Ross/Brand crisis, and I was interviewed - some would say mercilessly interrogated - by the great Gillian Reynolds. She made it perfectly clear to me that if radio were not loved, championed and nurtured then I would be answerable to all licence fee payers, the VLV and, most importantly, to her.
After four years in that job, radio continued to thrive. My own love of the medium had moved from deep to obsessive. And I was proud to count Gillian as a friend.
However, please have no doubt that both your passion for our programmes and your expertise left a deep impression on me. I am not simply referring to that feeling of mild terror, as Gillian drilled into my credentials for the job, and gave me some blunt feedback on my crisis management skills. Your lasting impact came from the discussion on how both to protect radio, and to ensure that new audiences grew up to feel that same deep connection to the medium as many of us in the room. We simply would not want to live without it.
And while there are challenges, I am thrilled to see radio of the highest quality flourishing: driven not only by the radio stations that we love but also by new innovations like the BBC Sounds app that help ensure that new audiences can access everything - from The Moral Maze to The Proms - easily on demand. Long may it continue.
Now this morning, before I take questions, I want to say a few words about the media market and the BBC, before moving to the critical role of BBC Studios, the BBC's commercial arm, in securing the financial and creative future of the corporation. Put simply, its essential role in delivering the very best programming in a world of dramatically increased competition.
The wider context
Firstly, it is worth a moment to consider the wider context in which the BBC now exists. I don't need to tell this audience that the media market is undergoing profound change. A change from an era of finite, limited, linear distribution - remember those days of three TV channels? - to a world in which the internet facilitates boundless choice, delivered at a time of your choosing. This has led to the emergence of the global players whose scale was inconceivable a few years ago: well capitalised gazillion dollar companies with revenues twenty or thirty times bigger than the BBC.
This provokes fundamental questions and challenges about what we, here in the UK, choose to fight for; what we care about; whom we partner with; and how we compete. It is a challenge that demands we double down on our strengths and ensure that we have the financial resources to win those battles we choose to fight. This challenge is not solely about how we defend what we have, but about how we secure a future that excites new generations, and guarantees cultural and economic growth. And it is challenge that all of us who care deeply about universal public service broadcasting need to address - because the risks that we cannot secure the finest content are both real and present.
A national success story
However, before we get too daunted by the enormity of these challenges, let us take stock. We start from a position of strength, and we have built a relationship with our audiences that has grown over almost 100 years. A unique and trusted brand - three letters that signify quality at home and the world over. Built up through commissioning and production of the very highest standards, encapsulating the very best of British creativity.
These attributes are the envy of many beyond our shores. No other PSB in the world plays the same role in the national consciousness as the BBC. And my view is that, despite the challenges, there are significant grounds to be optimistic about the UK's ability to continue as a world leader in media and the wider creative industries if we properly support those things that create value. Things such as the BBC.
I get to see this all the time as Chair of the Creative Industries Council, the body that brings together government, private and public institutions across the sector. I know that we Brits can be a little restrained in trumpeting our successes. But the fact is that we - as a nation of the very best storytellers, designers, producers, artists and actors - have been delivering an outstanding story of creative and economic success:
In recent years, the creative industries have been the fastest growing of all the UK's sectors in terms of Gross Value Added
Nearly 1 in 10 of all new jobs are created by the sector
And exports have grown by nearly 50% in just three years
This has been achieved alongside the wonders of cultural enrichment, to which institutions such as the BBC have contributed so much.
Critically, this growth has been achieved by a strong partnership between commercial businesses and adequately public-funded, universally accessible organisations, like the BBC, that have been proven to be critical in building the overall capabilities and scale of the sector: growing talent; setting high standards; championing the very best; and - in the BBC's case - bringing six million people together to watch a family of penguins cope with life at -60C; delivering true, impartial news; or marking the Centenary of the 1918 Armistice across the organisation, including BBC Studios' coverage of live events, and the stunning achievement of Peter Jackson's They Shall not Grow Old.
So, there is much to be proud of. We continue to deliver very significant achievements in the face of huge, global media organisations, often competing for the best talent and programmes, stoking inflation and securing IP for their own use. Yet there is also real jeopardy, culturally and economically, if we do not ensure that we have the resources both to compete and to partner with these companies. That does not mean becoming as big, or beating them across all fronts. But it does mean having what it takes to be the best in the world in the areas where we choose to focus.
Succeeding in a changing market
With this in mind, I have no doubt that if the BBC is to thrive and compete successfully in the future, we must not only choose where to focus - but also have in place a properly funded public service organisation, supplemented by a world-class commercial operation. Only this can ensure that you, as licence fee payers, have a route to get both maximum financial return for the content that you have invested in, but also, in this new world, secure that content in the first place. We will need both sides of this equation to work if we are to succeed in a more competitive global market place. Even the most bullish forecasts for commercial growth have to be accompanied by a fully funded public BBC to have a chance of prospering.
Therefore, before I move on to the Studios side of this public/commercial partnership, let me just say a few words on the public service BBC, particularly in mind of the market environment in which it now exists. As I have laid out, it is essential that those us who care so much for universal public broadcasting keep championing a properly funded public service BBC. The 2016 settlement that secured that BBC's funding by the licence fee for 11 years was welcome. And the BBC's own efforts to drive efficiencies in the public service have been significant: on track to deliver £800m of savings over five years. (Of course, the search for efficiency never ends, and we are not short of people wanting to run a story on how we could improve. But the facts are clear. Recent benchmarking puts the BBC in the top quartile of public organisations with regard to its efficiency.) This is very good progress. But with industry costs rising, and all the market change factors I have referenced, further cuts would have significant impact.
As you will have seen, the Government has now passed responsibility for the future of the Over 75s TV concession to the BBC. If the BBC were to fund the current regime, it would face a bill of over £700m and a major cut to its budget, at the very moment we need to be investing in areas of national strength. Hopefully, you will have seen that we, the BBC Board, have launched a public consultation on future options. All options have both merits and drawbacks, and we are particularly mindful of the possible impacts on those with the lowest incomes. I would urge everyone here to review the options we have laid out and give us your feedback. There will be no easy decisions here, but an open conversation will play a part in directing us, eventually, to the most appropriate outcome.
The role of BBC Studios
Now, supporting this public investment as an essential part of the BBC group is the new BBC Studios.
First let me just outline the rationale for Studios and the scope of our activities. Then I will end by unashamedly showing off a couple of examples of the type of programming that we can secure when we work together with the BBC television commissioners and other international partners.
The last few years have seen fundamental change at BBC Studios. The BBC took two very big decisions: first by moving our TV production teams across many core genres into a commercial subsidiary, and then, this April, merging production with our established and successful distribution and channel business, BBC Worldwide. People sometimes ask me why we did this. The answer is actually very simple: to ensure we could continue to attract and retain the best talent inside the BBC. There were other compelling reasons too; it grew our ability to finance ideas as one integrated company, in line with industry norms; it offered us a chance to maximise investment and returns to the BBC Group and the wider UK creative industries; and it also opened up more growth opportunities and increased efficiencies. All these things are important, but behind it was essentially a very simple philosophy: we needed to create a place where the very best of British talent could do their finest work without leaving the BBC and the UK. Overseeing the recent merger of the production and distribution business, and seeing some of the creative work emerging from the company, I am more convinced than ever that we made the right decision.
Let me just share a few things about BBC Studios and what we are about.
Most importantly, we are an integral part of the BBC Group. We further its purposes and are shaped entirely by its values. Of course there is a clear framework so that we compete fairly, work clearly within the boundaries of our Fair Trading guidelines with regard to the public service, and enhance the BBC's reputation. However, it is wrong to see us as "restrained" by being part of the BBC. In fact, quite the reverse. The very reason we have such a world-class, scale commercial enterprise is because we are a proud - and increasingly central - part of what can become a strong, future-proofed BBC, and we are obsessed by making work of the very highest standards. While our teams can and do now make TV for other broadcasters, nothing changes this obsession. What are our most successful titles commercially? Planet Earth II and Blue Planet II, Strictly, Doctor Who, dramas like Sherlock and War and Peace: all the very essence of the BBC. This is our commercial strength.
Put another way, in a hyper-competitive world, we cannot be all things to all people. As a medium-sized player on a global level, we must focus on what we do best: namely, the very finest British creative work. So our strategy is rather simple: to be the best UK content company in the world. And our role is equally clear: as an integral part of the BBC, to maximise financial returns and help secure a strong pipeline of content for the BBC group and licence fee payers.
With this in mind, we have absolutely no ambition to privatise BBC Studios. It would make no sense. One of the wonderful things about the company is that it is here for you, the British licence fee Payer, and no-one else, and always should be. We are committed to breadth, range and quality: making both programmes with commercial properties and those with immense public worth but less directly realisable market value. And while we look ambitiously to secure UK creative talent and develop British IP, we are not interested in extending our scope into unrelated areas. You will not see us propose acquisitions or investments that are not utterly central to our strategy and focussed on the creation or exploitation of British audio-visual content. In fact, we have been divesting businesses that we do not see as core to our long-term future, like our recent sale of the successful Good Food website, so that we put 100% focus on our core business.
And critically, the new Studios, with its regional and global production bases, and international sales footprint, is no longer just a 'traditional' distributor selling finished programmes around the world. The transformed market - competitive, complex and ever more premium - means our role has changed. We have had to become a fully-fledged content company, significantly focussed on securing IP before development, using our capabilities and our commercial partnerships to make projects happen, ensuring that, in many cases, the BBC public service lands that programme in the UK. To secure the highest quality drama or landmark natural history series in this world of powerful global players of daunting scale, we can no longer simply fund them from the licence fee and then claw back a bit of distribution money. We need to create co-productions where we bring public and commercial money together to win projects in the first place. In a minute, I will share a couple of examples of this - and some lovely clips... What is clear is that BBC Studios is now an essential enabler of creative supply and financial return.
Enough strategy. Before I share a few facts and figures about the business, take a look at a short film celebrating some of the programmes that we help make happen...
The shape of BBC Studios
Great. Now let me outline a few specifics about the BBC Studios business. Last year we made £1.4bn of revenue and improved our profitability in both our production and distribution arms. We also returned over £200m to the BBC Group in dividends and third party programme investments, and are targeting £1.2bn in returns over the first five years of this Charter, an increase of 15%. For perspective, this represents around 20% of BBC One's £1bn annual content budget and approximately 40% of BBC radio's total content spend.
We are overseen by the BBC Board. It sets our targets, and ensures that we are meeting our objectives and making an efficient return. We are audited by the NAO and subject to its value for money reviews. Our regulator is Ofcom, in line with the wider BBC.
Our activities stretch across BBC TV production (plus UK Radio comedy, by the way), partnerships with UK independent production companies, part and whole ownership of channels like BBC AMERICA, BBC First and UKTV (a joint venture with Discovery), on-demand services like the highly successful North America subscription service BritBox (a partnership with ITV), and global programme distribution - which supports not only our in-house content but represents hundreds of other UK production businesses. On top of this we have international production bases making shows like Dancing with the Stars (otherwise known as Strictly), and ancillaries, where we leverage our rights to exploit our brands such as Doctor Who or Top Gear in areas like DVD or gaming. We are a broad business - but every activity fits with our strategy to create and exploit great British content. We are proud to be the UK's most awarded producer, as well as the leading distributor. Most importantly, we have a world-class team, the very best in the world at what they do.
And yes, we face challenges. As I have described, the battle for talent and content is ferocious. And margins across the industry are under pressure. But we are confident that we can continue to grow following the merger, which builds our resources and reaffirms our focus on the finest UK content.
Now, rather than talk in generalities, I thought that it might be best to spend the final minutes of my speech outlining a couple of case studies that give you a clear sense of how we go about securing projects.
First, let's talk about the biggest television programme of 2017- numero uno among tens of thousands of shows. A reality show but without a celebrity in sight: the phenomenon that was Blue Planet II. A show that had the whole of the UK glued to magical sequences such my favourite: the two mantis shrimps, forever-stuck lovers, having grown up inside a Venus flower sponge for life. They watch their children disappear into the dark blue yonder while they are left, doomed, in their spongey cell. Amazingly, the series reached an amazing 62% of the UK population. Blue Planet II was an amazing demonstration of the wondrous technical skill of the world-beating BBC Studios Natural History Unit, and the brilliance of our legendary narrator. But it was also a show that required us to work globally to create the significant budgets to make it happen.
To give you an idea: nearly 80% of the funding that made Blue Planet II - a BBC-defining show - came from beyond the licence fee: five early co-production partners - including Tencent in China and France Télévisions; sales to more than 200 countries; and numerous marketing partnerships. Encouragingly, its success is part of a virtuous circle that means we can secure the long-term funding and editorial partnerships to commit teams into the field and guarantee more of these outstanding programmes. Since Blue Planet II, for example, we have struck a deal with Tencent to invest in BBC commissions and to make specific content for the Chinese audience. These deals require us to be brilliant in managing sophisticated customers, creating deal opportunities, choosing the right partners across different linear and on-demand windows, building brands and leveraging ancillary revenues. This directly allows us to make programmes such as the amazing Dynasties, now showing to big audiences on BBC One. I hope that many of you have seen these 'Shakespearean' family dramas, but here is a flavour for those that are yet to catch up…
Finally, the kind of deal-making that delivers these natural history landmarks is now also standard practice in other genres such as drama - where the unprecedented inflation and competition from the SVOD boom is perhaps most keenly felt. As a company we are highly active in securing both the very best drama production talent and outstanding British writers. As an example, we have just finished shooting Les Misérables - the Victor Hugo epic, sans songs. It is written by the outstanding Andrew Davies; made by a partnership of BBC Studios and a company we own, Lookout Point; and, alongside the BBC public service, it had early investment from a US co-production partner. BBC Studios cashflowed - in other words, made money available upfront for - the rest of production, and financing was secured, in part, through a premium drama financing partnership that we had put in place with Anton Capital. After filming, the drama has now been sold to numerous territories from Russia to Australia. It will be on BBC One, and looks unmissable, and should also make a decent commercial return. Take a look…
Fabulous.
In summary, I hope that this has given you a sense of how we are taking steps to secure the very finest content for the BBC and the UK: delivering the best. At a minimum, the new market realities demand a properly funded public service BBC and a successful, growing BBC Studios. However, despite this jeopardy, there is a clear opportunity to preserve and develop an organisation that we love. At BBC Studios we want to play an active role in taking that opportunity.
Thank you.
Tagged: