Robin Pembrooke speech to the International Press and Telecommunications Council
Robin Pembrooke speech to the International Press and Telecommunications Council (IPTC) - 28 October 2015.
Published: 30 October 2015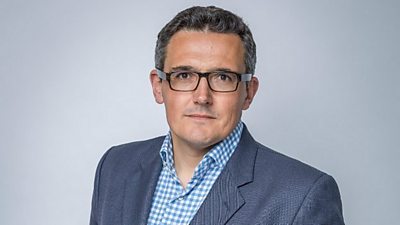 Mobile, personal, devices as the primary means of access to news, is an irreversible trend.
Check against delivery.
It's good to be here at IPTC where you are all involved in the definition of data standards around News. At the BBC our digital product strategy has linked data and data standards at it's heart, and so I was very pleased to be asked to talk here today.
First I should explain what I do: I run the teams that design, develop and support all of the BBC News digital products on web, apps and connected TVs - in 30 different languages around the world.
I'm going to talk about how we use Data standards to create and promote our News Products.
In summary I'll cover the following:
- The way people consume news is changing faster than ever before, towards a mobile more personalised set of services delivered through a far wider set of discovery mechanisms. That presents very significant challenges to incumbent news organisations with increased complexity & cost of distribution, and in how we can manage and develop user engagement with our brands across services.
- We've placed open data standards at the core of our content production, and distribution processes. Particularly how we use content metadata, and increasingly data about users, to drive the promotion of our content
- Partnerships & working together. Reflecting on what we can learn from experiences of working with the big online platform providers and suggesting where we as broadcasters and publishers could be focusing our efforts next in defining common data standards
The ways people consume news are changing faster than ever before
News does indeed find itself at a crossroads:
Mobile
While TV News audiences in the UK are not falling away in the same way that print circulation has, there has been a marked shift in the demographics of our audiences. News channels in developed markets in particular see an aging audience - one which watches for longer. But with a younger demographic, breaking news means one device - that's their mobile.
By now over 70 percent of our digital traffic comes through mobile devices at certain times of the day.
On the day after the General Election in May this year it was 85 percent in the morning and the audience on the mobile web & apps was concurrently higher than the audience on TV for short periods.
This trend towards mobile consumption will continue.
Personalised Aggregations
Second, there has been an explosion in the number and popularity of services that aggregate, or help users discover, the news
Over 10 million people a day consume BBC news on Facebook, and we are in the fortunate position of being cited as the most trusted News Brand globally on Twitter and Facebook
Messaging services like Weibo, Snapchat and others have become a primary discovery mechanism of news for the under-20s
The most successful new entrants to the market have learnt how to grow their brands in this highly complex distribution environment; BuzzFeed reportedly only get four percent of its traffic coming through their homepage. They are reliant as we are on people discovering their content on a very wide array of aggregation or discovery services such as Youtube, facebook, or snapchat.
Mobile, personal, devices as the primary means of access to news, is an irreversible trend. Everybody realizes it is going to happen and that's why we're seeing the battle for user attention and advertising dollars with the launch of competing discovery experiences from all three of the online global giant platforms / service providers:
Facebook with Facebook Instant Articles optimized for mobile
Apple with Apple News (announced earlier in the year and now live)
Google with Accelerated mobile publishing (announced and going live in the next year)
Each aim to deliver content in ever quicker and ever more personally relevant ways. We have been involved with each and are learning about the impact they will have.
So we have what looks like an unstoppable shift in consumption on mobiles of personal and relevant service to users, consumed not just on our own branded and owned destinations but in an increasingly dispersed set of third-party platforms and services.
The challenges for incumbent providers of News
That context presents established news organizations like ourselves with significant challenges in the affordable and effective production, distribution, and development of consumer products.
How do we maintain our existing and loved services whilst being able to invest in the latest innovations? Do we understand how an individual user or customer segment consume BBC News across these new third party services / platforms? Can we monetise (outside the UK) and measure what they do?
An added complication is the age of our infrastructure and ingrained nature of our production processes. For an organization like the BBC our infrastructure has been built over decades around Radio, then TV and then Online.
They weren't designed to work together, and in some ways the production processes for making a radio bulletin, TV bulletin or News channel haven't changed that dramatically in the last decade.
When BBC News online was set up it was set up on completely separate architecture in a different part of the building, managed by different people within the BBC.
The good news is that we are now bring together all rolling news output under one line management and budget control - the teams that make our 24/7 output across TV and Online. We're thinking and acting in a joined up way about how to Digitally transform how we make and deliver the news.
Data Standards are playing a central part in how we address these challenges.
________________________________
We've placed data standards at the core of our content production, product development, distribution and promotion.
Our digital product development strategy is called Connected Stories:
- It's how we use linked data and tags structured around a data ontology of stories that allows us:
to aggregate content tell the full story from across the BBC
it's how we let users follow topics that matter to them
or get the news from where they live
it's how we can deliver recommendations and push notifications relevant to them
- At it's simplest it's how we can associate any piece of content, at any stage in the production / distribution and archiving process with any given person, place, organization, theme, event or story.
Some examples of how the strategy is being delivered:
New tools for journalists
One of the legacies of the 2012 Olympics for the BBC was our Linked Data Platform – the single common store for all metadata about individual items of content - from news / iplayer / sport:
Search for 'Storyline' on the BBC internet blog you can find the definition of the logic that drives it.
It allows us to tag all news with any person, place, organization, theme
We have about 100k topics in the Linked Data Platform and to be able to rapidly reuse and publish that content we needed tools that allowed us to curate and create content about any given topic
So we have built a Topic centric CMS - it is called VIVO and it now drives all of our live services across BBC digitally, including:
Blogs about topics - Business live, Parliament live
Blogs about places - Local Live, Africa live
Events such as Sports matches , Prime Ministers Questions
Soon it will be used to drive and curate all our topic aggregations
The content that is surfaced using linked data on topics is not just BBC content but content from third parties – we view driving traffic to third parties as a key measure of success . The system is now used by over 400 journalists.
New Personalised Services for our Users
In our consumer-facing products it means that users can follow topics that matter to them. Over five million people have done so in our BBC News app and that's coming soon to the web. On average users follow eight topics. It allows them to create a personalised myNews feed of the topics that matter to them.
myBBC is creating shared recommendations engine, a common BBC ID, and the ability for users to personalize their preferences across products such as BBC News, Sport, iPlayer, and others based on those topics
This will mean that users can chose what types of breaking news they receive alerts for. Maybe they will want to turn off Sports alerts, or to get more regular updates on the news from where they live.
None of that more personalised experience would be possible without us ensuring all of our content is effectively tagged with common data standards, it is a core enabler for how we work.
Partnerships and Working Together
Let me say thank you to all of those of you in the room who led the way in the definition of news metadata standards and who worked to created the Storyline ontology - it was a collaborative effort which we and others have benefited from. It was good to see the New York Times blog post on atomized journalism this week, very much building on that thinking.
It is interesting though, that in the last 12 months that arguably the fastest paced bits of industry collaboration standards work have been those driven not by publishers, but by some of the global giants of the internet fighting it out for that user attention and engagement on mobile I talked about earlier. In just last the two weeks Newsroom development teams across Europe were in a final push to get the new Apple News publishing formats in place last week.
Jeff Jarvis, talking at an EU Product Management Publishing gathering about 6 months ago suggested we as an industry needed to do two things in order to thrive in this changing environment. I think we've partially achieved 1 of those, but would like to discuss the 2nd.
The first thing he said was that we had to agree a common standard for publishing web content that can be aggregated by others in a way that is repeatable, and where advertising revenue and statistics about usage flows back to the publishers. And with the Google AMP project we may be on the way to achieve that.
It was a true demonstration of how developers and Product Managers can collaborate quickly to establish common approaches. Whilst not a metadata standard, it's a coding approach, the Google AMP format looks set to be run in an open source fashion and we look forward to how it will evolve.
The 2nd thing Jeff challenged us on was how we as publishers should define we wanted in return for collaborating with the big platforms - and the unresolved issue could be about user data – at present what we get back from these services is either basic or at an aggregate level- it doesn't support individual level data or allow us to understand manage and develop relationships with users at an individual level.
And that's what has set us thinking on what might be the next big challenge for us here at IPTC – not just to focus common standards on content where we have made huge progress, but on standards about customer identifiers / usage / status. If used in a consistent way could help address the issue of how publishers develop meaningful and valuable relationships with our users in an ever more complex environment across different platforms.
To summarise:
- Context – mobile, more personal, more diverse sources of discovery that make present challenges to publishers
- Data Standards at the heart of how we manage our costs of production & also how we deepen customer relationships
- The enduring importance of partnerships & collaboration for distribution – with a focus on the data about users, not just the content.
Thank you
Related BBC Links
Related Web Links
Tagged: