A roadmap for reform
A speech by Sir David Clementi, Chairman of the BBC, at the Voice of the Listener & Viewer on Tuesday 20 October 2020 at 10.30am.
Published: 20 October 2020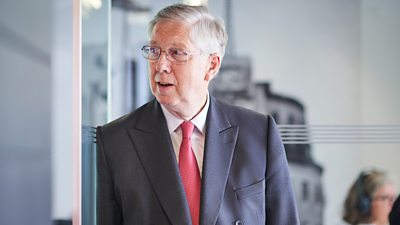 Check against delivery.
Introduction
Good morning, everyone. It's a pleasure to be back once again with the VLV - albeit virtually.
I have learnt in this role that a huge number of people describe themselves as a "critical friend" of the BBC.
But that in practice the term encompasses a huge range of opinion: from those who in truth want to change the BBC so much that it becomes unrecognizable; to those who do want to see change, but adhere strongly to the principles that underlie the Corporation: editorial independence, distinctive programming; universal funding and universal responsibilities.
I am happy to say that I have always found VLV members towards the constructive end of this spectrum.
The reform debate
Despite our many strengths, the challenges the BBC faces today are significant and have greatly intensified over the last decade.
The environment in which we operate is increasingly dominated by the giant tech players largely from the US. We also face significant financial challenges, not least because the licence fee for UK public services, relative to 2010, is 31% below where it would be if it had tracked inflation.
We know that significant reform is necessary. But too often, this is a debate that has become clouded by politicians and opinion formers with strong views and even stronger rhetoric: full of assertion and light on analysis.
Our new Director-General - Tim Davie - in his first speech, was clear about where his priorities lie. His four-point plan included:
a renewal of our commitment to impartiality;
intense focus on unique high impact content;
the need to extract more value from online;
the need to build commercial income.
All these are deeply important, but over the next period, and in particular in the run-up to the next Charter, at Board level we need to think carefully about three broad, long-term questions around the BBC.
The first question is: Is there still a role today for public service broadcasting, free of commercial and political pressures in its day-to-day running?
If the answer is "yes" to this first question, the second question is: What services do we want the BBC to provide as a PSB?
And the third question is: What would these services cost, and what is the best way to fund them?
Asking the questions in this order may seem self-evident, but if you look back at the 2015-2016 Charter Review, you will see that the third question was dealt with ahead of a proper debate on questions 1 and 2.
The then Chancellor - George Osborne - announced the financial settlement in respect of the new Charter in the summer of 2015, shortly after that year's election.
John Whittingdale, as Secretary of State, then carried out a year-long review about the role of PSBs and what we wanted from the BBC. He presented this in the Government's White Paper of May 2016, with the new Charter starting in 2017.
This reversal of the proper process - allowing the funding to define the purposes and scope - should not be repeated.
I don't intend to provide any definitive answers today; and, certainly on the question of the funding mechanism, it is worth reminding ourselves that there is still time for a full debate, since the Charter makes clear that the licence fee will be the primary funding model until the end of 2027.
But I do want to make a few comments on the first two questions.
On the first question: Is there still a role today for PSB?
I believe the events of the past few months have provided their own emphatic answer. On the day that lockdown was first announced, close to 45 million people came to the BBC to understand what was happening.
In the week that followed, 94% of the British people used the BBC, and 86% of those aged 16-34. Millions came to our national and regional TV news bulletins for essential information and insight. Notwithstanding the multiplicity of choice in front of today's consumer, the BBC plays three critical roles for the country.
First, we should recognise what the BBC does for the UK's creative industries and culture. Certainly, the industry recognises our contribution. And it has repeatedly warned against any move to dislodge the creative ecology that has grown up around the BBC, urging that it is crucial to the UK's creative success.
Second, we should also recognise what the BBC does for communities around our nations and regions. There has been much discussion in recent months about the need to 'level up' our society.
The BBC has long had the goal of being the media organisation that is most fully embedded and distributed around the UK.
A decade ago, a third of the BBC was based outside London. Today it is half. And we've doubled the proportion of programmes produced in Scotland, Wales, and Northern Ireland. Our base in Salford is now home to around 3,500 people.
And we have invested also in Glasgow, Belfast, Cardiff and Bristol, where BBC hubs act as magnets for the whole creative sector. It is worth reminding ourselves that the 6.30pm regional news is the most watched news programme, and almost certainly the single most important moment for explaining lock-down rules in different regions.
And when it comes to the importance of our local radio stations, this year - from the floods to the pandemic - has proved just what an essential service they perform. At least one MP has described us as "the fourth emergency service".
Third, we need to recognise what the BBC does for Britain around the world. Our global services now reach 468 million people outside the UK - up 11% in the last year.
We remain one of Britain's strongest and best-known brands. The pre-eminent provider to the world of facts you can trust, synonymous with British values of quality and fairness.
A recent Reuters Institute study found BBC News to be more trusted in the US than all of their major domestic news brands. Thanks to the Governments investment in the World Service in 2016, we have been able to substantially expand our global role.
And we can go much further in the years ahead as a great force for Britain in the world. So we believe there is a clear case to be made for the role and relevance of PSBs; and we are making this case strongly to Ofcom in the context of their PSB review.
We want them to recognise that, in order for PSBs to thrive, we can no longer afford to have linear regulation in the digital age. We have to explore how we can cut red tape and speed up the regulatory process.
We want them to recommend legislation that will ensure services like iPlayer are both included and prominent on all major platforms. Above all we want them to support a universal, licence-fee funded BBC - it is the cornerstone of one of the most successful creative sectors in the world.
The subscription model as an alternative to a PSB model
Those with an objection to public service broadcasting, and to a universal funding model, call for a shift to a Netflix-style subscription.
Quite apart from the fact that it makes little sense to compare the range and depth of services provided by the BBC - locally, nationally, and globally - with what is on offer from streaming services, there are two important flaws in this argument.
The first is a technical issue. Audiences still largely consume BBC output over traditional free-to-air television and radio stations. There is simply no way to cut off access as you can with other services like Sky or utilities.
This will be the case until everything - and everyone - is online. And that world is still some time away. The Media Minister, John Whittingdale, has himself pointed this out, telling proponents of the subscription model earlier this year that this is currently "utterly impossible" for the great majority of British content.
The second major flaw is more substantive.
A subscription service at its heart is a commercial contract between media provider and subscriber: the provider offers what the customer wants; it is not dictated by a licence or some outside party.
I have said before that I have no doubt the BBC could thrive as a subscription model. But it would not be the BBC that the nation knows and values. It would be guided not by principles of independence and distinctiveness, set down in our Charter, but by a determination to maximise subscription income.
And that commercial imperative would require management to sacrifice many of the services currently on offer. A subscription service would be unlikely to have much regional presence. It would not fund anything like the amount of money that the BBC at present puts into the nations and regions, in television and local radio.
A subscription service would not have invested a significant amount in a new HQ in Cardiff, to be used by all in the creative sector in Wales. It would not fund Welsh language television, S4C, to the tune of nearly £75 million. It would not have invested in a new channel in Scotland.
A subscription service would be very unlikely to continue the level of properly curated programmes for children, or indeed the brilliant Bitesize education services that have helped so many pupils, parents and teachers alike in recent months.
A subscription service would not have the same commitment to investing in home-grown ideas and talent, to the benefit of the whole creative sector.
Sitting behind a pay wall, it would no longer be the place that brings the whole of the country together for shared moments or important events - from Olympic success to Gavin & Stacey on Christmas Day, to the VE Day 75th Anniversary celebrations.
Nor, of course, would it continue to contribute £250 million, currently taken from the Licence Fee, to fund the World Service. This cost would largely revert to Government.
Those who promote the notion of a subscription service brush aside these points. They rarely grapple with the technical problems; they do not explain how radio is to be paid for; they do not engage with the commercial reality of a subscription service; nor do they point out to the public the types of investment, programmes and services that would be lost. Their argument is largely ideological, based on principle that argues against any public intervention.
The subscription proponents promote the service as consistent with the theory of consumer sovereignty. But the UK's creative industries, in broadcasting, in theatre and other performing arts, indeed across the whole cultural sector, have never been built on this principle.
Instead these industries, and their global economic success, were built on a rather enlightened blend of the free market and smart universal interventions, of which the BBC is a prime example.
This mixed ecology is a national success story and something we should be fiercely proud of; something we should be seeking to build on, not undermine.
My own view is that the case for PSB, at a time of increasing polarisation of opinion, growth of social media and related rise of fake news, has never been more important.
So, if the answer to my first question is "yes", we move on to the second:
Question two: services do we want the BBC to provide in its role as a PSB?
Earlier this year Ofcom published its review into how PSBs performed for UK audiences in the five years from 2014 to 2018.
It was clear on the challenges, but it also underlined as its first key finding that: "Audiences continue to highly value the purposes of PSB, including trustworthy news and programmes that show different aspects of UK life and culture".
That finding from Ofcom is a useful starting point. We believe the BBC's role as provider of "trustworthy news" is important, perhaps more important and relevant than it has ever been.
We have taken significant steps in recent years to combat the rise of disinformation and fight back against fake news. We are by far the British public's most trusted source of news and we rank number one for impartiality. When audiences are asked where they are most likely to turn for news they trust the most, 62% say the BBC - up from 51% last year.
Turning from "inform" to "educate", nobody doubts the important role we played during lockdown. When schools closed, every pupil, parent and teacher in the country was able to rely on curriculum-led lessons on the BBC, for every age group, every day.
Although the BBC has long held to the Reithian triplet that our purpose is "to inform, educate, and entertain", it is only since 2017 that this has been formally incorporated into our Charter.
There remain some who argue that the first two elements should remain, and should be part of a "core" PSB; but that entertainment is provided by others, there is no market failure in this area, and that therefore the third leg of the Reithian mission should be set aside.
This argument ignores a number of key points.
The first is that one of the reasons programmes such as drama and comedy are done well by the commercial sector is that they have to match the standards the BBC has set.
Over the past four years the BBC has won over 600 awards in every genre - up by more than a third on the previous four years. Much of this is down to Charlotte Moore and her world-class team. We raise the bar for the whole sector, and drive up quality for everyone. Audiences are the biggest winners.
The second point goes back to that Ofcom finding: audiences highly value "programmes that show different aspects of UK life and culture".
In stark contrast to the global streaming services, the BBC has a clear responsibility to reflect and represent the lives of those we serve. We are fully committed to supporting and championing the full spectrum of British talent - writers, actors, directors and more. And we help to sustain thousands of independent production companies and suppliers up and down the country.
Since this is a sector that pre-COVID was growing at five times the rate of the wider economy, and one in which the UK punches well above its weight, it is not clear why any government would want to cut it back.
This is not just an economic issue, but also a cultural one.  Cultural influence from across the Atlantic is fine if it adds to our choice. Less so if it comes at the cost of our own, distinctively British culture.
A third argument in favour of preserving the BBC's three-part mission is that the BBC is at its very best - its most distinctive and relevant - when it does all three at the same time.
Who can argue that Sir David Attenborough's natural history programmes do not have their remarkable impact because they entertain every bit as much as they educate and inform?
Conclusion
Let me conclude. At the BBC, we know we need to reform. Guided by a relationship with our audiences, we need to engage closely and positively in the process of change.
Political pressures aside, the market is changing rapidly, and we need to respond. But in looking to change, let's not risk undermining what makes the BBC such a priceless asset for Britain. As a national broadcaster, committed to political independence, impartiality and universality, we are the envy of the world.
It would be an extraordinary act of self-harm if, as the UK seeks to forge a new role for itself on the global stage, we were to diminish one of the few British organisations that is truly world class.