Media Freedom: What is it and why does it matter?
Speech by Tony Hall, Director-General of the BBC to the FCO Global Conference on Media Freedom on Thursday 11 July 2019.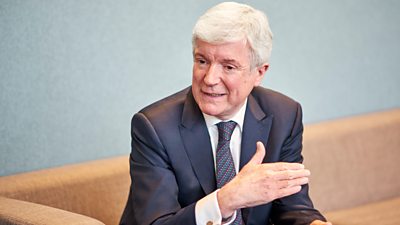 I'm determined that we use that unique reach and trusted voice to lead the way - to create a global alliance for integrity in news. We're ready to do even more to help promote freedom and democracy worldwide. We want to play our part to the full at the heart of this critical campaign.
Check against delivery
Thank you, Jeremy. And thank you to both the UK Government and the Canadian Government for hosting this really important conference.
At the BBC there's a quotation that our journalists in London walk past every day.
Many of you know it - it's by George Orwell, and it's carved into the wall outside New Broadcasting House: "If liberty means anything at all, it means the right to tell people what they do not want to hear".
It's a daily reminder of what good journalism must do: speak truth to power, on behalf of our audiences and our citizens.
For journalists, there is no more important issue than the ability to report without fear of reprisal. But we've heard: reporting the news has never been more dangerous.
More journalists are losing their lives than at any time I can remember - just for doing their job. So I'm pleased to be sharing this platform with those who are so determined to protect journalists worldwide, and who believe so passionately in media freedom.
There are three points I want to make today - speaking both as a journalist and as Editor-in-Chief of the BBC.
Increasingly insidious threats
The first is this: the threats we face are becoming ever more insidious.
I have highlighted many times the case of our BBC Persian staff who, along with their families, continue to be harassed and persecuted by the Iranian authorities. I want to pay tribute again to their resilience in the face of years of concerted intimidation.
The reality is that our staff are now facing growing intimidation and interference worldwide.
Last year in Nigeria, a BBC investigation looked into an epidemic of codeine cough syrup abuse and the vast criminal network behind it. It caused immediate legislative change. The codeine addiction rate plummeted. But the severe threats our journalists face to their physical security have intensified.
In Uganda in February, a team investigating the illegal sale of government medicines was arrested, then released on bond. Our reporter in Kampala later heard of a plan to arrest her in connection with the investigation, and was forced to go into hiding.
Earlier this year in Burundi, we aired a documentary about secret detention and torture sites. As a result, the BBC was banned.
In China, the World Service moved its sites to a secure internet protocol last July. All BBC websites have been blocked ever since.
And closer to home, as our Istanbul Correspondent puts it: "To commit the act of journalism in today's Turkey requires a thick skin and a good lawyer."
Increasingly our people are being targeted for telling the truth, by those who believe they should either have editorial control of how we report, or that they can stop us reporting altogether.
At the start of this week, we published the BBC's revised editorial guidelines - the values and standards that apply to all our staff worldwide.
They explicitly include freedom of expression for the very first time. Not because we haven't always upheld it as an essential value. But because in today's news climate we can no longer take anything for granted.
Reasserting our core principles
That leads to the second point I want to make today: we need to reassert the core principles of good journalism like never before.
In a sea of disinformation and partisan reporting, we need to stand up for independence, impartiality, and reporting without fear or favour.
What does this mean for the BBC? What does it mean for everyone who cares about good journalism?
It means 'boots on the ground' - first-hand, on-the-spot reporting from the front line.
It means an even greater focus on specialism - experts in their field who can interpret the facts and offer trusted judgements.
And it means doing more to empower our audiences - by giving them more context and more explanation.
I want to give one example, it comes from BBC Africa Eye – an investigative journalism programme we launched last year to help hold power to account across the African continent.
They looked into a horrifying video that began circulating on social media last July. Some of you may have seen it - it showed two women and two young children being led away at gunpoint by a group of Cameroonian soldiers and shot.
The government of Cameroon initially dismissed the video as 'fake news', and many claimed that it took place elsewhere. But BBC Africa Eye's painstaking analysis of the footage proved otherwise.
They used satellite imagery to identify the mountain ridgeline that could be seen in the background. They identified the tracks, the buildings and the exact location, and used the evidence of the dry season and the soldiers' shadows to pin down the date to within a two week period. They used extensive, open-source research to disprove official claims about the guns and uniforms of the soldiers. They even managed to identify three of those who pulled the trigger by name.
It's a tribute to the power of old fashioned journalistic values combined with cutting-edge techniques. And giving teams the time and money they need for world-class investigations.
Taking the fight to fake news
My final point is this: as well as reasserting our values, we also need to take the fight directly to misinformation, and fake news.
We have to remind ourselves what's at stake: An assault on truth is an assault on democracy. Because a democracy that cannot rely on access to the truth is no democracy at all.
We saw, in the Nigerian elections in February, the extent to which disinformation can now disrupt the debate.
During the recent elections in India, our BBC teams focused on calling out fake news stories spread deliberately for political gain. That won us audiences. But it also highlighted how frequently disinformation can now spark violence and even cause loss of life.
Last year alone, the BBC identified around 25 lynch mobs deaths following rumours spread on social media or messaging apps. Many more were reported.
We're now in the midst of the biggest assault on truth - and therefore democracy - since the 1930s.
Bad actors and repressive regimes have not only weaponised misinformation, some have industrialised its production and packaged it for a global audience.
All those who believe in integrity in news must, together, turn the tide.
Last month I convened, behind closed doors, a Trusted News Summit at the BBC, which brought together global tech platforms and publishers. The goal was to arrive at a practical set of actions we can take together, right now, to tackle the rise of misinformation and bias.
We'll say more in the weeks ahead. But it struck me how many were looking to the convening power of the BBC.
I believe we have a major responsibility, as the world's most trusted news brand. Our global audiences have grown by 13% in just one year, to 426 million each week - largely thanks to the UK Government and its recognition of the part we can play in achieving common goals.
I'm determined that we use that unique reach and trusted voice to lead the way - to create a global alliance for integrity in news. We're ready to do even more to help promote freedom and democracy worldwide. We want to play our part to the full at the heart of this critical campaign.