Tony Hall's speech to the Society of Editors
The 2018 Bob Satchwell Address, speech by the Director-General of the BBC, Tony Hall to the Society of Editors.
Published: 8 October 2018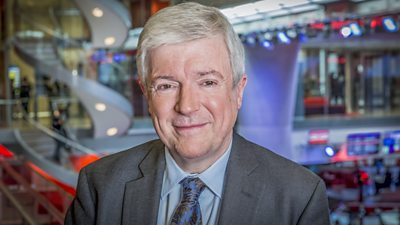 I want our experts to inform audiences, with the integrity, accuracy and focus that gives the lie to Fake News. Because to try to blur the lines between truth and lies - or to lump together a sophisticated, living, breathing industry in order to cast doubt and spread disinformation - is unacceptable. It's undemocratic. It's an insult to those who consume our work AND those who dedicate their careers, and sometimes their lives, to it too. We cannot allow that to happen.
Check against delivery
Good evening - and thank you. I'm delighted to be here - and really honoured to present the first Bob Satchwell lecture tonight.
Bob's tireless work throughout the Society's first eighteen years is an inspiration to all of us. He has been a fearless defender of free speech - and the public's right to know. Those themes matter hugely to me, and it's great to have the opportunity to talk about them this evening. But as I do so, I'm sure our thoughts - and our thanks - are with Bob.
Freedom of expression
I like to think that Britain was, and still is, a world leader in freedom of expression. That freedom is grounded in an overwhelming political consensus that a free press serves a fundamental public interest - speaking truth to power. And doing so without fear or favour …no matter how inconvenient it might prove for the powerful.
Incorporating the European Convention on Human Rights into UK law firmly locked us into what I will risk calling the European model of freedom of expression. It's a model that recognises that all freedoms need to be exercised responsibly, so free speech must be balanced against ensuring other fundamental freedoms like respect for privacy, and the right to a fair trial. I'll return later to some of the potential conflicts that protecting all those rights together can pose.
In Britain, we have one of the strongest media ecologies in the world - based on a fearless newspaper industry and a vibrant broadcast sector. And freedom of expression has to be the starting point for everything we do. As a journalist, I'm always going to defend our right to tell our audiences the truth about the world around them, at least to the best of our ability to discover it. At the BBC, our job - like yours - is to find the evidence - and publish.
These questions aren't abstract to me. I started out as a news trainee. And my first beat? Northern Ireland. At the height of the Troubles. It was a furiously difficult landscape to navigate: a civil war with hideous acts of terrorism on all different sides, and the rule of law under excruciating pressure.
We had to keep a clear eye NOT on the emotions, the opinions, the violently competing perspectives that came at us all the time - but on the facts. They were the touchstone by which we could tell if we were genuinely doing a reporter's job.
What I learnt is that freedom of expression can be a very dangerous business. And that evidence is our most valuable currency. Everyone choosing our services should know that they can trust the reliability of the information we're giving them. Every day our teams in News make hundreds of small decisions that mean they can.
When we unveiled a statue of George Orwell outside Broadcasting House a year or so ago I was reminded that he defined freedom of expression as "the right to tell people what they don't want to know". For journalists, in particular, I think that means telling people what those in power would prefer them not to know.
But, whatever your definition, I'm clear that we - broadcasters and publishers - must exercise that right robustly, though never thoughtlessly. And we must fight to be able to do so whatever the pressures are to constrain us. Those pressures - sometimes political, sometimes legal, sometimes commercial - and sometimes, as with fake news, cultural - are powerful and ever-present. So I'd like to look at each of them in turn.
Fake News
First, it's nigh-on impossible to talk about free speech without mentioning the F-word. Fake… because 'Fake News' is the phenomenon of our time.
The term was coined to describe the internet phenomenon of a cascade of plausible, but baseless, online stories churned out from a small, single town in Macedonia. It was, for a time, almost literally a cottage industry. But the phrase started to become mainstream as it was deployed in the 2016 Presidential campaign, where it turned into surely one of the most memorable election slogans of all time. To many journalists watching the early stages of the Presidential race it might have seemed like an act of desperation to dismiss palpably accurate stories from some of America's most reliable media as being complete fabrications. But constant repetition of the slogan over - and over - and over again - worked.
And now the term fake news is used worldwide. It's the weapon of choice for repressive regimes everywhere - used by the Kremlin to dismiss the Salisbury Novichok attacks, and by powerful lobbies who counter objective facts with the assertion that they're all made up.
The Fake News tag has given street cred to mass disbelief. That doesn't just threaten journalism everywhere. It threatens people everywhere. For democratic government to be legitimate it needs not just the consent of the people, but their informed consent. We cannot allow the fake to drive out the fair…
I believe the public - and our democracy - are best served by diverse - and independent - journalism. An electorate that cannot rely on a range of free media is an electorate effectively disenfranchised.
So we all have a duty to instill public confidence in professional journalism. We must hold our collective nerve and keep doing what's right. We must all - national and local, broadcasters and newspapers - re-commit ourselves to discovering and telling the truth as far as we can.
We need to check and double-check our sources. Every publisher and every journalist has made mistakes but, in an age when any mistake is portrayed as evidence of an intention to mislead, we must re-double our efforts to get it right first time - and be open and generous about it if we get things wrong. We need to do everything we can to combat any suggestion that we peddle fake news.
And here I'd like to enter a plea. The 'fake news' label is too dangerous for us to bandy about unthinkingly. I'm sorry to say that does happen occasionally. An honest mistake - honestly admitted to - and corrected - IS not the same as fake news.
IF as an industry we are serious about the virtues of our trade and the vices of fakers - wherever they are - we should refrain from using that phrase about any serious journalistic endeavour.
Political pressures
Of course, there are many threats to freedom of expression. Fake news may be the latest - but the threat of political interference looms even larger for many of our colleagues the world over.
In country after country, repression of the media seems to have become a new norm. The persecution and imprisonment of journalists for simply doing their job is all too common place. In Turkey, over 150 journalists are already in jail and more than 9,000 have lost their jobs. Their so-called crime has been to do critical or investigative reporting. We all know what happened to our colleagues working for Al Jazeera in Egypt, and now two Reuters correspondents in Myanmar have been imprisoned for investigating the massacre of Rohingya people.
More than a hundred staff in our Persian service here in London - and their families in Iran - are still being punished by the authorities there, after a court ruling effectively froze any assets they have. The harassment's been going on for a year now - in fact it's getting worse. So, we're renewing our call - backed by the UN human rights council - for it to end immediately.
And, of course, the consequences for some journalists can be even worse. We now have war correspondents, the bravest of the brave, being deliberately targeted by regular armies, never mind those who oppose them. That's what seems to have happened to Marie Colvin of the Sunday Times - targeted for being a journalist who told uncomfortably truths about the reality of war. The fearless investigation of corruption has been stifled in Slovakia.
In Afghanistan earlier this year our own Ahmad Shah, just 29 years old, was shot dead for being a BBC journalist. And just in the last week we've had the death of Jamal Khashoggi - a Saudi journalist who worked for the Washington post - and then overnight Viktoria Marinova - an investigative journalist from Bulgaria - was killed. Viktoria's the third European journalist to be killed in the past year.
Thankfully, in the UK, journalism has not become a prime target for any political party - though individual politicians may take the occasional swipe! Of course, the BBC has often been the target of subtle or not-so-subtle political pressure. That seems to me to be inevitable for a public institution, and especially for a publicly funded - public service - broadcaster. And, of course, having these arguments in some ways simply reinforces our independence.
But the political divisions that have opened up in recent years – on the Scottish referendum, of course, but most notably on Brexit - have led some politicians to try to portray the BBC as being in sustained opposition to their particular cause. In reality we are in opposition to no-one, and we're there to support no-one - except our audiences.
People who try to undermine the BBC's reputation for their own political ends should be careful what they wish for. Nobody wants to end up in the highly polarised, almost separate, political and media cultures we see across the Atlantic. Nor the mono-cultural landscape of state-run media in some other countries. And nothing will shake our determination to report what we find, and to put claims and counter-claims into a context that helps audiences understand and assess them.
The danger is that casual political accusations cost trust in all of us. And we lose the public's trust at our peril.
Actually I think the truth is the other way round. We have a really healthy political debate in this country. We all jointly hold those in power to account. We follow stories where they take us - no matter who they're about. We have regulated and impartial broadcasters - a number of them - self-regulating and vibrant newspapers - lots of them. And a flow of social media too.
I believe the BBC has a unique role to play at the heart of this exciting - and sometimes raucous - ecology. Our standing with the public remains high. But to maintain that trust we must be recognised NOT just as accurate, but as rigorously independent and genuinely impartial. And that view should be held across the majority of people in the country.
But here's the rub. Politics is becoming more polarised; media choices more fragmented. And that means that more and more people are becoming loyal to particular news services - sometimes quite niche services - that reflect their worldview.
So we have to be cautious about perceptions of impartiality among users. It's quite easy to persuade a small number of like-minded people that news output targeted at them is impartial. And much more difficult to achieve that with large numbers of people - reflecting a whole range of views and opinions.
While that makes it challenging for us, impartiality is one of our most precious assets… At its most basic, it means BBC journalism is accurate, fair - and based on the best evidence we can find. For us, impartiality is critical to trust. And it's not easy to achieve.
At a time of division and strong beliefs, more and more people appear to see only one side of the argument - their side. But, the very nature of our charter means we should not be in the business of one-sided arguments.
Our impartiality does not mean that we strike some sort of false balance - but that we reflect all contributions to a debate, and give each of them their due weight. So no equivalence between the climate change sceptic - and the overwhelming consensus of scientific opinion. But no exclusion of viewpoints because they're generally felt to be beyond the pale. We won't give in to pressure to silence dissenting voices - nor allow those voices to be seen as mainstream.
Commercial pressures
But if politics provides the environment in which we operate, commercial pressures provide a growing and inescapable challenge.
My colleagues and I have the immense privilege of leading a world-renowned broadcaster which its audiences rightly expect to maintain and nurture a great range of original, home-grown, drama, comedy, documentary, sport, music, entertainment and journalism - using the best and brightest writers, directors, technicians, performers, presenters and journalists. And today we are expected to do it all on an annual budget that wouldn't keep some of our competitors in business from now until Christmas.
Over the last decade – while the global media giants have been changing the fundamentals of our business - the amount we can spend from the licence fee on our UK services has been cut by a fifth - £800 million - in real terms. That's meant nearly half a billion pounds out of our annual budget for new TV content.
The challenge on sports rights began three decades ago with the launch of Sky, and the BBC lost much of its live sport coverage as a result. Today it's high value drama - an absolutely core part of our commitment to all audiences - that has become a new battleground between broadcasters and the big international online players.
It's been reported that Amazon aim to spend one billion dollars just serialising The Lord of the Rings. I'm sure it'll be an extraordinary achievement but, to put it into context, that's a quarter of our entire annual budget for every BBC channel, radio station, and online service here and around the world.
For us the cracks are beginning to show… and, for all our differences and debates, anyone who cares about this country's stories and ideas should want more investment in our content right now - not less.
If we are to retain the allegiance of great writers, directors and performers in the future, it will be because we give them a platform to express their art - free of commercial pressures - not because we can give them great monetary rewards. We will never win the battle over new drama in terms of spend, but we must not lose it in terms of ambition.
That's why we've got to be the home of ambition for great British talent - like Jed Mercurio with Bodyguard - or Phoebe Waller-Bridge with Killing Eve - or Hugo Blick with Black Earth Rising.
Commercial pressures on broadcast journalism are very different. Very few commercial broadcasters around the world wants to put big money into newsgathering any more. States do - China, Russia, Iran - because they see it as a way of asserting their global presence.
But the UK has commercial news brands of global reach - both in newspaper journalism and in broadcasting - and it has the BBC World Service, and a global newsgathering team funded by the licence fee, that makes the country a world leader in trusted, independent journalism.
And in an age where we're re-thinking our global role, as a nation, there is so much more we can do for the UK - and we're talking to the government about that at the moment. The worldwide reach of the BBC's journalism is a huge asset for the country - and one I want to build on.
And here I want to pay tribute to one of my predecessors, John Birt, who engineered a huge investment in the BBC's specialist journalists at home and abroad. I was head of TV News & Current Affairs. At the time we had one full-time correspondent on the continent of Europe. Today we have 13.
I'm a profound believer in specialism - editors who can explore the significance of events; interpret the facts. Experts in their field who can give you a first draft of history. If we're to continue our reputation for the best broadcast news I have no doubt that we need journalists who know their business backwards. It was right when I was in charge of the newsroom. It is right now - and more essential than ever…
Of course, much of the competitive pressure on our journalism comes not from rival newsgatherers but from social media. Ask young people today - not just in their teens but in their twenties too - about their most important source of news and they're most likely to say it's social media. There are a multitude of attractive online providers offering an infinite quantity of material that's cheap or free to produce; that appears to be universal; that feels somehow democratic because it's free of editorial direction; and that positively demands interaction and seems to involve its users directly in a wider world. Of course, it's appealing.
We've never had so much news available - so immediately - from all parts of the world. It's an astonishing advance in our ability to bring information to everyone - in the palm of their hands. And it's to be celebrated.
Citizen journalists do a great job of capturing images. And they do it brilliantly. A whole generation has grown up having had myriad near-real-time glimpses of the world.
But social media and user-generated news sites have no regulatory oversight, no commitment to be truthful, or fair - far less to be impartial. If you're misled you have no redress. News you learn from social media may be appealing, amusing, shocking, appalling - but it may not be true. You'll rarely see what's happening off camera. There's no context. There's no interrogation. There's no sure test of authenticity.
I think audiences are learning fast. They increasingly know the difference between different news brands - and they're becoming increasingly discerning about the brands they follow. But we can all do a lot more to help them.
We all know that without context, without challenge, the world as we see it risks being no more than a collection of anecdotes, a photo album of phenomena. Our role must be to deliver the facts, the images, and the understanding that makes sense of them.
That's what the BBC is there to do: to paint a Bigger Picture that illuminates events. To explore the why, as well as the what. Of course, for us to do that for the YouTube generation means using the platforms and techniques that, hour by hour, are now a part of our daily lives. But we need to bring them something more: not just experience, but insight.
But there's another area where commercial pressures have endangered the flow of information we all need to participate in democracy where we live – and that area is local journalism.
The BBC's new Charter gives us a clear responsibility to champion freedom of expression at regional and local level. It's a responsibility I take very seriously - and it feels especially apt to talk about local journalism this evening - when we're together to honour Bob's work.
First of all, I recognise that commercial pressures on newspapers have never been so tough. Titles have merged or folded right across the country in recent years, or they've had to cut back on editorial content to make ends meet. Our local radio stations have had to take their share of cuts too.
This isn't simply a UK phenomenon. The market for local news has suffered even greater losses across the United States, where there is no publicly funded broadcaster. But I've always felt it right for the BBC to find ways of supporting a healthy local media ecology.
That's why we've made a commitment to partner with other local news platforms - boosting the flow of editorial content to the communities we serve. It's a whole new way of working… and we've made a great start…
Together we have established a data team in Birmingham, producing important public service journalism that's being used across our industry…
And we have put 126 reporters back into town halls the length and breadth of the country. They've filed 30,000 stories so far. It's still early days - and we need to review together our successes and failures. But it's a partnership we can all be proud of. It's already having an impact on local democracy.
In truth, I don't see us being in opposition to one another - far from it. And local audiences - and local democracy - have everything to gain from a healthy BBC alongside a viable and energetic press. So I await the findings of Dame Frances Cairncross' review with great interest, and we will do what we can to support a strong local media landscape.
Legal pressures
I've spoken about some of the political and competitive pressures that threaten freedom of expression and public service journalism. But there are legal pressures too.
Public figures whose reputations are under threat have long sought to use the law to prevent or delay damaging stories about themselves. Now there's a developing law of privacy to protect them too. I welcome the way the Human Rights Act afforded us all a statutory protection in leading our family lives in private. The BBC respects the proper privacy of individuals. But I value too our rights as citizens to accurate information about what's going on in the world around us. I welcome the fact that the BBC's new Charter, for the first time in our 96-year history, now requires us to exercise freedom of expression. No, not just to exercise it. To champion it.
This is what it says:
"....championing freedom of expression, so that all audiences can engage fully with major local, regional, national, United Kingdom and global issues and participate in the democratic process, at all levels, as active and informed citizens"
That commitment to freedom of expression is now written into our new editorial guidelines. We've done the drafting - and we'll publish those in the New Year. It has always been implicit, but we're making that commitment explicit for the first time. And the greater the threat to freedom of expression, the greater will be our determination to uphold it.
As you know, a court decided this summer that our reporting of a police raid on the home of Sir Cliff Richard constituted a breach of his privacy. The judge was critical of aspects of the BBC's coverage - and so, by the way, was I - but he went out of his way to rule, in terms, that even if the story had simply been read straight to camera by a newsreader, the very reporting of the raid would have been in breach.
Now, whether you think there was a strong public interest in knowing that that particular personality was under police investigation is a legitimate matter of debate. But, following that judgment, our legal advice was crystal clear: the judge seemed to have erred in law in saying that any report naming him would have been wrong. But the particular circumstances of the BBC's report - the helicopter and all that - made it entirely possible that we would have lost any appeal and, if we did, it risked enshrining the verdict and giving it the full force of precedent. I believe that other media organisations were given similar advice.
In fact, over the last few years the law has been moving towards protecting privacy rights - and this case took it one step further. So today we - broadcasters and press alike - are in a legal limbo. If we report police raids and identify the suspect in advance of any arrest or charge, we may be found in breach of the evolving laws of privacy. I can see no reason to believe that Parliament ever intended that, but if it did it should say so. So now we need Government and Parliament to clarify the law and tell the public clearly what they are and what they are not allowed to be told when there is a conflict between freedom of speech and individual privacy.
The BBC going forward
I've talked about some of the pressures we have in common, and about some of the pressures that apply uniquely to public service broadcasting.
So how do I see the BBC going forward in its purpose of informing our democracy and the wider world and countering the cries of Fake News?
We won't just talk about the challenges and distortions of fake news. This year we'll take them on directly. We're going to fight - publicly and globally - for news that people can trust and rely on.
First of all, I want us to focus on the quality of the evidence. And to tell audiences where there is an overwhelming consensus based on evidence and expert analysis of it. Of course, we must reflect contrary opinions, but I want us to show a proper degree of scepticism when there is a strong body of evidence that points to the contrary.
The idea of fact checking started decades ago in America. It's turned out to be one of the great tools for any journalist, particularly in an age where people are increasingly willing to use - and abuse - statistics to advance their own causes - regardless of the facts. So, I want the BBC to extend the work of its dedicated Reality Check teams - on air and online. And Kamal Ahmed's appointment as Editorial Director signals a big shift in how we'll approach not just reporting what happens, but reporting on why it is happening - using data, evidence and context to support our audiences' understanding. We want to explain the world around us, not simply report on it – and help set the record straight when people and institutions play fast and loose with the evidence.
Secondly, we've started a programme with schools to educate young people when it comes to questions of truth and falsehood in news. We're using the fundamental principles of journalism to teach critical thinking - sending our reporters into schools to teach pupils about how to spot fake news. I know some of our national press - The Times, The Sunday Times and the Guardian, for example, are working with schools too. That's seriously good news - we're just getting going and I hope there's more we can do together.
We've created a one of a kind interactive game with Aardman Studios - BBC iReporter. I played it myself - I whizzed through it, which gave me surprisingly high scores for speed!
We've reached thousands of young people with it in the UK so far. I've been to some of the sessions - and seen for myself what a difference we can make - jaws literally dropped when we discussed the reasons why people might pump out disinformation with them too.
And now we're taking it global - starting with India and Africa. And in the middle of next month teenagers from Delhi, London and Nairobi will come together in a live event broadcast worldwide - getting them involved in stopping fake stories spreading.
Then, across our output, I want a renewed focus on the integrity of news and information. I don't believe you enlighten people by allotting equal airtime to well-evidenced argument on the one hand, and to unsubstantiated assertion on the other. An astronaut who has gazed down on the curvature of our Earth from outer space needs to be taken more seriously than some guy with a blog who still maintains that it's flat. There are objective facts, and then there are theories, some but not all of which may turn out to have credibility.
Now, as Brexit negotiations reach boiling point we need to be ever more scrupulous in looking at past evidence, and the past record of those predicting different futures. I am intensely proud of the work our specialists are doing - Laura Kuenssberg, our Political Editor; Katya Adler, our Europe Editor.
And I can assure you this focus on specialism will not falter. First-hand, on-the-spot reporting, from journalists who know their subjects inside out, is a bulwark against lazy judgements, glib assertions, or conclusions based simply on snapshot or prejudice.
Snapshots are, of course, the stuff of social media, and user-generated material has revolutionised the way we experience major news events. We make extensive use of such material where we can verify it, and of course we all recognise the power and immediacy of those images. But snapshots capture just pixels. I want a BBC that reveals the whole landscape. A landscape that reveals causes as well as effects. Where audiences discover, not just what, but why. And not just why, but why it matters… the BBC as the place you go to for the background, the context, the explanation.
Conclusion
So, I hope you'll see the BBC play its part in distinguishing fact from fiction; identifying and exploring the world in all its complexities; and enabling us all to play a meaningful part in shaping our communities - and our country.
We're a messenger - story teller - fact checker - and explainer… and we're proud to stand alongside you.
It has - in some quarters - become fashionable to bemoan the problems of the mainstream media. But that is to oversimplify the genuine concerns - and to underestimate the public.
The media is not without flaws. The BBC is not without flaws. No industry and no one organisation is.
But we have some of the finest journalists in the world in this country.
I want our experts to inform audiences, with the integrity, accuracy and focus that gives the lie to Fake News. Because to try to blur the lines between truth and lies - or to lump together a sophisticated, living, breathing industry in order to cast doubt and spread disinformation - is unacceptable. It's undemocratic. It's an insult to those who consume our work AND those who dedicate their careers, and sometimes their lives, to it too. We cannot allow that to happen.
Thank you.