Bob Shennan's speech to the Radiodays Europe conference
Speech by Bob Shennan, Director of Radio and Music to the Radiodays Europe conference in Vienna on Monday 19 March 2018.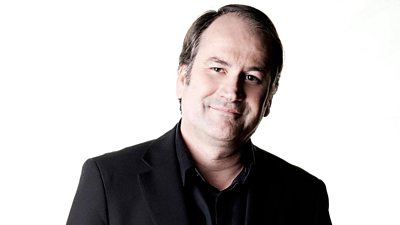 For many years we've gathered as allies and rivals - public radio versus commercial and commercial versus commercial - but today its really time for us to come together as one united radio industry to secure our future.
Check against delivery
Today I want to talk about three things.
I want to talk about how radically our audio world is changing
I want to explain what we at the BBC are doing about
And I want to ask how we can all secure Radio's future by working better together
Radio. The word that binds us. The habit that has captivated audiences for a century. But it's a habit under attack.
Listening meanwhile has probably never been stronger. All around us people are listening. Headphone sales are exponential! The consumption of audio is phenomenal.
But it's not always to Radio.
In the past five years, music streams in the UK have increased by nearly 1000 percent. And while in the UK nine out of every 10 adults still tune in to Radio every single week, the global media giants are closing in: our most recent audience figures show fewer 15 to 24 year olds listening than ever since records began. Spotify has announced that radio is in its sights. Podcasts are booming. The internet is both a lively enemy… and a considerable friend.
For traditional broadcasters, like the BBC, re-invention has never more necessary. So we are changing what we do and how we do it.
Over the past 18 months we've concentrated the developments of our linear stations on serving the needs of under 45s, upgrading the programmes we make and the talent we develop. Our youth service, Radio 1, is tearing up the rule book with new presenters and new formats - we've launched a ground-breaking night time entertainment show which is already attracting a cult following. Our linear listening is up.
And we're building all our brands in dynamic, eye-catching ways: Radio 1 leads the radio world on YouTube with more than 4.5m subscribers. The Live Lounge sets have had half a billion views in the last year alone. Our speech services are generating mass consumption through articles, animations, short form and podcasts. All critical to building our brands.
These days we are also regularly commissioning programmes which aren't first for a linear schedule. Our heart-stopping drama Tracks reached thousands of new and younger listeners before it appeared on Radio 4. 5live's Flintoff, Savage and The Ping Pong Guy has won a slew of top awards and brought a different kind of conversation to the network. Our radio stations remain the best way to meet the needs of our listeners - they offer audiences company, personality, allow them to feel part of wider communities. But there are other audience needs - lean forward, highly engaged needs which technology allows us to meet on demand.
In 2017 240 million BBC podcasts were downloaded, an increase of 12% in a year. Our podcasts top the charts, win the prizes and are some of the most popular in the world. And yet, there are nearly 2 million podcast listeners in the UK who don't consume any BBC Radio.
So we are commissioning digital first content aimed at serving younger audiences. We're about to announce the appointment of a new Podcast Commissioner who'll nurture the development of content outside of our station brands.
Last month we passed the 1 million mark for unique requests for our BBC Audio Voice app and the BBC will be launching news, food and children's skills in the coming months.
And later this year, we will bring all this activity together in a revitalised audio product from the BBC. We aim to combine all our linear radio stations, an audio streaming offer and our on-demand content in a personalised product, building relevant easy-to-access content onto our deep archive. With new consumers in mind we want to create a new listening habit.
I want to say something here about the BBC and DAB. We all once thought DAB was the only digital future for Radio. But audiences want choice. We now know DAB is very important but as a part of the story, along with FM and IP. We need to do more before we consider a switchover in the UK, and for that to be genuinely audience-led.
We are fully committed to digital and we believe we should review the landscape again in a few years' time. Great progress has been made but switchover now would be premature. For now we believe audiences are best served by a mixed economy. Radio is better served by a mixed economy.
It's worth remembering that new content is one of the great legacies of DAB. Look at the ingenious commercial radio brand extensions, whether Kiss, Absolute, Talk, Capital or Heart. Look at the emergence of our own 6 Music, a unique editorial offer, now attracting 2.5 million weekly listeners, and growing hours quarter on quarter. Listening buoyed by new content, as well as a new distribution network. The two go hand in hand.
Of course we are all in the same boat. Established broadcasters, coming to terms with the challenges of the internet age. I remain convinced we can prosper in this hybrid future, but we will more likely do so if we join forces like never before.
Great Radio is about truth telling. It helps us understand each other.
At the BBC our output creates an honest dialogue and shared experience. It is worth fighting for. Our mission is enhance the lives of UK citizens, not mine every ounce of personal data from them to drive profits.
In radio we create content as an end in itself. We are not doing it to sell hardware. New digital technology such as 5G and voice has the potential to transform radio again. How can radio make the most of this technology? Or more pressing still, how can we protect the critical radio space in cars, where we need to work with suppliers to ensure that radio thrives as part of the connected dashboard?
For many years we've gathered as allies and rivals - public radio versus commercial and commercial versus commercial - but today its really time for us to come together as one united radio industry to secure our future.
We should go faster and further in identifying our shared goals. We must fight for radio as a force for good. We must fight for our audiences. We must defend the broadcasting values that mean so much to all of us. I'm not sure that can happen unless we do it together.
Thank you.