Serving all our audiences: the BBC in a digital age
Speech by Sir David Clementi, Chairman of the BBC, at the VLV Spring Conference on Thursday 19 April 2018.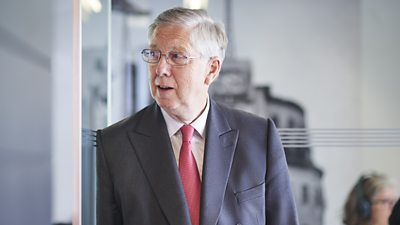 Coming to the BBC, my background in business told me that the key to a successful organisation is to choose a small number of things and do them very well. But at the BBC, the challenge is different: we do need to serve the whole nation; we need to do something brilliant for everyone.
Check against delivery
Introduction
I'm very pleased to have the opportunity to be here this morning. I have now been Chairman of the BBC for a little over a year, and one of the things that has struck me most in this time is the fact that, wherever I go, people are always keen to talk to me about what we do. You won't be surprised to learn that this wasn't always the case at the Bank of England when I was in charge of financial stability.
Audiences love to let us know what they think is great about the BBC - Strictly or Doctor Who, our Natural History programmes or News services or the Proms.
Of course, there's usually a but… People are quick to say what they think we get wrong; what we should be doing differently or better.
But that's what's so unique - and so great - about the BBC: It belongs to everyone; everyone is entitled to have a say in what we do and how we are run. That's why I welcome, for example, the attention that gender and equality issues have recently received, and the scrutiny the BBC has been under.
I can tell you that we have been working tremendously hard as an organisation to address the issues raised, and to meet the truly ambitious goals we have set ourselves. And, as other broadcasting organisations have disclosed their gender pay gaps in recent weeks, the BBC has been revealed to be at the forefront among most of our peers.
Our gender pay gap is smaller than ITV's, Channel 4's, Sky's and ITN's, not to mention better than a host of Newspaper groups who have not covered their own pay gaps quite as extensively as they chose to cover ours. Not that we are complacent. We know the BBC must set the example, we know that it matters to licence fee payers, and there are a number of issues we still need to deal with.
But, important as they are, these are not the issues I want to focus on today. I want to talk about audiences.
Coming to the BBC, my background in business told me that the key to a successful organisation is to choose a small number of things and do them very well. But at the BBC, the challenge is different: we do need to serve the whole nation; we need to do something brilliant for everyone.
To help guide us, we have a whole raft of obligations:
Our five public purposes set out in the new Charter
The Ofcom Licence
A range of targets in both how we run the corporation and how we account to our many stakeholders
But we never lose sight of the fact that, ultimately, our responsibility is to our audiences; those who pay the licence fee.
We have a mission to inform, educate, and entertain everyone. We need to fulfil that mission every day. We need to delight and inspire all our audiences - on Radio, on TV, online.
We need to respond to changing times and technologies by recognising that audience habits are changing too. And by making sure that we still reach everyone with our public service mission at a time when, I believe, it has become more important than ever.
So I want today to talk about audiences. The different lenses through which we need to view our audiences:
I want to look at how we serve audiences by different genre
I want to talk about audiences by age
I want to address audiences by region, whether across the UK or overseas
I want to look at the different ways in which we seek to ensure we are listening and responding effectively to changing habits and needs of our audiences
And, finally, I want to say a brief word about distribution of those services to audiences. And I'm very pleased to have the opportunity to discuss it here amongst a group of listeners, viewers, and users who know the BBC and understand our mission.
Serving audiences - by genre
I want to start by talking about the need to provide our audiences with high-quality, distinctive output across all genres. Crucially important is news.
It's impossible to think of the BBC - our place in history, our role today and in the future - without recognising our importance in delivering impartial news.
It's our first public purpose - to provide impartial and accurate news. And for many people it is where they rely on us most as their trusted source of information and analysis.
This is a responsibility that we take more seriously than ever. That's because - in an era of false information, fake news, and social media echo chambers which reinforce our own view of the world - we believe it is now more needed than ever. As the Culture Secretary, Matt Hancock, said recently: the BBC is the "best bulwark against fake news".
We have responded to this challenge with initiatives like Reality Check - a fact-checking service that puts claim and counterclaim to the test, to separate fact from assertion. I encourage you to go online and take a look. There are important pieces responding to some of the most talked-about questions of the day. In the area of crime, for example: "Has London's murder rate overtaken that of New York?"; "Is police funding still falling?"; "Is Stop and Search working?".
We're also aware that, if it is hard for adults to tell the difference between fact and falsehood, it is even harder for young people - bombarded as they are from all sides by information and media. That's why up to 1,000 schools around the country are now being offered mentoring from expert BBC journalists to help young people identify real news and filter out false information. All schools can access free online materials, classroom activities, and video tutorials - as well as an interactive game where students can experience being a BBC journalist in the heart of the newsroom.
A second, significant genre in which audiences look to the BBC is drama. And again, it is an area in which our role has become even more important. That's because - in a world of global giants such as Netflix and Amazon - there is a risk to home-made, British content. The market is changing, with the increasing influence of a small number of very large, US-based players. And their enormous balance sheet and huge budgets have driven up costs to a significant degree.
All of us enjoy some of the big shows from the US. But we also really value drama that speaks to us directly about our own lives, or says something important about the country and the society we live in. Major hits like Doctor Foster and Happy Valley, award-winning programmes like Three Girls and Murdered by my Father and ever-popular soaps, like Eastenders and The Archers.
While the big, global players are primarily looking to invest in big, global shows that could be about anywhere - and are designed to travel everywhere - it is left to our public service broadcasters to fly the flag for original British drama.
At the BBC, our priority has always been quality, British programming. British writers, British actors and British stories. We have long been the largest single investor in British ideas and talent. But as our income has fallen in real terms over the past decade, our ability to fund original British content has diminished.
Nor is this just about the BBC. In recent years, commercial broadcasters that have also traditionally been major investors in British content have been hit by dwindling advertising revenues.
What this adds up to is that the volume and breadth of British content that British audiences rely upon is now under some threat. And, of course this is not limited to drama. It is about home-made content across all genres.
This puts the BBC's broader challenge in a clearer financial perspective. Against this background it's clear that the creative and commercial success of our teams in the newly-merged BBC Worldwide and BBC Studios will be critical.
Co-productions with the very best global partners are already a major part of BBC commissioning. Series like McMafia or Andrew Davies' forthcoming adaptation of Les Misérables are able to attract investment from across the world.
I don't intend to discuss all of our genres here. But before I move on I would like to say a few words about sport. Like drama, it is an area where we have seen huge super-inflation in the market.
As a keen sports fan - and as someone whose sporting career has, I regret to say, moved increasingly towards the armchair - I am a firm believer in the importance of the biggest sporting events being shown free-to-air, not hidden behind a pay wall.
So I was very pleased when the FA Cup returned to the BBC, and when more recently we once again secured the rights to Premier League highlights for Match of the Day. I was delighted when the BBC and the ECB announced a new partnership across TV, radio, and digital from 2020 - meaning live cricket back on BBC TV for the first time in more than 20 years.
And I was proud last summer when the BBC's coverage of Wimbledon, celebrating 90 years of broadcast partnership, broke online records with more than 24 million views.
Last year, although the BBC accounted for only around 3% of all sport hours broadcast on TV, we delivered 36% of the total viewing.
For me this testifies to how much our sports output is valued by audiences.
It is because of the combination of our unrivalled experience in sports broadcasting and cutting-edge technical expertise that we have been able to announce a very significant increase in live sport coverage. Around a thousand extra live hours for our audiences to watch each year through the BBC Sport website and BBC iPlayer
Last month we announced more details of these plans - from women's football and British basketball to wheelchair rugby and many more Olympic and Paralympic sports.
I am particularly proud of the fact that we are committed to getting coverage of all major sports to our audiences, regardless of whether or not we hold the principal rights. The BBC's online sport service is, in my view, without equal!
Serving audiences - by age
I have spoken about our audiences in terms of their interest in different genres. But I would like now to speak about how we serve audiences by reference to their age.
Today around 44 million British people use the BBC on a daily basis - virtually every adult in the UK every week.
But making sure that we continue to do this means truly understanding the implications of changing audience trends, particularly across generations.
At the BBC, we're very proud of our track record with children's programmes and services. BBC Children's continues to be the media provider that young audiences spend the most time with and choose most often. But we cannot ignore the fact that, as the time children spend online grows, so the time they spend watching traditional TV channels falls.
Our response to this challenge began last year, when we committed an additional £34 million to children's content in the years ahead. It's an investment that is a good example of our dual strategy in action - allowing us to sustain our popular linear channels CBBC and CBeebies TV, while investing much more in the digital space.
One recent example of that digital investment is CBBC Buzz, a new app for 8-12 year-olds launched earlier this month. It's designed to provide children with a carefully-curated diet of interesting and inspiring facts, and encourage them to share their passions and creative endeavours.
In just a week, it was number one on the Kids App Store, with young people sharing more than 50,000 submissions. And whilst it's too early for detailed feedback, thanks to my own consultations with the target audience I can exclusively reveal that my 9 year-old grand-daughter thinks it's "brilliant".
But beyond our very youngest audiences, we are also focusing specifically on young teens - an audience that, in general, have traditionally been quite underserved. That's why we have committed a dedicated portion of our £34 million investment to filling this gap.
Partly that means taking some of the Children's brands they know and trust - like Newsround, for example - and making more teen-focused episodes. And partly it means commissioning new programmes like Logan High - an experimental, improvised drama based at a fictional school in Edinburgh.
We want to make sure we can offer all our young audiences programmes and services that they don't just love, but that help them find their voice, discover their identity, and make their way in the world.
Moving from young teenagers to the next generation up, from 16-34, this age group represents our biggest challenge. They watch less TV than older people and listen to less radio. They are the smartphone generation and their view of the world is shaped by social media. It is a generation with which we have to work hard to remain relevant.
This was brought home to me very clearly last month when I and a number of other Board members met with a group of 20-24 year-olds in Coventry. This group were clear that they got their news largely from social media. They had respect for the BBC, used it to check and verify. But it was not their primary source.
They were complimentary about dramas such as Doctor Foster and Peaky Blinders, but said they did not want to wait for new episodes. They are used to a series being delivered in one download; and being available for well beyond the 30 days period for which much of our material is online.
And while they go to iPlayer to find favourite and recommended programmes, it was clear to me that we need to do more to encourage them to browse the service and discover something surprising or new. We want to grow iPlayer as a destination for young people, as well as for all audiences. Not simply a catch-up service, but a place to browse and look for new material.


Notwithstanding our attention to this generation, you can be assured that we are not neglecting our older audiences; and I can personally testify to the fact that there are many loyal and dedicated devotees to BBC Radio and TV in that age range.
And with a bit of luck they will remain BBC supporters for a long period to come. Because, and here is a bit of good news, as a former Chairman of a life insurance company, I can tell you that if you get to 60 in good shape, you have a very good chance of making it to 90.
In distinguishing between older and younger viewers, it would be wrong to see this as a distinction between linear and digital consumption. The vast majority of people of all ages continue to consume media via both traditional and newer methods. And we're increasingly seeing the benefit of using iPlayer to highlight content from our linear channels, and equally using our linear channels to draw people's attention to content online.
I will say more about our strategy here in a moment. But it is clear we need to be smarter than ever about how we offer our content, across linear and online services, in order to make sure we are getting audiences what they want, when and where they want it.
I have talked about audiences by reference to age; and I have referenced the powerful evidence that young adults are consuming content in a different way from their parents. But the BBC is at its strongest when we unite age groups to share national moments, whether broadcasting a national event (next month we have a Royal wedding) or when broadcasting a brilliant programme which appeals right across the generations.
Blue Planet II was such a programme, drawing in young and old alike, and was the most watched programme of 2017; Strictly is another, a personal favourite of mine which I watch as often as I can with my children and grandchildren; And, an old perennial, Match of the Day, continues to have an enormous reach right across all age groups.
Serving audiences - across the Nations and regions
I have spoken about audiences by reference to the genres they watch: and I have spoken about the age-related audience challenges we face. A third way in which we need to think about our audiences is by geography - wherever they are across our nations and regions.
One of our five public purposes is to reflect, represent, and serve the diverse communities of all the UK's nations and regions.
I mentioned earlier the importance of continuing to produce home-made, original drama for this country at a time when British content is under threat. But the other reason our role as a creator of brilliant, British content has become even more important is because it helps us to understand ourselves as a country and a society.
This is not only about telling stories on air and on screen that resonate with particular audiences or are firmly rooted in particular places - from Shetland in the far North all the way down to Poldark in the deep South West, The Fall in Northern Ireland to Keeping Faith in Wales.
It is also about making sure that all audiences get to hear different views and alternative perspectives.
If it's important in drama, it is essential in news and current affairs. That's why this year will see a major transformation of BBC local and nations services.
In BBC local radio in England, we are working against any "one size fits all" mentality; allowing regional station editors, who are closest to their communities, to shape the development of local services. We want them to be free to do what they do best: champion local people, local stories, and local talent.
There are big changes in the nations too.
In Scotland, we are launching a brand new channel, with a special news hour that will blend Scottish and UK coverage. In Wales, we are focusing TV investment on BBC One, strengthening our online and mobile services. And in Northern Ireland, we are working on an online news service with enhanced news coverage right across the week.
Serving audiences - overseas
But when we talk about serving audiences wherever they are, we also need to think about our audiences overseas.
Our global services, including the World Service, play a really important role in taking the UK's voice, culture, and values abroad. This has always been an important role for the BBC, but today it could hardly be more important as the UK looks to reshape its global identity and redefine its relationship with the world.
The World Service has just completed its biggest expansion since the 1940s. Thanks to new government funded investment, we now operate in more than 40 languages, from Korean to Pidgin. And we have opened new and expanded bureaux in locations from Bangkok and Belgrade to Cairo and Kathmandu.
Not only does this enhance our coverage and trusted news services for audiences abroad, but it also gives our UK news services a more in-depth view of areas which have traditionally been less well-covered.
Meanwhile the World Service will continue to bring the best of the BBC to global audiences, from the Proms and the Edinburgh Festival to reporting from the Royal Wedding and FIFA World Cup.
Listening and responding to audiences
As I have already said, technological change is opening up extraordinary opportunities for us to deliver our public service mission to all our audiences in new and exciting ways.
But it is also offering us new and more immediate ways to consult with our audiences on what they want and need, and use their feedback to inform our decision-making. Just as we need to lead and inspire, we also need to listen and respond.
Today, and every day, we measure the size and the profile of the audience watching our television, listening to the radio and using our online services. We capture not only "how many", but "how much" people enjoy each television and radio programme we broadcast. From a nationally representative panel of 25,000 people we can dig into the detail of what people loved - or didn't - about what they've watched or listened to.
This allows us to interrogate and analyse the thousands of contacts we receive each week from our audiences - commenting, appreciating, and of course, sometimes complaining, about our programmes and editorial coverage.
Through our own tracking surveys, we carefully monitor public perceptions of the BBC and the value we deliver to licence fee payers. And by means of our investment in more bespoke audience research, we track their changing behaviour and expectations.
All this allows us to draw together the insights we need to support decision making within the organisation and make sure that we constantly put audiences at the heart of what we do. Already we are working hard to tailor each person's experience of the BBC uniquely to them. More than 25 million people have now signed into the BBC, and across the portfolio we see over 10 million of them every week.
This year we are focusing on reinventing iPlayer to provide the individual, personalised service they more and more expect - not just offering audiences programmes we know they love, but also suggestions for what they might like or need to know.
And we are also reinventing our radio services in the same way, by transforming what we know as iPlayer Radio to bring together all our wide array of radio and audio content, including our growing range of podcasts.
Our focus on modernising our services is allowing us to alter how we deliver content to our audiences and see how they respond.
We had a very good Christmas period on iPlayer. As a complement to everything we offered on our schedules, we experimented by releasing box-sets, including every episode of Line Of Duty and the full back-catalogue of Peaky Blinders.
I hope many of you enjoyed the Agatha Christie, Ordeal By Innocence, recently shown on BBC One. For many, showing it on consecutive Sunday evenings added to the "whodunit" intrigue, and created discussion through the week. But others thought we should have made all three parts immediately available. By contrast last year, Top Of The Lake was an example of a programme that we released on iPlayer in full before a single episode had aired. And we will continue to listen to our audiences and test out different kinds of strategies to meet audience needs.
The distribution of BBC services
I want to finish my discussion about audiences by touching on another essential part of our strategy: how we distribute our output and services in today's changing media landscape.
The crucial importance of this has long been recognised by the VLV - most recently in your response to the consultation on our draft distribution policy.
As set out in our distribution strategy, the more effectively we distribute our services, the more valuable they are to the public. The more convenient they are to find and the more easily identifiable they are as BBC services, the greater the value for licence fee payers. That's why we attach so much importance to curation and proper attribution when shown on other people's platforms.
Similarly, knowing what people watch and how they watch it ultimately helps us improve the viewing experience. That's why we place so much importance on access to data.
The consultation has concluded and the Board will publish a final policy after considering the responses. And I know the VLV feels as strongly as I do that the BBC must continue to act in the public interest to serve all audiences.
Conclusion
I said at the start that I believe the BBC's public service mission has become more important than ever. But it has also become harder than ever:
The rapidly changing habits and needs of our audiences
The increasing, global competition we face
The threat to home-grown British content from the west coast of America
All set alongside the BBC's tougher-than-ever financial context.
Part of our response has been to appoint a Chief Customer Officer, Kerris Bright, to work alongside our management team to focus on how we interact with our different audiences across all our services. But there are some serious challenges ahead - for the BBC, for public service broadcasting, for UK production.
Everyone who cares deeply about public service broadcasting needs to be thinking about how we can join forces, how we can collaborate to secure the future of the high-quality, British broadcasting. In particular, we need to be focusing very hard on how we can safeguard its future with young audiences.
In all this work, the VLV is an important partner.
For nearly a century, generation after generation has been able to benefit from a strong relationship with the BBC, recognising the importance of public service broadcasting.
I hope that together we can make sure that the next generation are able to say the same, and that all audiences will continue to get lifelong value from the BBC.