Championing human storytelling in a data-led world
Charlotte Moore, Director of Content, delivers the Steve Hewlett Memorial Lecture 2018.
Published: 11 October 2018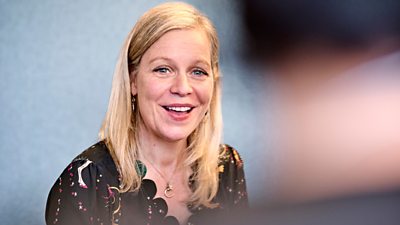 Check against delivery
Introduction
Good evening, everyone. Thank you for coming.
I'm delighted to be here tonight. I'm grateful to the RTS, the Media Society, and most of all Rachel, Steve's wife, for the invitation. I feel privileged to have the opportunity to give a lecture in Steve's name.
There is something that Steve wrote during his illness that has really stuck with me.
It was just a few weeks after he had begun talking about it to Eddie Mair on air, in that incredibly candid, down-to-earth way. He was being asked about the remarkable impact he was having - the extraordinary response of his audiences.
"I'm absolutely convinced," he wrote. "That the more we talk about cancer - both to our families, friends and loved ones - the better it is for all concerned. Above all it's empowering for them.
"Don't get me wrong," he went on. "Telling my boys about my diagnosis was one of the hardest things I've ever had to do. But dealing with this disease is far easier for me than it is for them. In the end I'm sure telling them everything - good and bad - is right."
There's a lot we might say about that decision and that sentiment… Generous, selfless, brave and fearless.
But perhaps the thing that makes it most typically, characteristically Steve, is that unfailing, journalistic instinct.
"I'm a journalist and a storyteller," he told Eddie Mair. "And I regard my condition as a bit of a story."
Only Steve could be told he has stage four cancer and think: it's "a bit of a story".
What he always knew was that, the harder the story, the more uncomfortable and unchartered, the more important it is to tell. He understood that stories are there to entertain us, but they are also how we question the way we are, how we laugh at ourselves, how we come to terms with difficult truths.
"I'm a storyteller…" Steve said it again in one of his later interviews. "I now realise that is really what I am about."
I want to take this as a starting point this evening.
I want to use it to talk about the power of storytelling. How stories allow us to walk in others' shoes, open our eyes to different perspectives, change the way we see the world. Why stories matter in our fast-changing society. And why I believe that British stories told by British voices matter more than ever before.
I want to set out what we need to do now - as an industry, as a nation - to make sure that our authentic, British stories continue to be told. And I want to call on every one of us here to help bring on the next generation of great, British storytellers.
Great stories, great storytellers
A tiny ice floe in the arctic…
I want to start on a tiny ice floe in the Arctic Ocean.
A walrus and her cub are fighting to get a grip on the teetering surface of a rapidly melting block of ice. They're struggling to find safety from starving polar bears.
Nearby the Blue Planet II team are filming. They're further north than any crew has been before. They have been in the water since 4am. It took three of them to get the specially-designed, 50 kilo camera rig into the ocean.
This year there's less ice in the arctic than ever before - rising sea temperatures are making it harder for the walrus to find safe spaces to hide from predators. With the camera's ground-breaking, super wide-angle lens, the crew can film both inside and outside the water at the same time - you'll remember the shot - as they wait to see how the story will unfold…
A couple of thousand miles away in the UK - and a few years later - millions of people tune to watch as the mother walrus cradles her cub in the sea, then once again tries to scrabble it to safety. The mother's love trends on social media.
In one particular home, a young man called James is watching with his housemates. They're all feeling so emotional, they actually pause the programme on their smart TV to talk about what they are seeing.
"It was such a shocking and distressing scene", he said. "And it [caused] us to have a house discussion about conserving energy, in terms of just having the heating on when we don't need it, about water waste."
It was a moment that really hit home with audiences. And it wasn't the only one.
You'll all remember the sequence in a later episode with a mother pilot whale grieving over her dead calf, unable to let it go. That generated over 1,200 tweets a minute on Twitter. It won a Bafta for the year's must-see TV moment in any genre.
And while the film crews had already told us that there was rarely a time when they were filming the series that they didn't come across plastic in the sea, it was still shocking and heart-breaking to hear David Attenborough tell us that the mother whale might actually have poisoned her own calf through the build-up of plastics and chemicals in her milk.
Public service broadcasting at its best
But it's the story of James and his household that sums up, for me, the impact of Blue Planet II, and everything public service broadcasting can do at its very best.
Blue Planet II brought people together - audiences of all ages - in their millions. The UK's biggest TV programme of last year, with 14 million viewers. A shared national moment up there with the Royal Wedding or England's thrilling World Cup campaign.
It connected with them emotionally - and it also got them thinking. Internet searches for plastic recycling went up by more than 50%. Searches for the dangers of plastics in oceans went up 100%. Eight out of ten people said it made them care more about conservation.
It inspired them to look at the world differently, driving traffic to environmental charities and massively boosting their campaigns. Nearly two thirds of people said they intended to make change to their daily lives to reduce our impact on the oceans.
The series actually brought about change. Within a month, the Government had set the UK the challenge of becoming, "a world leader in tackling the scourge of plastic littering our planet and our oceans".
The Environment Secretary, Michael Gove, invited David Attenborough to discuss the issues, and just last month called for a trebling of international targets to protect sea life and habitats by the end of the next decade.
Meanwhile, everywhere from local cafés to massive global companies like McDonald's banned plastic straws. Communities all across the country got together to go 'plastic free'. Millions of us have decided to do something differently - whether it's a reusable bottle or coffee cup, a packed lunch or a bag for life.
It's an astonishing tribute to the power of one show on the BBC.
But there are three things in particular I want to highlight about Blue Planet II - things that I think Steve as a storyteller might have appreciated.
1. A powerful, emotional story
Firstly, it took viewers on a powerful emotional journey.
We know from our research that audiences felt everything you would typically expect from great, natural world series: amazed, informed, inspired.
But they also experienced emotions on a much broader range, emotions you might associate more with watching pure drama: sadness and elation, concern and anger, ultimately hope.
It's evidence of something I think Steve knew so well: that it's by telling the story in emotional terms - the story of the whale not the plastic, if you like - that the reality truly hit home.
Think about that extraordinary Panorama interview Steve did as editor with Princess Diana. A world scoop, watched by 23 million people in the UK.
It might be seen as strange to think that someone as radical, as innately anti-establishment as Steve is perhaps best known for a royal story. But that would ignore the fact that the story Steve told was not of a royal princess, but the deeply human story of a marriage.
And in fact we all know that it was precisely because of Steve's boldness as a journalist, his willingness to take on vested interests and let nothing get in the way, that the Panorama special was possible at all. Everything from keeping the interview a secret from the then BBC Chairman - Marmaduke Hussey, whose wife was a Lady-in-Waiting. To smuggling Martin Bashir and his cameraman into the palace disguised as hi-fi salesmen. To hiding out in Eastbourne to edit the film.
2. Real ambition and risk
That brings me to the second thing I know Steve would have loved about Blue Planet II.
Like the very best of public service television, it was fearless in its ambition.
When we commissioned Blue Planet II back in 2013 - of course none of us could have guessed that four years later the series would have such a profound effect on the way we think about plastics.
But in those early discussions the Executive Producer, James Honeyborne, and I agreed nothing should be off limits.
The BBC Natural History Unit would explore the oceans using the very latest marine science and cutting-edge technology. They would enter new worlds, shine a light on new behaviours, they'd go deeper than they'd ever gone before. And above all else, they would tell the truth - whatever they found.
Four years later, when the shows were delivered and the state of the oceans and the extent of the plastic crisis was revealed, we knew it might be hard for people to take on a Sunday night. It might be too strong a message. It might risk smaller viewing figures. But it was important to tell the story of one of the most important environmental crises of our time.
In the end nearly nine out of ten people said this was exactly the sort of thing that the BBC should be showing. Very few felt we had any kind of agenda - an incredible achievement for such a challenging and emotive subject. And thousands of people took to Twitter to say it was worth the licence fee alone.
Telling the true story of climate change and human impact on our oceans was not necessarily a comfortable place for the BBC to be... But that's exactly why we needed to be there. Not shying away, but being bold enough to tell our audiences what they needed to know.
Of course, when I talk about being bold, I'm not talking about real bravery. The bravery Steve showed in telling his final story, the story of his cancer, on air.
We know that it was his incredible openness - candid, searingly honest, baring all - that meant so much to his audiences, that left them so empowered.
It wasn't simply Steve's story they wanted to listen to, it was Steve himself.
3. A trusted storyteller
That brings me to the third thing I want to highlight about Blue Planet II. A brilliant, trusted storyteller.
The success of the series owes so much to David Attenborough - one of the most trusted, authoritative and admired voices on TV.
Today we know that public trust is running at an all-time low - in businesses, in public institutions, in the media, in experts of any kind.
So the level of trust that audiences have in David is extraordinary. He's a reminder that - in a world of so much choice, so many competing voices and sources of information - it is not enough simply to have an important story to tell. It's who's doing the telling.
A powerful, emotional story… Real ambition and risk… A trusted teller…
This is the combination that made Blue Planet II the biggest show in years - hauling in audiences of all ages, with more young adults watching than watched The X-Factor on ITV.
And for me it's the perfect example of what it means to inform, educate and entertain. To do it all - brilliantly - at the same time.
A unique mission: To inform, educate and entertain
I want to assure you, when I talk about those Reithian principles - inform, educate and entertain - I'm not talking about some dusty mantra, something static or set in aspic.
At the BBC, we live them every day. As the brilliant team of commissioners I work with will tell you, they inform every decision we make.
Take Three Girls - an incredibly powerful drama which dealt with the true story of the victims of the Rochdale child abuse. On the face of it, an extremely uncomfortable story to tell. Horrific and harrowing, it's fraught with really challenging issues from why the girls weren't believed for so long to why senior figures in the police, social services and the council were too afraid of being accused of racism to act.
But I remember the first conversation we had with producer Sue Hogg and writer Nicole Taylor. We agreed that if we were going to interview the girls, get them to relive the details of their abuse all over again, we had to commit 100% up front.
So we signed up to making the three part series then and there. Before Nicole had written a single word. We promised to tell their story and we couldn't let them down.
Let's face it, no one would have done that to be a ratings winner. I don't think any other broadcaster would have put it out over three consecutive nights in primetime.
But I've learnt over the years that when you take risks, when you back a project you really believe in, more often than not audiences respond.
Over 8 million tuned in. The whole country was talking about it. The series challenged people's assumptions about abuse and gave a voice to those who'd been ignored for many years. In short, it made us all care.
Now, I don't believe anyone could have predicted that Three Girls and Blue Planet II would be stand out pieces last year. But we backed them because we knew they were important to audiences. They were stories that needed to be told. We wanted to push the boundaries of what we'd commissioned before.
Telling the story of Britain - at home and abroad
A golden age of TV
Why does this matter so much? And why does it matter more than ever right now?
In the past few years we've seen monumental changes in the media landscape around us.
Audiences have been catapulted into a golden age of television. An age of incredible quality and choice. A whole world of TV and audio at our fingertips, whenever and wherever we want.
It has come about because of the huge, tech players that have entered the market. Whatever the latest FAANG acronym, there is no question that the giants of the West Coast have driven up quality. They've forced everyone to raise the bar.
But they've done something else too. Over the past few years, I believe they've made the BBC's unique public service mission steadily more important to this country.
Let me explain why…
A mission that matters more than ever
Today the UK feels more fragmented and divided than at any time in living memory.
So many people feel their voices are not being heard. They feel isolated from the national discourse… Unrepresented in the national debate.
In the age of filter bubbles and fake news, there's increasingly the sense that we're all living in our separate worlds. We're focused on what makes us feel different or divided, forgetting what we have in common. We're losing the ability to see things from another's point of view or put ourselves in their shoes.
The BBC has always been the place that the country comes together to celebrate big, national events - a Jubilee, Royal Wedding, or Olympics. And not just big events, but shared national moments that get us all talking… The latest Strictly, the Bodyguard finale
It was fantastic to see Jodie Whittaker crash-land onto BBC One last week as our brilliant new doctor. More than 8 million people tuned in. Doctor Who's going to be unmissable TV for all ages this Autumn.
These are programmes that prove, even in the VOD age, there's still a place for appointment-to-view TV.
But as well as bringing the country together and reminding us what we have in common, it's part of the BBC's mission to celebrate difference. To reflect the lives of everyone, and make sure all of this country's voices and views are heard. Real-life stories like The Boy with the Topknot and Murdered for Being Different, Chris Packham's Aspergers and Me or Rio Ferdinand's Being Mum and Dad, Hospital and Ambulance - series which give alternative perspectives on our society.
Or programmes that explain our past like James Rogan's Stephen Lawrence, Yasmin Khan's Passengers, the epic Civilisations, David Olusoga's Black and British or the must-see history of the Assads on BBC Two this week…
Dramas like Broken, Happy Valley or Keeping Faith - they might not be based on real-life events, but they're rooted very firmly and meaningfully in a place and its people. They tell us important things about our country. McMafia, Taboo, and Doctor Foster, they tap into a consciousness that is authentically ours. They couldn't come from anywhere else.
Then there's adaptations of work from Dickens and Christie and Le Carré to JK Rowling and Phillip Pullman. They're the stories we've grown up with, and we want our kids to grow up with them too. They're part of our cultural inheritance - weaved into our identity as a nation.
And there's comedy, which celebrates our Britishness - in our many different tribes, with all our foibles and eccentricities. This Country and The Detectorists, Famalam and Not Going Out, Motherland, Man like Mobeen and Mrs Brown's Boys. They take us to places we might not otherwise be comfortable to go. They break taboos and say the unsayable. They force us to challenge, as well as laugh at, ourselves.
And of course there's entertainment like Strictly or Michael McIntyre's Big Show. And next year: The Greatest Dancer. From Top Gear to Dragons Den, Autumnwatch to Masterchef - these are shows that revel in our very British passions. They entertain us, but we learn something too.
And exploring difference is not just about looking inward. It's also about looking at the world through our own distinctive lens. Which is what some of our best presenters do, whether it's Louis Theroux, Sue Perkins, Stacey Dooley or Romesh Ranganathan. They help us discover more about the world, but also more about ourselves and our place within it.
I'm proud of what 17 Baftas and 18 RTS programme awards say about the BBC's creative track record this year… But I'm prouder still that the commitment we have to reflecting modern Britain in all its brilliant diversity, has been so widely recognised by audiences and the industry alike.
In difficult, divided times, I believe that the BBC has no bigger responsibility, and no more vital role to play for Britain.
British stories in decline
We cannot take this for granted.
Because right at the moment when it's so important that we tell all our authentic, British stories, the reality is that the volume of original British TV we produce as a country has fallen dramatically.
What Public Service Broadcasters spend on UK-made programming has now hit its lowest level in twenty years. Overall investment in original British content is down by a billion pounds since 2004.
It's no coincidence that all this has happened during a period when the BBC has come under real financial pressure. Championing British creativity has always been our priority. We've always been the biggest investor in home-grown talent and ideas.
But since 2010, when the licence fee was frozen, the amount we have available to spend on content has fallen by nearly a fifth.
That's meant half a billion less a year to spend on new British ideas and programmes.
This is not just about the BBC. But one thing has become increasingly clear over the past decade: a smaller BBC means less British programming, less investment in British ideas and talent, and a reduction in the volume and breadth of British content on offer to UK audiences.
For all the great things on offer from the likes of Netflix and Amazon, we need to recognise that they're not going to help.
Netflix's current budget for programmes is $8 billion. Amazon's is $5 billion. But their investment into new UK programmes is only around £150 million a year. Less than 10% of their catalogues is made up of content produced in the UK.
Last year we highlighted that, increasingly, the US-based giants want to invest in a narrow range of very expensive, very high-end content. Big bankers that they can rely on to have international appeal and attract large, global audiences. Within weeks we heard that Amazon would be spending a reported billion dollars on a single show: The Lord of the Rings. The Crown may be a wonderful example of a big global player telling a British story, but it's also a rare one.
In this new, US-dominated media environment, we run the risk of seeing fewer and fewer distinctively British stories.
In a world of incredible, unprecedented choice, the irony is that British audiences may find it harder and harder to choose the stories that matter to them most.
Britain's cultural power
There's another reason that authentic, British stories really matter now.
The BBC's job is not only to be the voice of the nation to itself. It's to be the voice of Britain to the world; to help define our global identity.
Massive exports like The Night Manager, War & Peace and Blue Planet II - not to mention formats like Strictly that have been sold worldwide, or indeed BBC Films. All of these do so much to showcase our creativity as a nation.
Uniquely British hits like Sherlock and Doctor Who are global phenomena. They say so much about our national character. And while international audiences might be baffled by some of the more colourful dialect in shows like Peaky Blinders and Happy Valley, it hasn't stopped them becoming huge global hits - in a way that no one would ever have predicted.
Our distinctive, world-class TV has a massive role to play in telling the story of the UK to the world. It's a major cultural force.
This matters now because the UK has arrived at a critical moment: when we are looking to reshape our relationship with the world and redefine our global identity.
And it's about so much more than just the BBC… It's about the whole of the UK production sector and the strength of our broadcasting industry overall.
A unique broadcasting ecology
It's worth reminding ourselves: the broadcasting landscape that has grown up in this country is completely unique... It was not designed, but has evolved over the past hundred years into a carefully balanced, mixed ecology that is an astonishing global success story.
British TV is the very best in the world. As a country, we punch so far above our weight.
Of course, the BBC is at its heart. We draw on the strength of the creative ecology around us, and we support commercial broadcasting and production in turn. We're the keystone of creativity in the UK.
Just last week, Chris Chibnall was interviewed about why he wanted to be the new showrunner for Doctor Who. He said: "I wanted to work for the BBC… If we lose the BBC it would be a disaster for the entire country. I genuinely believe that."
The investment that global partners have brought to the party means that we now have one of the most creative environments possible. It's an incredibly exciting time.
But the media world around us is changing so fast that if we don't act now, we run the risk of breaking things that are vital to Britain's unique creative ecology - and the country more widely - before we even realise they're at risk.
Ten years ago, around 83% of independent production companies in the UK were either UK or European owned. Today it's less than 40%, with the rest owned by US multinationals.
We have to understand that, increasingly, it's decisions taken on the west coast that are defining our media landscape. We cannot allow them to reduce our creative firepower.
I believe all those who believe in Britain's creative strength - in the power of British stories and British storytelling - need to rally behind it like never before. To stand up for our cultural impact as a nation, and with it our global influence and relevance.
Creative-led storytelling in a tech-led world
Five promises for the future
For the BBC, what this means is clear:
We need to take what we do best, and do it even better
We need to re-focus on what defines us against our competitors and the things that set us apart
That means putting even more faith in the unique role we play for British audiences, and even more force in our public service mission.
So much of what's driving the rapid change in our industry is about technology, not creativity. The television landscape is increasingly defined by what will deliver the biggest profits for companies, not the best programmes for audiences.
I worry that the insatiable greed for data-gathering is actually serving the wrong master. That entire businesses are focused on what they can take from audiences, instead of what they can give back.
The BBC is different.
Sure, audience data and algorithms are incredibly useful. We can learn so much from what's working for audiences and what's not. We can understand how to tailor our services uniquely to them.
But I don't believe any amount of data can tell you what to commission next. Data simply won't deliver you Car Share, A Very English Scandal, or Murder in Successville…
When I'm faced with an idea, that important story, what's going through my head as commissioner is not "will it do the business?", but "what can this do for audiences right now?"... "Will it matter or feel relevant, will it tell them something they didn't know, will it offer a new perspective?"
As the incentives of the biggest players become ever more commercial and cautious, ours need to become ever more creative and bold:
As their focus becomes more global, ours must become more local
As their decisions are de-risked by data, we need to risk more to tell the stories that matter most
Where they're led by algorithm, we need to be led by pure creativity
This is my vision and my commitment for the years ahead: creative-led storytelling in a tech-led world. And I believe it means making five important promises.
1. A promise to new talent
First, I want to make a promise to new talent that we will seek out and support the very best, whoever and wherever they are, that we will find and nurture new, diverse, original storytellers of the future.
I was once a documentary director. I know how hard it can be to get your first break.
I remember a conversation I had when I was starting out. I'd been working in various roles as a researcher, an assistant producer and a production manager, in far flung parts of the world… Indonesia, Papua New Guinea, Egypt and Nepal.
I'd worked for several directors - all of them, as it happens, men. And on one particular shoot in Mexico the director asked me what I thought I wanted to do with my career.
"I want to be a director," I said. "I want to make my own films."
He nodded, and smiled, and then frowned. And said, "Maybe you should concentrate on being a producer. Because you know, you're really good at organising things."
Of course, that sort of comment only puts fire in your belly. That sort of prejudice only makes you more single minded.
And it's one of the reasons I was so committed, when I began as a commissioner, to open up our doors to new talent, to back creative ambition. To do my best to battle lazy assumptions and pull down barriers for people starting out.
It's why I ran the new talent strand for Channel 4. It's why there are now so many new talent schemes in place at the BBC for factual, entertainment, comedy and drama - across all our channels.
Today we offer more opportunities than anyone else - from our Assistant Commissioner scheme, to our Comedy Slices, the Writersroom, our drama and documentary director initiatives, the new talent scheme on Strictly or the major new opportunity we announced last month for disabled writers.
We know we need to dig even deeper into our communities to discover the widest pool of talent. We know we need to be determined to take a risk on those who might be untried and untested, but have something distinctive and important to say. We know that new talent is the life blood of our industry. They are critical to our future.
2. A promise to great talent
Second, I want to make a promise to great talent.
That the BBC is where they will find the freedom and space to do their most exciting work, and pursue their most ambitious ideas. Where they'll be able to return for support again and again.
Nothing beats listening to the country's most talented people, talking passionately about an idea they believe in… Except maybe that moment a few months later when you sit down with them again, and discover the idea has developed into something completely different and even more exciting.
This is the kind of creative freedom that needs to define the BBC more than ever. So when the genius Steven Moffat says he and Mark Gatiss want to make Dracula, you get very, very excited. Or when the brilliant Sally Wainright wants to make a series about the life and loves of Anne Lister, one of history's most celebrated lesbians, you say: brilliant, let's do it. Or when a fearless, original voice like Michaela Coel sits down in your office and tells you she wants to write a drama about sexual consent, about the difference between sexual liberation and exploitation. You say of course. That's totally unchartered territory for the BBC. Let's go for it.
3. A promise to young audiences
Third, I want to make a promise to young audiences.
That we will offer them more of what they want, how and when they want it. So that they can continue to come to us for the best and most exciting content.
We know that young people live in a world of limitless choice. And we know that they rely on the BBC less than those who are older.
Failing to respond means running the risk of losing relevance. And failing in something that is absolutely fundamental to our mission: to serve everyone.
We can't let younger audiences down. We know they too believe in public service broadcasting.
According to research we're going to release shortly, around three quarters of young adults believe in our mission to inform, educate and entertain. Around three quarters say they want programmes with new ideas and different approaches - programmes that make them stop and think, original programmes made in the UK. That's what we exist to provide.
I think we have real cause for confidence.
We still reach more than eight out of ten under 16s each week, and more than eight out of ten 16-34s. We're still the media provider that young adults spend the most time with.
When you talk to the BBC Three team, they're incredibly passionate about what they're doing for young audiences online.
Comedy is a great example of where they've really delivered in recent years. Whether it's Fleabag or Young Offenders, This Country or People Just Do Nothing, they're all stand-out hits that are helping define a new generation of comic talent.
BBC Three is challenging the status quo, through an authentic and unfiltered lens. It's making a real impact in the digital world.
iPlayer is another area where we're working hard.
We know that young people love our programmes, so it's not right that they should be left to discover them on Netflix or elsewhere, and lose out on everything else the BBC has to offer.
That's why we've become so much more ambitious with our box setting, encouraging young audiences not to see iPlayer as simply a catch up service, but a destination in its own right, where they can discover so much more.
Killing Eve - from Phoebe Waller-Bridge - is a brilliant example. We released the whole series on day one and it's had over 26 million boxset requests so far.
One critic described it as possibly "the best thing to happen to women and TV in 45 years…" And I'm pleased to say that we're not going to have to wait quite so long next time. It's back on the BBC next year for season two.
With everything we do - from CBeebies to CBBC, Bitesize to BBC Three, iPlayer to BBC Sounds - I believe we are brilliantly-placed to respond to the challenge of fighting for young people's time and attention.
And, yes, we want more stories about young people, for young people. But let's not jump to any crass assumptions about what the young like.
What we've learnt time and time again is: make it brilliant, and they will come.
Bodyguard hasn't just broken all records with over 36 million boxset requests, it also attracted the highest young audience for any drama this year on any channel.
Whatever the genre, from Bodyguard to Blue Planet II to Strictly to the World Cup, young audiences turn up for quality.
Our goal is to make sure that each new generation has the same, valued relationship with the BBC as the one that went before. A companion and an inspiration for life.
4. A promise to diverse audiences
Fourth, I want to make a promise to diverse audiences.
That British storytelling will represent the whole of modern Britain, in all its difference and diversity. That we will make sure everyone's stories are told and everyone's voices are heard.
I'm proud of what we've just done with our British Asian season, and everything we did to celebrate it across all our output. It brought people to the BBC who might not otherwise have come. Half the UK's Asian audience said they watched or listened to something from it.
But seasons are only part of the story. Diversity needs to be hardwired into everything we do. On screen, off screen and in commissioning.
It's something I committed to five years ago when I first took over the reins on BBC One. And I'm proud of the progress we've made - you can see the changes across all our output.
Three years in, our Assistant Commissioner programme is thriving. Developing the next generation of senior decision-making talent from a wide variety of backgrounds. Broadening our supplier base across every genre and doing more than ever to attract diverse talent.
You just have to look at some of the most exciting titles we have coming up. Informer starts next week, from Rory Haines and Sohrab Noshirvani. It's our big new boxset for primetime BBC One. Andrea Levy's epic The Long Song is about the dying days of slavery in Jamaica. Riz Ahmed's Englistan is the story of three generations of a British Pakistani family.
Then there's Levi David Addai's Dark Money. A new drama series from Steve McQueen. New comedy, Enterprice, written and created by Kayode Ewumi.
Our diversity development fund has made a real difference. It's led to placements and production roles for BAME and disabled talent on everything from big brands like Countryfile, DIY SOS and Inside the Factory to big dramas like Doctor Who, Silent Witness and Les Misérables. And it's championed fantastic talent, like JJ Chalmers who'll be bringing us the Invictus Games from Australia next week.
Diversity also means reflecting all of the UK's cities and communities. And I've committed to investing in greater representation and portrayal across all our nations and regions.
Female stories must clearly be a massive part of this narrative too. I don't need to tell anyone here that, as a society, we're just at the start of a very long journey to address a huge historical failing of female voices. But I do believe that we're living through an incredibly exciting time. I can't put it any better than Phoebe Waller-Bridge: when it comes to the need for more female-centric stories, finally "people have woken the fuck up".
45% of the dramas we've commissioned at the BBC in the last two years are from female writers. It's not 50:50, yet, but it's more than double where we were in the past.
There's a whole generation of female stories, perspectives and experiences that's coming to the surface. It's our responsibility to make that generation heard - and help them inspire a new generation in turn.
They bring with them a promise of a society that is fairer, better, and more equal than ever before. I defy anyone who saw that viral video of the little girl, waiting for the new Doctor Who to be unveiled - who witnessed the expression on her face when she shouted: "The new doctor is a girl" - not to think we've done something good and inspirational.
5. A promise to the country
Finally, I want to make a promise to the country.
That at an important moment for our nation and our national identity, we'll work harder than ever to take Britain's creative strength and cultural influence to the world.
That, working together with the whole of the industry, the BBC will help ensure that British storytelling won't just thrive here at home, but across the globe.
These are the promises I want to make, and they're my priorities for the future.
Of course, I've mentioned the BBC's financial challenge.
Tony Hall has talked in recent weeks about some of the pressures we face. As he's said: the cracks are beginning to show. Because of the huge changes that have taken place in the market around us - the vast increases in competition and costs-– what we currently do is simply not sustainable with the resources we have.
I don't want us to miss out on a priceless opportunity - for the BBC, for Britain… In a world that's seeing an incredible explosion of high-quality content, I want us to create an explosion of distinctly-British content in turn. To make sure that a golden age of TV is also a golden age for British storytelling that matters to us most. To strengthen our unique British identity, invest in our creative and cultural wealth, and enhance our global relevance and influence.
Conclusion
I'm aware that before I can finish this evening, I need to go back to that ice floe in the arctic, where I've left that poor walrus and her pup waiting.
I can reassure all those of you who have haven't watched the episode that both of them made it.
And in fact, we're not going to forget about any of the issues raised in Blue Planet II. I want to make sure we keep this national conversation going.
It started here with us. We led the way. We were fearless. We pushed the boundaries to tell the uncomfortable truth.
This week's stark new warning on climate change underlined how vital this is. We need to make sure these urgent environmental issues continue to be front of mind.
Last week, audiences were shocked by Drowning in Plastic. In the words of presenter, Liz Bonnin, "we fought like mad not to pull punches."
On Monday, Stacey Dooley set out to investigate what the fashion industry is really doing to our planet.
Coming up next month is Dynasties, David Attenborough's ground-breaking new series from the NHU. It tells the story of five families from five of the most endangered species on earth - fighting for survival.
And tonight I want to announce a number of programmes that will keep tackling the issues head on:
Blue Planet Live is a stripped TV event which will take the audience to the frontline of scientific research and conservation to witness first hand what's going on across the world's oceans.
We'll revisit the wildlife and the stories of Blue Planet II to discover what happened next.
We'll look at the health of coral reefs in Australia, witness the world's largest gathering of grey whales in Mexico, go live to a shark dive in the Bahamas. We'll uncover the positive ways people all over the world are trying to tackle the plastic problem.
And to bring this global issue right back home into our own lives, Hugh's War on Waste will return. This time he's on a mission to ban single-use plastic in the UK.
And finally I want to announce Two Degrees. We want it to be the definitive film on climate change. To cut through the confusion, tell audiences the facts without any other agenda, explore what a dangerous level of climate change could really mean.
It will be unflinching about the potential catastrophe that's unfolding. And offer the facts about what can still be done.
Because, for all the uncomfortable truth, the message of Blue Planet II, of all these shows, is ultimately a positive one: we have the power to do something. We hold the future in our hands.
This is the optimistic note I want to finish on tonight.
Yes, we face a threat to British storytelling, but we also have a fantastic opportunity. Yes, the BBC has some tough challenges ahead, but we are brilliantly-placed to respond.
I know Steve cared about the BBC.
I said when I first accepted the invitation to give this lecture that he was never scared to ask difficult questions of us, yet he was also our greatest champion and supporter.
He even spoke about his concerns for the BBC and its vulnerability in his very last interview with Eddie Mair.
He knew how much what we do matters. He held us, quite rightly, to the highest standard. He was a passionate believer in British creativity and risk taking and in public service television.
As we look to the future, it's this spirit of fearlessness we need to embrace in everything we do.
Related Media Centre Links
Tagged: