Director-General Tony Hall's New Year message to BBC staff
Speech by Tony Hall, Director-General of the BBC, to BBC staff in Birmingham on 11 January 2017.
Published: 11 January 2017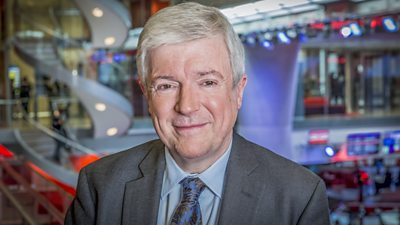 I want the BBC during this Charter to be defined by boldness, originality, and risk taking. I want us to have the courage of our convictions, to dare to do the things that others won't. To hear, again and again, "only the BBC would do that".
Check against delivery
Good morning, and - if it's not too late to say so - a very Happy New Year!
For me, and for the whole of the BBC, this new year is a particularly important one – because it's year one of our 11-year charter. It's a great moment: the beginning of a new chapter.
And that's why this morning I want to start a conversation with you: about where the BBC is going, what we want it to be, and what we're going to do - together - to get it there.
And what better place to talk about the future than in Birmingham?
I'm always pleased to come back here. I remember my first visit, a week into the job, and being shocked at how empty the place was. Sure, our news teams, the daytime drama village The Archers, and the Asian Network, were all doing great things… but I left determined that the BBC could do so much more for the midlands - and for you.
Three years on, and the Mailbox is now full - over 700 people. This building is now the centre for skills and development for the whole of the BBC, with HR and the Academy all based here.
And we're preparing the place for BBC Three next year – working with our digital teams, universities and partners around the city to make the move a big success.
We're making this building one of the vital hubs for innovation and, in doing so, we are drawing on Birmingham's status as a diverse young city - one of the youngest in Europe, with nearly a third under 20, and home to some of the voices that most need to be heard around the UK. It's an outstanding turnaround, and I'd like to thank every one of you here today who's helped make it happen.
The BBC has a proud past in Birmingham, and what you've all been doing is making sure it's there at the heart of our future too. And this is my starting point today: how we build on the very best of our past, to create the strongest possible BBC for the years ahead.
Reinventing the BBC for a new generation
The start of a new Charter is a critical moment. It's the chance to set our sights high for the next 11 years, to mobilise the whole of the BBC behind a really clear, really ambitious goal.
So, this is my challenge: over the next few years, I want us to reinvent public service broadcasting for a new generation.
Now, let me say straight away: this does not mean somehow forsaking our existing audiences - that would be stupid.
As I've said many times before, we have to ride two horses: doing brilliant things on our existing channels and services, but also innovating in the digital space.
Our task therefore is to reinvent public service broadcasting so that it works for all audiences, so that everyone gets value from the BBC.
Why is this so important?
During the hard-fought debates about the Charter, we learned something that we should draw a great deal of comfort from.
The public believe that our mission is as relevant today as it has ever been.
Audiences continue to value what we do - in fact, they value it more than ever. And - Ofcom's research shows - young people value public service broadcasting as much as all of us - a really crucial point to remember.
But if young people value what we do, reaching them is a whole different matter. In fact, it's one of the single biggest strategic issues we now face.
Why? Well, first, because there's so much competition for their time.
Adults spend eight percent of their media time on social media and messaging. For 16-24 year-olds, it's 25 percent. Across the whole of the TV market, time spent with young audiences has fallen by 20 to 30 percent. It's the same story with radio.
Increasingly, younger audiences and older audiences are consuming media in different ways. So we have to respond.
I think the second big issue is that the media landscape has changed beyond recognition. It is hugely more global and more competitive.
We're now in an environment where Amazon, Netflix, and others are willing to invest huge amounts of money with no certain return in an attempt to capture market share where Facebook is looking at commissioning its own TV programmes, and Twitter is buying up sports rights and where moves such as the Fox-Sky merger are making the very biggest players even bigger.
Real cause for confidence
But despite these challenges - and more - I believe we should be confident about our future. We may be financially small compared with some - but our impact can be huge.
We are still, by far, the media provider that young audiences use the most, and with whom they spend the most time.
We are a powerful provider of programming and services to children - CBeebies is the top channel for the under-sixes, CBBC for the over-sixes… Bitesize is a necessity when it comes to revision at GCSE time.
For the 16-34 age group, BBC One is still their top TV channel - the one the watch the most. Overall they spend 11 hours with the BBC each week - nearly four times more than they're on Facebook.
It's also a major advantage that we have the stability of an 11-year settlement, and are sure of our budget for the next five years.
Now of course, we will have some hard choices to make to live within our means, I don't want to hide that fact from you. But at least we have certainty in an uncertain world. It's something most organisations would kill for - so we need to make it count.
But perhaps the biggest cause for confidence is this: over the past year, we have proved yet again that when you provide real quality, audiences - young and old - respond.
That's why 51 million people of all ages came to us for our sports coverage last summer. Why, though we only have two percent of the total hours of sport broadcast, we have 37 percent of the audience.
And they don't just come to us for big events. Our programmes have become big events - whether that's The Night Manager, Ed Balls on Strictly, or Sherlock at New Year. Planet Earth II ended up topping the Sunday night ratings. More 16-34 year-olds watched it than watched The X-Factor on ITV.
And, we've also learnt over the last year that when we innovate online, we can have a similar impact.
Our children's apps have now been downloaded 11 million times, on YouTube, Radio 1 is the biggest radio station in the world and BBC Three is setting new standards for short-from content. Their Amazing Humans video about Gabi Shull - the dancer still doing ballet despite losing her leg to cancer - got 78 million views.
We know that when we do things of quality, audiences - old and young - come to the BBC. Traditional values, delivered in traditional - but also innovative, new ways.
Three priorities for success
So, if our aim is to reinvent public service broadcasting for the next generation, I believe we need to concentrate on three priorities:
Our creativity
Our culture
And our global ambition
1. Our creativity
First, our creativity… Or, to you and me, our programmes and services.
I want the BBC during this Charter to be defined by boldness, originality, and risk taking. I want us to have the courage of our convictions, to dare to do the things that others won't. To hear, again and again, "only the BBC would do that".
Not just doing what no-one else does, but breaking new ground and leading the way. This is something I care about passionately, and we must get right over the coming years because it's the true test of our creativity, and the true measure of our distinctiveness.
Of course, we are already on great form - and many congratulations to The Night Manager team for their well-deserved gongs at the Golden Globes.
But we all know we can never stand still - we always need to generate new ideas, innovate further, and take greater risks. This is what has to motivate us constantly in all our traditionally delivered services but now we also need to look again to the online space, where competition is highest, new audiences are most present, and where I believe we can serve them in brilliant new ways.
We need to reinvent iPlayer - It was the biggest revolution of the last Charter. It's been the number one video-on-demand service in the UK, reaching more people than any other.
Now we need it to make the leap from a catch-up service to a must-visit destination in its own right.
Our goal, even in the face of rapid growth by our competitors, is for iPlayer to be the number one online TV service in the UK. That will mean doubling our reach, and quadrupling the time each person spends on it every week. And we want do it by 2020. That's tough, but I know we can do it.
We need to do the same for audio - or radio. Today we have the best speech and music radio in the world. I think we can do so much more with our world-class content. And, by the way, win new global audiences.
There is a challenge for the news teams too. Many of you have heard us speak about the distinction between 'fast' and 'slow' news services.
We're up there with the best in the world at telling people what's happening right now, and being where they come to find out what's really going on. But I want us to do much more to help our audiences understand what's happening in the world today.
And the thing that brings all these challenges together is personalisation. This is a major priority.
Data is creating a flight to quality. It means audiences can find the best of public service broadcasting - but only if they sign in.
Each month, we now have around three million active signed-in users. I want to make that 20 million. And I want us to get there as quickly as possible.
More than anything else, this is what our future success will depend on. By finding out more about our audiences and what they like, we can make better content, make it more relevant, and bring it to them more effectively.
The closer and more personal our relationship with our audiences, the more I'm certain they will choose the BBC.
And one other point: I want us to examine what big technological changes - such as voice recognition, and virtual reality - mean for us. How can we push boundaries, do new things, in the way that we have done so well with new developments in the past.
2. Our culture
My second major priority is our culture – making the BBC a great place to work.
Let me say first that, as I go around the country, I see lots of examples of where things are going well and we have already made a start on simplifying the place:
Cutting overheads to just six percent - better than most in the private sector
Reducing layers in many areas
Reducing divisions and boards
Halving the number of senior managers
I know this has been very tough, and I really appreciate the way in which people have responded. I also know that different parts of the organisation are moving at different speeds, and we have plenty more to do.
The priority has to be that we're able work together across teams, and work fast. Because, for me, the old way of doing things - working in silos - simply can't succeed.
Nor can the traditional ways of delivering services - big project plans, with budgets allocated five years out. We've got to be much more entrepreneurial in our make-up.
What we did digitally last summer for the Olympics shows where we need to be every day. For me, the biggest triumph was how our technical and editorial teams came together to solve problems and innovate with the full trust and support of management, refusing to let internal barriers get in their way. Changing, responding, and adapting rapidly.
We have to understand: the big beasts we are up against are already working in a very different way. And we're not only small by comparison - but we can make ourselves smaller still when we operate in silos.
That's why I attach such importance to making this a great place to work. By the end of the year, I want all of you to be able to say four things:
That we are making things simpler
That we value each other and celebrate success
That we are challenging ourselves and each other to be bolder, more imaginative, more creative
And that all of you feel your managers at all levels - including myself - are more visible and accessible
3. Our global ambition
My third priority is being much more ambitious for the BBC globally.
Today, thanks to you, we punch well above our weight worldwide. And, as one of the country's most valuable exports, we help the UK punch above its weight too.
I believe that, right now in the post-Brexit world, the country needs us more than ever and we need to do more than ever for Britain.
That's why, last autumn, I was so proud to be able to announce the historic expansion of our World Service - the biggest since the 1940s.
But beyond the World Service, I believe there are two major factors that will be critical to our future global success.
The first is BBC Studios - and now we have the go-ahead. I don't need to tell you that this represents a true revolution in the way we source and make our programmes.
Yes, it means a degree of risk, with the contesting of current programmes, but it is also an incredible opportunity. And there's one announcement we'll be making very shortly that will highlight just how great that opportunity is.
In both radio and television, we need to own intellectual property rights for the future. I don't want us ever to become a publisher-broadcaster.
I'm convinced that Studios is the only way we will secure our future as one of the very best programme-makers in the world. And, by the way, the first episode of Let it Shine - made by our in-house teams - showed just how creatively brilliant and warm-hearted we are.
But I don't want us just to be brilliant at making high-quality, distinctive British programmes. I want us to be truly brilliant at exporting them across the globe.
That's why we need BBC Worldwide to thrive as a strategic partner for BBC Studios, making the very most of our global reach. My challenge to Worldwide is to look again at how we best grow our business to deliver more returns back to BBC public service - to reinvest in yet more great British programmes and services.
Conclusion
There is so much more I could say about the future. And I will have more to say!
Between now and Easter, I will be in Scotland to talk about the Nations and Regions, and what more we need to do to represent the whole country and reflect a changing Britain to itself.
I will be saying more about our ambitions for drama, about our plans to transform our services for children and I will be talking about our ideas in education and the arts.
By the time we reach our centenary year in 2022, I want a BBC that is irresistible to all our audiences. In a world of near-limitless choice I want people to carry on choosing us.
But above all by our centenary, I want us to have shown that public service broadcasting has even more to offer the UK and the world in the next century. Even more than it has done in its first hundred years. That excites me. And having spoken briefly yesterday to David Clementi, the preferred candidate for chair, I know it excites him too.
Reinventing the BBC for a new generation is where I will be pouring all my energies. I want to ask each of you to do the same. Seeing you all and talking to you all, around the country, I profoundly believe that we can meet the challenge.
My thanks to Joe Godwin and the team for hosting me this morning. And to all of you for listening and for your support.
Thank you.
Tagged: