Tony Hall speech at the RTS Cambridge Convention on 17 September 2015
Speech given by BBC Director-General Tony Hall at the Royal Television Society Cambridge Convention on 17 September 2015.
Published: 17 September 2015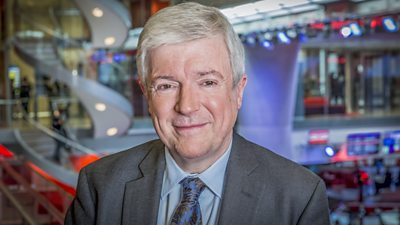 I believe not in a bigger BBC, but a better BBC - acting in Britain's best interests and as a cornerstone of the British creative economy.
Good afternoon.
Today I want to talk about one thing. Content. Programmes. The reason we're all here.
At the moment - in this country - we have a really vibrant creative ecology of broadcasting. It's a great national success story. And – I might add – something we can all be very proud of.
We are open to content and services from all around the world. Culturally that openness has been a characteristic - essentially, one of our defining features - from the age of Elizabeth I. We also have a thriving creative industry based in this country - and of this country.
But the question I want to talk about this afternoon is whether one part of that ecology will continue. Will we carry on making to the degree and quality we do now?
I'm concerned that in all the arguments and debate about the BBC's charter, in a decade's time we look back and say we missed something crucial - a big trend. And that big trend to my mind may well be the slow and recent decline in television production made in Britain. And about Britain.
Let me declare a strong belief of mine. In this job, and my last one, I've been a huge believer in the power of Britain's creative industries. In my lifetime, I have seen the growth of British music as a huge global success - starting in my teenage years with the Beatles. But also the success of British fashion, literature, design, musicals, architecture, art, video games. And also – of course - broadcasting.
When I started at primary school, Britain's power was on the classroom wall for all to see - a world with huge areas shaded red. Now, Britain's power is great - but different. It's cultural. Some call it soft power. In a series he's doing for us, one of my favourite historians, Dominic Sandbrook, says we lost an Empire -- but we gained what he calls "an empire of the imagination".
And what a very particular and sometimes quirky imagination that empire has. There is, for example, something very different from the rest of the world about the way we portray our heroes.
We prefer amateur sleuths like Benedict Cumberbatch's Sherlock - or Peter Capaldi's Doctor Who. And - globally - people love them.
The Chinese can't get enough of Sherlock - 77 million of them watched the third series. And Doctor Who's 50th anniversary special was simulcast to 94 countries.
And – while we're reflecting on heroes – can I just mention one of mine: Sir David Attenborough. Many of David's landmark series for us have reached well over half a billion viewers – yes 500 million people – around the world. That's quite something.
Earlier this summer, I went to the Royal Society for the Protection of Birds' reserve at Minsmere in Suffolk to spend a night with the Springwatch team. And a fish – spineless Si. For those of you who have forgotten Si, or Simon as he prefers to be known, he is, or sadly maybe was, a humble stickleback – looking for love. Spineless Si's failure to find a mate was followed via an underwater camera by millions of people. It was another example of our eccentric imagination, as well as the brilliance of the programme team who saw one story - nothing happens to a Stickleback - and converted it into another – What's up with this fish?
And, by the way, there's another twist to the story too. The area round Minsmere now has good quality Wi-Fi - the result of the infrastructure necessary to do live broadcasting. Another example of the good done by the creative industries.
What I want to do today is to set out the case for how the BBC can support the 'empire of the imagination' - the UK's creative industries - through the way we're funded by the licence fee, to the proposals we are publishing today on BBC Studios, and our plans to grow our commercial income.
Our proposals to open up the BBC will help provide opportunities for the whole of the sector.
And given this is the time for us to debate the BBC's future, there is no better time to be setting out the choices before us.
For I believe not in a bigger BBC, but a better BBC - acting in Britain's best interests and as a cornerstone of the British creative economy.
Because the choices - the choices about our television, choices about the BBC - are in the end choices about our country, our values and our identity.
Let's just remind ourselves about why what we all do matters.
The average adult in the UK spends over half of their waking hours engaged in media or communication activities.
In a 24-hour period, the average UK adult will sleep for 8 hours and 21 minutes. But they will also spend 8 hours 41 minutes engaged in media or communication activities. In between all this – we squeeze in some work too!
Naturally, therefore, the mass media has a unique ability to influence huge audiences. To shape who we are.
Television also reflects who we are as a nation.
And it's good that it does - because we are good at television. We make some of the best television in the world. And we have a long, long tradition of making it universally available to everyone.
At its best, television inspires – and it challenges – us like little else. It's how many of us find out what matters. And how we expand our horizons.
Just look what happened after we broadcast a special day to mark the 750th anniversary of England's first parliament – awareness of that anniversary shot up overnight - from 19 to 34 per cent of adults across the country.
And BBC Two's adaptation of Wolf Hall more than doubled public awareness of the novels - and helped to increase readership by 40 per cent.
Television is also how we strengthen our shared national culture and identity. What would the phrase 'a typically British sense of humour' mean without Mr Bean, Patsy and Eddie – or indeed one of Baldrick's 'cunning plans'?
What better manifestation is there of the genius of this country's eccentricity than Gogglebox? Or Britain's Got Talent. Or of the pride, competitiveness and love of cake - than The Great British Bake Off?
Television has shaped our geography.
Television transmitter patterns have shaped regional identity over decades - by giving you a particular regional or national news programme - and linked you up with a particular group of people. I, for example grew up in Granada-land.
That's even more important today when Britain, the UK, is a nation of nations. How do we reflect the plurality of voices, of opinions, of perspectives across the country? How do we respond to a Britain where we are able to celebrate that which makes us distinct - as we also celebrate those things that bind us together, those things that make us one?
Television has shaped our memory.
Our memory of childhood from children's broadcasting - in my own case from Bill and Ben and the Clangers - er - to the Clangers again now.
Our memory of national events.
In 2011, 25 million people watched the royal wedding on the BBC and ITV – and, of course, it was a moment we shared the world over.
And – just this year - over 19 million saw some of the BBC's election night coverage.
Television tells us what's vital and interesting about the world today. It shapes our conversations – our shared experiences – and our arguments.
It's how we start conversations – online, on social media – starting the kind of national and global debate we wouldn't have dreamt of just a decade ago.
Around 40 per cent of all UK Twitter traffic at peak time is related to TV – last year, the X Factor generated more than 9 million tweets. That's seriously impressive.
So it is not a small thing to consider what we show on television. And for the BBC, it is right to do it with a due sense of the impact we can and do have on national life.
British audiences love British television. We know that and we seek to reflect that in what we do. Today, as opposed to a generation ago, the biggest programmes in the UK are all home-grown. So far this year, the top five shows are Britain's Got Talent, New Year's Eve, Bake Off, EastEnders and Broadchurch. Every one of them British.
And, incredibly, you have to count through another 3,400 British TV programmes broadcast in 2015 before you get to the first TV programme from outside the UK.
That says something very powerful. What our audiences cherish is the range, the richness of British-made television. The things that make us different – that celebrate our distinctive voice. Think of Marvellous, Peaky Blinders – and so many more besides.
The creative industries, of which television is a crucial part, is one of the most productive parts of the UK economy. And, by the way, it's so good to see the Creative Industries Federation - not yet a year old, but already with 700 members - looking at how we can be even more effective in generating economic growth.
Working together, the BBC and the wider television community have been a catalyst for economic growth across the country.
The government's policy of tax credits for high-end productions has attracted significant inward investment into the UK. It's really working.
Also, look at the clusters of media activity now in Salford, Glasgow, Cardiff and Bristol and how that's raised local pride and economic activity.
We are setting up a centre for digital innovation in Fazeley Street, Birmingham, so that our debate today about British content should not just be limited to television formats - but expanded to include new digital ideas, gaming and, most exciting of all, new formats we can't begin to imagine today.
Investment in the creative industries spread far and wide. Behind every star there's a skilled production team. Behind every production team there's an array of engineers, editors, camera teams and runners. And behind them, the lens manufacturers, the coders, the set builders and the microphone makers.
That, by the way, is why I have put a strong emphasis on apprenticeships at the BBC.
Fewer countries are in better creative shape than the UK.
And there are not many industries where the UK goes toe-to-toe with the US. But the creative industries do.
The big question for us is this: can it last?
Over the next 5-10 years, will it last?
In a decade's time, will we still be punching above our weight culturally. And economically.
And here's where I share with you my concern. Actually - not just my concern - the concern of many in the industry.
There is a long-term decline in the amount of UK-originated content.
Ofcom's review of public service broadcasting last year identified this as a problem.
Over five years - outside sport - total investment in new, first-run, original television content in the UK fell in real terms - from £2.6bn to £2.4bn – that's between 2008 and 2013.
Over the same period, investment in original British programmes by our public service broadcasters fell by around 15 per cent.
Pay-TV channels have made up a bit of the difference.
Led by Sky, they have made some brilliant programmes. Fortitude. Critical. The Enfield Haunting. These and so many more.
But this increased investment made up less than a third of the overall loss.
Partly as a result, international revenues for UK independent producers fell in 2014 – that's the first fall we've seen in seven years.
So - as the BBC's spending has fallen - overall investment in original British content has gone down.
Whatever the other arguments may be, this is - in real-life - what the impact of a smaller BBC looks like.
Will Netflix or Amazon make the range and volume of British programmes to make up the difference? Will they make the British programmes that aren't being made?
I will apply a very British test. It hasn't happened yet.
Over the past few years, the volume of new UK content broadcast each year outside News and Sport has gone down by around 13 per cent - that's 2,000 hours down.
In that time, Netflix and Amazon have produced only a few hundred hours of original content between them —across the world. Almost all of it made in the US - not the UK.
I want to be clear. It's really good stuff - House Of Cards, for example, an amazing show.
But my point is that these new businesses are unlikely to address the Britishness problem - the Ofcom problem. They are unlikely to address – at scale - the decline in original content for the UK.
This is a problem for all of us – but I'm also certain that the BBC needs to be part of the solution. And, by the way, good for Philippe. It's great to hear he wants to invest in Channel 5 content here.
The BBC's job is to discover and invest in the best British creative content and people and connect them with an audience at home and abroad.

We want to perform a unique, distinct function in our media ecology – great British content, a trusted guide, for everyone.
We are the largest single investor in British creative ideas and talent.
The licence fee accounts for around 20 per cent of TV revenues - but around 40 per cent of the investment in original British programmes.
Each year, we invest well over £2 billion of licence-fee income directly into the UK creative sector. Around half that money is invested outside of the BBC, with £450 million in small creative businesses.
And here's the simple truth, which I am saying not for political reasons - but just because it is true and hard to avoid.
Enders Analysis summarised it well last week: for every £1 cut in BBC television funding, first-run UK content investment goes down by at least 49p - so, the market would replace only half of lost licence fee investment.
And this raw fact means we have to organise ourselves better in order to meet the challenge of British content in a time of greater and greater competition.
So the first thing we need is a secure BBC.
And that starts with our funding settlement. The budget agreement we have with the Chancellor and Secretary of State delivers that - though it will not be without its challenges and painful choices.
And - as I said last week - inevitably we'll have to either close or reduce some services.
It's tough, but all that said, we welcome the Government's commitment to stick to the agreement.
Delivering the agreement also means not fragmenting the licence fee through top-slicing. It is not a good idea in principle - or in practice. Because it substitutes public money for private money, it is allocated by committees rather than commissioners. It is subject to lobbying rather than audiences. And it weakens accountability and transparency.
So let me make it clear for the record that any suggestion of top-slicing or reduction in our ability to make commercial returns would be seen by us as reopening the agreement.
By itself, though, the agreement won't restore the fall in original British content - let alone allow it to grow.
That's why we think the Government's option for a household fee merits further consideration. Because it could bring new investment and safeguard the BBC's support for the creative economy for the long term.
Of course, it's not all about money. It's also about the environment we work in. The richness of the culture we create – that's something the amazing talent we have in the industry keep talking to me about.
I want the BBC in the next decade to be a magnet for creativity – the place people come to make brilliant programmes - programmes of distinction.
For producers, directors, writers, artists to have the creative freedom to do things they would find it harder to do elsewhere.
We want to employ the best people - with the best ideas - doing their best work. To get great teams to work together. To help the next generation of talent find their voice.
Oscar-winning directors such as Danny Boyle and Tom Hooper, or global acting stars like Sir Kenneth Branagh, Eddie Redmayne, Carey Mulligan, all had early breaks - backed by the BBC.
That's why, for me, reforming the BBC to be a leaner, simpler organisation – a process I began in July – is so important.
That's why I also want to open the BBC to become – even more – Britain's creative partner, to become a platform for this country's incredible talent.
An Open BBC for the internet age will be a BBC that is truly open to partnership.
And that means, I hope, us all working much more closely together.
We want to be the best commissioners and the best partners. We want to work with the best independent producers, and help new companies thrive.
I spoke last week about some of our proposals to open up the BBC.
The 'Ideas Service' bringing together what the BBC does across arts, culture, science, history and ideas – alongside the work done by some of our country's other great institutions.
That's why – with our partners in music - we propose a new discovery service to showcase the best in music today and be a champion for new British music on new platforms as well as traditional ones.
That's why – for example - we want to put iPlayer at the service of the sector. We want to explore new opportunities to bring together UK original content, to help audiences and industry alike.
And we need to guarantee that the British public can continue to access public service content on platforms they are using, whatever they are in the future.
So we need policy-makers to modernise the regulatory framework around us. Today, audiences can find public service channels easily on traditional TV platforms. We need to ensure public service broadcasting is easy to find on future platforms as well.
But what we need to do in the UK is only part of the story.
British values and British identity have a special place in the world - and this country's media has a vital role in building the UK's influence.
I was struck by a recent ranking by Portland Communications of different countries' soft power. No-one who's spent time abroad would be surprised, I think, to see the UK in first place - and the report cites Britain's creative industries as a key part of the impact we have.
What is it going to require to be successful in the global market? A market, I need remind no-one in this room, that is more competitive, more expensive, more digital and more global than ever.
The first thing we must have – the thing that everyone wants – is world-beating programmes. To meet the expectations of audiences in the UK we must all think globally.
So the BBC needs to be able to commission the best programmes from wherever they come – from inside the BBC and outside. From a brilliant independent production sector and from big studios.
We rely on the independent sector for some of our best-loved programmes. From Happy Valley – to Poldark.
Our partners come in all shapes and sizes. We value their partnership - we laud their entrepreneurship - and we welcome their ingenuity.
But, the market has changed. At the top end, there are big, mature companies reaping the rewards of global success. But for some smaller companies business remains difficult – in a tough economic environment.
And we want to help. To add to some of the things we're already doing.
We want to explore what more we can do to support smaller and new companies to manage creative risk - and business risk. If we feel small companies have real creative potential - or they're operating in genres which need more support - we want to offer that support. I also want us to work with partners to provide additional business expertise – from outside the BBC.
But we also need to keep the BBC itself as one of the world's great programme-makers - able to compete on the global stage.
Look at some of the recent deals. Netflix securing the rights to make the biopic The Crown – £100m apparently - and Amazon signing the Top Gear team for a reported £160m.
The costs of the best content are growing. So if we want to continue to create great programmes and experiences for audiences – we need to be able to choose the best ideas – from both indies and in-house.
But, for that to be a real choice, we have to have a thriving in-house team. That's what motivates our proposals to create BBC Studios.
And it brings a second benefit – for in-house shows we own the rights to that intellectual property – that means that all the commercial returns – all of it – is put back into the BBC. That means we can invest more in programmes.
It matters we have teams producing big global hits – like Doctor Who, Strictly Come Dancing and Top Gear – and an extraordinary range of specialist programmes. There isn't another production team in the world that could deliver the strength of science content on show – on the BBC – this week.
Owning intellectual property allows the BBC to innovate, too.
We couldn't have launched iPlayer – or BBC Store next month – without that critical mass of programmes made by the BBC as a starting point. And it will continue to be vital as we develop new platforms and services.
So the creation of BBC Studios is an essential part of our strategy.
BBC Studios will have the values and quality of the BBC – a mission to inspire audiences at home and around the world with bold British creativity.
It will find and nurture the next generation of British on-screen and back-stage talent in drama, comedy, science, natural history – and more.
It will be distinctive in the market. It will delight in range and specialism, making the full range of genres and not just those with the most commercial appeal. It will operate across the UK.
It will ensure the full value of BBC-made content is returned to the licence fee payer.
But please note this. It will be vital. It will stimulate the sector. But it will not be dominant. There must be a level playing field.
We estimate it will have a share of under 15 per cent of the UK production market. And it will operate at arms-length. There will be no cross-subsidy from the licence fee. And it will be stringently and independently regulated.
Today we are publishing a paper setting out much more detail on the BBC Studios proposals which we hope will answer questions that have been raised, and address some concerns. The Trust will be consulting on all this too.
There are many questions, details and differences of opinion to be worked through. I want – and the teams want - to work with you to get these proposals right.
We've had really productive conversations with people in this room and outside and I want to keep those discussions going.
Finally, in today's financial climate, everyone is being asked to deliver more for less, so we need to have a commercial strategy where BBC Worldwide delivers as much as possible back into public service programmes.
It's what we already do – it's what's made BBC Worldwide so successful. Let's not forget that we have built a world-class and growing media business. It has a £1bn turnover - that gave the BBC a record return of £226m last year. Critically, this has supported not only the BBC but also the hundreds of independents who partner with Worldwide in production and distribution.
And this is not just a financial story. Worldwide is instrumental in showcasing UK content across the globe. Think of the recent, and highly successful launch of the UK premium drama channel BBC First in Australia. Or our unique Showcase event in Liverpool which attracts hundreds of buyers across the world. In a global market, this benefits the BBC and our partners and stimulates demand across the wider UK industry.
However, we recognise that we must keep doing more.
Over the last couple of years, BBC Worldwide has been investing even more in content.
More than 70 per cent of the funding of BBC One's natural history landmark - Life Story - was commercial.
And the licence fee paid for less than half the budget of some of our biggest dramas last year.
Our big upcoming dramas like War And Peace and Dickensian are all dependent on co-production deals and investment involving BBC Worldwide. That puts more money on screen for the British public and helps take the best British content to global audiences.
But this model only works if BBC Worldwide is thriving.
It is an indivisible part of the BBC.
It is because of its special relationship with the BBC that it has scale. Because of this, that it takes British creativity to the world. Because of this, that it brings the benefits of globalisation back to the UK.
Or to look at it through another lens, without BBC Worldwide, the licence fee would be £10 higher.
That's why any proposal to carve out BBC Worldwide from the BBC doesn't make economic sense. While every major global player is creating a more integrated system, it would make no sense for us to go the other way and break up a system that is delivering returns that are essential to support public service programmes.
It would make it harder for the BBC to diversify its revenues still further. And it would diminish one of the best shop windows to the world for British talent and programme-makers – whether at the BBC or from independents.
Over the next few years, we intend to work with global partners to grow Worldwide further, taking advantage of the demand for British programming and new digital opportunities.
Following on from our AMC partnership in the US, we have just signed a new joint venture with Sony Multi-Screen-Media to launch a BBC Earth channel to India.
And, we'll begin to try out businesses that go direct to the public. Next year, we're launching a new OTT video service in America offering BBC fans programmes they wouldn't otherwise get – showcasing British actors, our programme-makers – and celebrating our culture.
Overall, we think our plans will increase commercial returns from Worldwide to the BBC to £1.2bn over the next five years – more than 15 per cent higher than the returns of the previous five years.
So that's our global ambition.
We need to raise commercial income to supplement the licence fee so we can invest as much as possible in content for UK audiences. To pick up a phrase from Armando Iannucci's brilliant MacTaggart lecture, let's not "be icky and modest about making money".
Without that income, we can't continue what we already do for the UK in drama or natural history. Which means UK audiences would find themselves the poorer.
We will strengthen the country's global voice. We will give our country's talent and creativity a global stage. Find the next generation. Help them make their leap to global stardom. The next Benedict Cumberbatch - James Corden - or Adele.
In this room there is an extraordinary array of talent. You have all helped make Britain the creative powerhouse it is today. Because of you, we have built the UK to become one of the most creatively successful and influential countries in the world.
And that has made Britain economically more successful.
That has made our culture and our democracy stronger.
But now we have to do it all over again.
The Britishness of British broadcasting matters. It isn't isolationist or backward looking to say that.
The Britishness of British broadcasting is under challenge. It's obvious and measurable.
The Britishness of British broadcasting isn't something that just happens. Global markets won't take care of it. We have to.
Never, I think, in all our collective history and experiences, has there ever been a technological challenge as bracing – and exciting – as this one. As bracing as the challenges – and the opportunities – posed by the internet and globalisation.
The test for us all is: how does this conference look in 10 years? Will we have sufficiently understood the challenges posed by the global market, and responded in a way that improves the creative industries and serves the British public better?
Or will we prove to have been short-term and narrow in our concerns, looking in the rear-view mirror - or worrying about the problems of 2015, not 2025?
I want to see a British TV ecology in the next decade that is even better than it is today.
That supports a high level of investment in a wide range of high-quality programmes and new digital content - home-grown for British audiences. That keeps Britain punching above its weight around the world.
And that keeps making programmes that we all love, enjoy and watch together. 
Related Media Centre Links
Related BBC Links
Related Web Links
Tagged: