Tony Hall speech 'The BBC in the internet era', delivered 2 March 2015
Speech given by Tony Hall, BBC Director-General, at New Broadcasting House in London on 2 March 2015.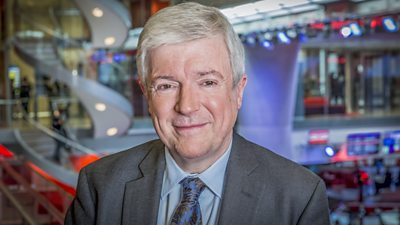 The BBC reaches 97% of us every week. We choose it 150 million times a day.
Please check against delivery
Introduction
Nearly 40 years ago – in a world of polyester flares and platform shoes – the BBC was predicting the future. At the end of 1978, Horizon aired one of the most famous episodes in its long and distinguished history. It was in the best traditions of the BBC – intelligent, agenda-setting, original, accessible and entertaining. And it is not an exaggeration to say that the programme – Now The Chips Are Down – helped to change the economic and political debate in Britain for good.
That programme brought to a mass audience, for the first time, news of an extraordinary development – microprocessors. An entire, powerful, computer on a tiny chip.
Horizon did incredibly well in explaining what the development might mean and where it would lead. But, inevitably, some of their projections now look quaint.
In particular, there was little discussion about how the era of the chip would change communications entirely, with profound implications for every type of business. A revolution which means that last week I could type the words 'Horizon Chips' into a search engine and watch it immediately on BBC iPlayer.
Today I want to talk about the BBC in the era that Horizon saw coming. Why do we still need the BBC? What will it do? How must it change?
We've invited you here because these questions may need to be answered quickly, with decisions about the BBC's future made after the next election. And I also want to respond to last week's Select Committee report on the future of the BBC. I welcome the report – it's an important piece of work and a very useful contribution to the debate about the Charter.
In particular, I'm heartened by the Committee's support for a ten-year Charter – that's important for our independence. I welcome their support for our record on efficiency and for our plans to make sure we keep on delivering even better value for money in the future. That's what compete and compare is all about.
Some of their recommendations don't need a new Charter to happen. Like them, I think what the BBC World Service does around the world is unique and essential. In line with the recommendation from this report and others, I'm delighted to announce today that Fran Unsworth, the Director of the World Service Group, will join my Management Team immediately to give the World Service an independent and influential voice at the heart of the BBC's decision-making.
We've always said that the licence fee should be updated to reflect changing times. I welcome the Committee's endorsement of our proposal to require people to pay the licence fee even if they only watch catch-up television. The committee has suggested another route to modernizing the licence fee – a universal household levy.
Both proposals have the same goal in mind: adapting the licence fee for the internet age. This is vital. Because I believe we need and we will need what the licence fee – in whatever form – makes happen - more than ever.
In fact, I'm going to go further and argue that if we didn't have a BBC funded by a licence fee, such is the world we face, we'd have to invent it.
I want to make three arguments.
First, that the BBC has embraced the internet age.
Second, that the internet strengthens the case for the BBC.
And third, that the internet gives us tools to make public service broadcasting even better. To do this, we must reinvent the BBC once more.
The BBC today
Let me start with the single point I make most often and am keenest to register. The case for the BBC doesn't rest on ideological arguments, nor on debates between economists. It rests on what we do.
We're here to make great programmes and services. That's why people like the BBC. That's why they enjoy it. That's why they trust it. That's why they value it. That's what they pay us to do.
This argument is not made less powerful by being so simple.
In this digital age, the BBC enhances the lives of everyone in the UK, in more ways than ever before, and more often than ever before.
What other service, company or organisation can say this about itself – that daily it wakes us up, make us laugh, makes us cry, makes us wonder, question, start conversations, come together, dance around the living room, despair at the world and celebrate great victories.
Who else daily inspires us to try something new, thrills us, fascinates us, moves us, informs us, scares us and then sends us sweetly off to sleep again?
The BBC reaches 97% of us every week. We choose it 150 million times a day.
Just look at EastEnders. Its 30th birthday week was watched by more than 20 million people. By the way – how brave was that to go live? And Thursday's episodes led to over one million tweets – the highest ever for a UK drama.
Look at what we do in sport, where we show 3% of all the hours but attract 45% of all the viewing.
Look at how we tell our national story. A few weeks ago we celebrated the 750th anniversary of the first English Parliament. Knowledge of that part of our history nearly doubled overnight.
In fact, taken all together, since the beginning of the current Charter, the BBC's reach has gone up, people's trust has gone up, and their view of our quality has gone up, too.
And something else. People increasingly prefer the licence fee to other models of funding.
So whatever the theoretical argument it may be possible to mount against the BBC, the practical response is obvious and clear.
We know that the BBC will matter in the internet era because we are in that era and the BBC matters. To millions and millions, it matters. And they care.
The BBC tomorrow
Which leads me on to the second argument.
The internet age strengthens the case for the BBC.
For the last 20 years, broadcasting has been in the digital era. But, until recently, it was relatively unaffected by the growth of the internet. In the next 10 years, that will all change with distribution over the internet as important as over the airwaves.
This digital revolution has made us better informed, better able to communicate with each other and more democratic. Sites like Wikipedia or the Khan Academy have made an extraordinary contribution to what we all know.
Yet the contribution the internet has made – to knowledge, to wisdom, to prosperity – has not all been positive. Every day we discover a new capability and every day a new question or concern.
In the internet era it is easy to find information, but harder to know whether to trust it. It is easier to find small communities, but harder for the nation to speak to itself and to the world. It is easier to make stuff, but it can be harder to find the financial support for high-quality work. And the internet age is great for those who can afford it and access it – but those who can't risk being left on the margins of society.
To these problems, the BBC provides a response.
In the internet age, our mission is simple: great British programmes, and a trusted guide. For everyone.
Great programmes and services means, for instance, high-quality drama that's as good as The Missing or The Honourable Woman. Comedy like the Wrong Mans and Miranda and, dare I say, W1A. Radio as diverse as Start the Week, Jeremy Vine, the 6 Music Festival – and the work of the BBC Symphony Orchestra. Easy-to-use services like iPlayer that are guaranteed to have subtitles, sign language and audio description.
As great British content becomes harder to fund, the licence fee will become even more important. As American media giants colonise the world, supporting a thriving British culture will be essential.
And in a world where trust is at a premium, which has more heat than light, more noise than signal, we will need the BBC more than ever as a trusted guide – the place you go to find out what's really happening and why.
Take news. It's easy to find something on the internet that looks like a fact, that squawks like a fact but that isn't a fact. Central to our democracy is that we all proceed on the basis of shared information and don't just make up our own.
The BBC will be needed to guarantee news that is trusted and gets its facts right. The real story. Providing in-depth analysis of the kind we've always done. Using new online tools, like the Explainers we have today on News Online, or the blogs from our expert correspondents. And, of course, crucially, reporters there on the spot, where it matters.
Look at recent events in Paris: millions came to the BBC to find out what was really happening – with more than 70 million screens looking at BBC News online.
Same with the Boko Haram attack in Northern Nigeria in January – we were there first to see if reports of 2,000 dead were really true. The only way to find out was to interview survivors of the attack. We were the first team to reach Lake Chad, where most survivors had gone. We interviewed refugees who didn't know each other and on different sites, to get the broadest possible picture. We drew on the experts in our Hausa service to translate long interviews and help build a comprehensive picture of what really happened. We concluded that the final toll wasn't 2,000 dead but was much closer to a few hundred.
This is why the BBC is the most shared news source on Twitter.
But it's not just in News and Current Affairs, where this idea of the trust people put in us matters. Take Education – the internet makes it easier than ever to explore new topics and interests. But audiences need a trusted place to start, a place to inspire them and nurture their interest. When the BBC celebrated a Year of Science in 2010, we made a big difference. Together with our partners, we shifted the national conversation around science. We changed attitudes. We raised interest. Wonders of the Solar System – for instance – reached over 14 million people that year. The 'Brian Cox effect' helped to inspire students to take up science at A level and University. And that inspires me to take it forward. That's why this year, we, with others, are hoping to teach the nation to code.
Across the BBC, we have some of the best experts in the world. They are free from commercial or political allegiances, answering only to the audience, not to shareholders, advertisers or any other paymasters.
Having an institution whose only interest is whether something is good, and what the audience needs to know – and is on their side to benefit them - will become ever more important.
And we will do this for everyone, because in a democracy everyone should have the right to share in our common culture.
The BBC is dedicated to all audiences, no matter who they are, where they live, or what they earn. In the internet age, with more of the best content going behind pay walls, we will always make sure that everyone has a front row seat for the best programmes and the most important news.
For example, five years ago, on the Tuesday after the General Election we showed the formation of the Coalition on prime-time BBC One to 17 million viewers.
Of people watching the Premier League, two-thirds of them only watch it on the BBC. When Manchester City beat West Ham to clinch last season's Premiership, three times more people saw it on Match of the Day than on pay TV.
So that is our mission in the internet age – great British programmes and services, and a trusted guide. For everyone.
The new tools of public service broadcasting
But of course today delivering this is much more challenging. We face much greater competition for ideas and talent. BBC services won't be as prominent in an on-demand world. And younger audiences are using linear channels less than their parents.
There's real jeopardy here. If the BBC doesn't address these challenges, we could become irrelevant.
But I'm confident that we can deal with them, precisely because each of those challenges is also a huge opportunity.
That may sound paradoxical. But it's exactly what happened in the 1990s. That's why I took BBC News online in 1995 – because it gave us brilliant new tools to inform audiences. And because if we hadn't, we would have become stuck in a ghetto of old technology.
So this is my third argument.
Not only is the BBC already doing well in the internet age, not only will there be more need for the BBC in the future, but the BBC can give audiences even more in that future – if we continue to be pioneers.
Take making great programmes. This is at the heart of the BBC I believe in. Since the last Charter, the market has gone global. Ten years ago, the BBC and Apple had the same global revenues. Today, Apple is 20 times bigger. Twenty times bigger. And that gives them colossal buying power.
So, that's clearly a challenge for us. But it's also a huge opportunity. The BBC is one of the best programme-makers in the world, and the internet gives us new ways to get our programmes to new audiences around the globe, and new partners to work with.
We're already benefitting. We co-produce with all the leading content commissioners in the US and from around the world. We've commissioned Parade's End with HBO; Life Story with Discovery, France Television and The Open University; and Luther with our very own BBC America. It is these partnerships, coupled with the power of the licence fee, that have enabled us to make programmes of such ambition and quality – the BBC now funds less than 70% of the budget for a typical drama title and less than 30% for our big Natural History series. Co-commissioning and co-production are great deals for our audiences – for the amount that Netflix spent on the first two series of House of Cards, we were able to make 14 drama series.
But we can do so much more. Production is at the heart of the BBC. We have been, we are, and we always will be a great programme-maker. We will never simply be a publisher broadcaster – that would be to deny our essence. Production is vital to the future of the BBC, but the current model just won't last. That's why, last summer, I proposed the idea of creating BBC Studios – at the heart of the BBC – with the values and quality of the BBC.
BBC Studios will have that enduring public service mission – inspiring audiences with bold British creativity. Today we're announcing the first step by creating BBC Studios within the public service – separating out all network production, except for children's, sport and current affairs. In addition, I want to confirm what I said last year. It's our intention to propose a further step to make BBC Studios a wholly owned subsidiary of the Corporation – but that is subject to discussions with the Trust and, of course, the process of renewing our charter.
I want production to play a great part in this new golden age of broadcasting. This is important. We want to get it right. We will get it right. And we'll take our time to ensure we do just that.
But we're not just changing how we make our content, but also what we make.
This is a huge creative opportunity. We will tell stories in whatever way is best for that story. Sometimes they will be very different from today, interactive or immersive, like the new formats we are trying on BBC Taster. Or look at what we've done with the BBC Weather app which has moved the weather beyond a linear, scheduled slot to real-time, localised information. Our iWonder guides help you learn in new ways, whether it's the Tudor dynasty, World War One, pancake-making or space elevators. Our new News app just launched is possibly the best online news experience in the world. BBC Live for Sport and Music is changing our ability to be there wherever we are – on TV, tablet or phone.
And that's the strategic reason for proposing that BBC Three moves online. Because of that proposal we will recruit new types of experts and learn new tools and techniques, to make the online programmes, new formats and content that will mean BBC Three thrives online and doesn't just live there.
And take our role as a trusted guide.
Public service channels have always had mixed schedules. Entertainment programmes, before documentaries, before the big match. Audiences love finding something new, something different, and channels are a great way of letting someone else choose a mix for you. Time and time again, we've shown that the right mix works.
But in future, we will have a new tool. Individual data. The BBC lags the industry here. But we are getting our act together. When I arrived I set up a major project to allow audiences to sign in and let us know what content they like.
I believe that this creates a bigger opportunity for the BBC than any other broadcaster – because we produce such a wide range of content. I'm sure that at the moment audiences often fail to find programmes they would have loved. But the more we know about what they want and like, the more we can point them to some of the great things we're doing.
In 2014, we put in place the building blocks – the capability for signing in and analysing data.
This year, we will start to deliver new services. We'll give you personalised recommendations on the iPlayer and homepage. We'll recommend news and sports stories just for you. We'll give you your own BBC app, which will remember all your favourite programmes, artists, music, interests, DJs and sports teams. All in one place.
We'll notify you when new series arrive, matches start, interviews are aired, road traffic builds up, or news breaks.
Wherever you are. And without ever having to restart. So you can start on your smartphone or tablet, and pick up where you left off on your laptop or TV.
We'll ask you to tell us what programmes you love, and send that to your friends, so that you can all share in the content you love.
That's the plan for 2015.
But it's in the next Charter that we will get going. I don't think anyone in the market has cracked recommendations. I want us to be the first to get it right, but to do something different – public service recommendations.
Take Wolf Hall – we're just dipping our toe in here at the moment. On the iPlayer, we recommend a feature on BBC Online about whether Anne Boleyn was a proto-feminist. It's a great interview with Wolf Hall's brilliant director Peter Kosminsky. But we could so much more – guiding you to the best of the BBC's content about the Tudors or radio shows about historical novels. Or to something brilliant from the British Museum or the RSC.
The potential is huge. Letting our audience become schedulers. Giving you the health news that you need, based on data you choose to share with us. Building on our Get Inspired campaign in sport to help you get active – or to encourage you to Get Creative, our new campaign in the arts.
This is the start of a real transformation – the myBBC revolution. How to reinvent public service broadcasting through data. But we'll always be doing it our way – not telling you what customers like you bought, but what citizens like you would love to watch and need to know.
The internet age can also make a huge difference to the final part of our mission: providing something for everyone. As a country, we will need this as never before in the next decade. When communities keep on fragmenting. While national identities fracture and reshape themselves. When immigration and British values will stay an everyday topic of discussion.
The BBC is the place where the nation can come together: the daily companion and a vital connection to the world. Where we celebrate together and share moments of crisis; where we join in debate and argument, agree and agree to differ.
Our TV and radio services – the original social media, perhaps – will of course continue to be crucial. That's why we're confident they'll endure.
But it's telling that social media – by definition a collective endeavour – is now the number one online activity in the UK. In the internet age, we shouldn't forget that we are motivated as much by what we have in common as by what makes us unique.
The BBC will be a central meeting-place for that discussion and participation. Because the BBC exists not only to enhance individual lives but also to enhance our collective and national life. It helps unite the nation. [The only British website in the UK's top five. Close to 7 million fans discussing BBC Sport on Facebook. Almost 14 million Twitter followers being kept up-to-date with the very latest news via BBC Breaking. Over half a million photos uploaded to Springwatch and Autumnwatch's Flickr site.]
As our society fragments further, who else will bring us together? Where else can the nation speak, listen and respond? Where else can we reflect on our differences and diversity together?
That is a crucial role for the BBC and we'll be doing it in partnership with the audience. Because once our audiences sign in we can involve them in everything we do, from new programmes to new services, to how we run ourselves. A shared endeavour for a shared service.
Which means there's only one real test for the relevance of the BBC in the internet age: what audiences think. Their collective judgement in 2026 on whether we still matter. No-one else's.
So, yes the internet age will challenge us. But it gives us the tools to respond to that challenge. That's why we're proposing to move BBC Three online. That's why we've announced the proposals for BBC Studios. But we're going to go much further and we'll be publishing our proposals for that transformation after the election. It will mean major change. But we've done it before, in the first phase of the internet, and I firmly believe we can do it again.
Conclusion
I've now been back at the BBC for nearly two years. In that time we've fixed some things that had gone wrong and set the BBC on a new course.
I came back to the BBC because I believe in its importance. I've learnt since being back that it's more important than ever.
The case for the BBC's future is stronger now than when I left it 12 years ago. We're publishing today our response to Ofcom's review of public service broadcasting, which demonstrates this clearly.
To all the advantages I have talked about, let me add one more.
The BBC gives the UK an incredible commercial advantage around the world.
An instantly recognisable brand all over the globe, a mark of quality, a partner and a competitor, a place that trains and employs some of the greatest professional talent in the world.
The BBC strengthens Britain's competitive position immeasurably.
From television to music, writing to filming, the BBC is a huge part of why the UK is such a great exporter of creativity – and why over a sustained period the creative industries have grown much faster than the wider UK economy.
We'll need the BBC to do this even more in the internet age. To provide the platforms that others use, like iPlayer. To help create markets – as Netflix have said that we did with online TV. To support other public institutions to make the same transition to digital, helping them make the most of the internet age too.
Few other countries are in better creative shape than the UK. It's a cultural superpower. In the same week as Wolf Hall, Channel 4 won an Oscar for CitizenFour, audiences were treated to the finale of ITV's Broadchurch, and Sky has been broadcasting its new drama Fortitude.
This hasn't come about by accident but is, at least in part, because of this country's vision and foresight in establishing institutions like the BBC. An organisation of world-class quality with global reach in what's becoming a single global market.
But the BBC's future – and the UK's future – in the internet age are not guaranteed. We must take on the notion that the old ideals of public service broadcasting may become irrelevant. Because that notion affects what we decide now. If you think you're running something down, you don't think about what you can do to help it flourish. But if we want a BBC that's even better in the future, we will need to take far-sighted decisions now so we don't inadvertently let the BBC wither.
So this future is a choice, for our decision-makers. A big choice. The BBC is at a cross-roads.
Down one path lies a BBC reduced in impact and reach in a world of global giants. Damaging the UK's creative industries. A sleep-walk into decay for the BBC, punching below its weight abroad, and Britain diminished as a result.
Which means a UK dominated by global gatekeepers, partial news and American taste-makers.
Down the other path is a strong BBC helping bind the country together at home and championing it abroad. A British creative beacon to the world. Providing a universal service for a universal fee. An internet-first BBC which belongs to everyone and where everyone belongs. A BBC celebrating its hundredth birthday but with its best days ahead of it.
In the end, the choice will be that simple. The BBC has never been afraid of debates about its future. What we do is undeniably good for Britain and the British public. And will become even more so in the internet age.
So people who support the BBC will need to stand up for it, and speak up for it. Those who don't should be transparent about their motivations, and honest about the consequences.
We look forward to that debate.
Related Blogs
Related Media Centre Links