Alice Webb: Our Big Digital Plan For Children - BBC Children's Vision for the Future
Speech by Director of BBC Children's, Alice Webb, Our Big Digital Plan For Children: BBC Children's Vision for the Future, delivered in Salford on 25 September 2015.
Published: 25 September 2015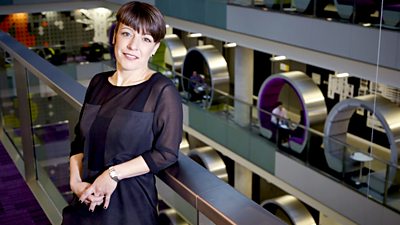 We know that, while TV is still important, content no longer has to go hand in hand with the big screen in the corner. So we'll take our great ideas and develop them in new ways to reach, inspire and entertain children wherever they are, whenever they want it.
The End Of The Beginning
Periodically it's right for every organization to take a long, hard look at what we are doing. 
Typically this might happen when a new Director is appointed, say… or perhaps if you were going through a royal charter process.
But for us the driver for our recent review and the statement of a new vision for BBC Children's is our rapidly changing audience.
For example, in the first six months of this year, there have been 500 million downloads of children's content on iPlayer, already almost double the number in the same period last year.
75% of children have access to a tablet at home… and over 50% of primary school age children use social media.
The changes are fundamental, far-reaching, happening very quickly - and if you're a child, it's very, very exciting.
That's why we've been doing a piece of work to create what we are calling our Big Digital Plan for Children.  In this process, we've talked to industry experts, knowledgeable academics, people from across the BBC (many who are in the room today) and most vitally our funny, bright and imaginative audience.
Today is the culmination of this work - the end of the beginning if you like – and time for us to talk with conviction about our future ambition for our youngest audiences.
Scale, Speed And Ambition
Before we dive in it's worth a word of warning.
We are going through a charter process.
As Tony said, he has put BBC Children's front and centre of that process as part of his new vision for the BBC.
As a result the scale, speed and ultimate ambition of what we deliver for young audiences - what we're talking about today - will be set by our charter.
That said, our vision and plan does not change - that's why we wanted to talk about them today.
Some of the things I want to talk about are tangible, such as iPlay, others are more cultural, such as 'being a trusted guide for all'.
Our review has been far-reaching to understand what we should change to realize a better future for children's audiences, as well as what we must treasure, as our audiences do, and protect in challenging financial times.
And I believe our vision – our Big Digital Plan for Children - will make us even more relevant, even more engaging and even more inspiring for the 12 million children of the UK. 
Today's Context
Before I talk about the future, we need a bit of context about the present.
Audience
Firstly our audience  - who are amazing.
They are cheeky, bright, imaginative, inherently creative, open, inquisitive and are the only part of the audience who haven't made their mind up about things yet.
Despite all the talk about any place, any where, 89% of children still prefer to watch TV on TV - the big box in the corner - and it's the device kids would miss most, unless you're over 12, when the mobile phone firmly takes over.
63% of our audience is still viewing content live on TV
Kids watch an average of 5.5 hours of media every day
Over 50% of kids use mobiles and tablets
25% of kids come to CBBC via BBC iPlayer
Over 50% of primary school kids use social media
Kids make up a discerning audience that loves the choice, control and options offered by second screens like tablets and smartphones – that's why our offer to them has to be varied and sophisticated.
The wonderful thing is that despite children growing up in a digital world they still want to be children. Four in five – read books, buy sweets with pocket money, play sports outside.

BBC existing kids services
Secondly, what the BBC already provides for children…
The BBC is the leading children's broadcaster in the UK, reaching 58% of 6-12 year olds and 82% of 0-6s with our TV and online content each month. In 2014, over 6,000 hours of the content that aired on our channels was home-grown, UK-produced original content.
Two linear TV channels, transmitting 12 hrs every day
Two major websites
10 apps – CBeebies Playtime now achieved >4m downloads
CBBC & CBeebies iPlayer zones - hugely popular with our audience. For example, The Next Step had a million more downloads that Great British Bake Off in August
CBeebies Radio audio content online
Two promotional YouTube channels
CBeebies Land theme park open, with plans for extension
94p of every pound we spend, is spent on content.
We're Proud to give children a beautiful array of distinctive content.
Only on the BBC could you see:
astro-physics for pre-schoolers – Stargazing
ground-breaking shows like My Life doc I'm Leo – first transgender issues
extraordinary magic of The Clangers – with the legendary Michael Palin
12 year-old Alex from Hampshire win a competition to design an app – working with Aardman – Appsolute Genius
live-action family shows made specifically for kids – Sam & Mark's Friday Wind-Up and Swashbuckle 
Future Vision
That's what we do today – now to the future.
We know kids in the UK have always loved our TV channels and now, in an exciting digital world, they also love and expect media on demand too.
So our plan is simple - to stay true to our core public service purposes for children, but to reach out further too.
In a world of rapidly changing media, the first thing I want to underline is our unwavering commitment to exceptional, distinctive public service UK children's content.
The BBC is going to keep making and broadcasting incredible content that kids can call their very own – content to inform, educate, entertain and inspire all the UK's children.
We aren't prepared to narrow our ambition either, and remain committed to providing content across all genres – comedy, sport, drama, factual, entertainment, news and more – content that reflects the true diversity and colourfulness of the world our children are growing up in.
But we want to make some big changes too.  We are going to do new things, in new ways, to make sure we stay with our audience – and they stay with us! 
 'iPlay' - a new children's service
To help meet our new ambitions for kids, we're proposing a new children's service.  
"iPlay" (working title) will be a single, online front-door for children to the wealth of the whole BBC and trusted partners beyond – giving content to children that matures with them, from a range of platforms, in a safe and trusted way. 
It will be an on-demand partner to CBBC and CBeebies – but much more besides. 
It will give each child a personal menu of their favourite content, from across the BBC – like Great British Bake Off, Match of the Day, BBC Bitesize, Radio 1, Big Blue Live as well as children's specific content like Blue Peter and Bing. 
Over time, iPlay will connect to other trusted organisations too. Free from commercial influence, it would include the programmes children love but would also allow us to commission new types of content, whether interactive formats, film or audio clips, games or digital creative activity. 
By bringing together all the BBC's children's content in one place, it will let children interact with others in a safe environment and to explore and express their creativity in ways that the the audience of 10 years ago could never have imagined. 
It will allow each and every child to make their mark on the BBC - a mark that's as personalized as their finger print. 
Learning and making will be at the core of iPlay – encouraging children to be active creators, not just passive consumers.  And it will also include blogs, podcasts and educational tools to help develop digital and creative skills to boot. 
Children grow up at different rates, and iPlay will allow them to move at their own pace. 
Instead of asking children to choose between CBeebies and CBBC, they will now have their individual collection of programmes and content, based on their age and consumption – as well as our two dedicated TV channels. 
It's ambitious! And there's much to do.  But we've always been ambitious for children and now is no exception.

Our six priorities
To achieve our "iPlay" ambition and move existing CBeebies and CBBC services forward, we're giving ourselves six clear priorities to focus our ideas, activities, resources and passion for children.
They bring together new ideas with the more familiar, tried and tested – and they'll guide everything we do in future.
And while "iPlay" is being developed, we'll put them into action on the platforms we already have.
Making more Noisy Content that stands out from the crowd
In today's busy market, we need to help our audience find the BBC brands they love – like Katie Morag, Topsy & Tim, Operation Ouch and 4 O'Clock Club to name but a few. We want to make our fantastic content work harder and smarter so it stands out from the crowd.
So we intend to create even noisier content with fewer stand-out titles, with an even wider range of audience touch points.
Although we'll be noisier, we won't lose what makes us distinctive. There'll be space and time for quieter content too, and we'll still create the entertaining, informative, inspirational, educational content that sets us apart.
To make the most impact we can, we'll look to bring big live events and family films into the mix alongside long-form shows and newer forms of content, like short-form, audio and blogs.
­And working with Radio 1, BBC Bitesize, BBC Three and others, we're looking to increase our offer for older children - helping children become young teens; and helping teens to make the transition from adolescence to adulthood.  
We want to make the BBC a place for the nation's 12-15 year-olds too. 
Not because we have expansionist plans for BBC Children's - but because we talked to our audience - to young teenages who want more from the BBC. They want more dramas that reflect their lives, more up-to-the-minute current affairs and trusted news just for them. So that is what we will look at providing. 
Making sure our content can be enjoyed whenever or wherever, the way kids want it.
We know that, while TV is still important, content no longer has to go hand in hand with the big screen in the corner.  
So we'll take our great ideas and develop them in new ways to reach, inspire and entertain children wherever they are, whenever they want it. 
This means mirroring kids' choices and actions by giving them the choice and control they love, with as much content as we can available on mobiles and tablets. And we'll interact with kids on social media.

We're going to give iPlayer the same importance as our two channels in the way we talk about it, market it, schedule it and use it to connect with our audience. And we'll premier shows on iPlayer too. 
Building digital tools to help kids to connect, create and share. 
Using our digital tools and platforms, we'll help children to unlock their creative potential, so they can mix their ideas with the worlds we create.  
We'll build on our long tradition of helping kids get creative with old toilet rolls, washing up bottles and the like, to create a suite of digital creativity tools that will help kids to connect, create and share, building skills that will help them thrive as they get older. 
And we'll create trusted online communities, that will encourage interaction with our brands and talent and allow kids to share their creations with their friends, families and BBC buddies. 
Opening up the whole BBC for kids, so they have their own front door to the BBC's many wonders 
We know kids are big fans of wider BBC content, not just CBBC and CBeebies, and that there's so much more kids and their parents would love, if only they knew about it.
News, sport, dramas, music, documentaries, blogs, recipes, factual, entertainment, big moments and more – there's a lot to share that kids love not necessarily created specifically for them. 
So through our current website, BBC iPlayer, and later "iPlay", we're going to bring all of this together to make it easier for kids to find, and organize it so that children only find content that's right for their age.
And over time we'll open our doors up to appropriate, external partners - empowering our audience to learn, create and connect with Britain's greatest institutions, like the RSPB, Natural History Museum and Sport England. 
The list could be long, wide-ranging and super exciting. 
Being a trusted guide - for kids and parents too
The BBC is already proud to be the media organization that children and families trust more than any other.  We'll continue to nurture, earn and hold dear that trust and make sure we're the trusted guide children grow up with and never grow out of. 
We'll continue to tackle any subject in ways that our audience understand and which cause no worry, confusion or fear. 
And we'll also be here for parents too. 
We know from CBeebies Grown-Ups that parents also want a trusted guide to help them as their children grow and develop, so we'll look to extend the Grown-Ups support we offer to parents of older children – initially up to 12 years old.  We don't have all the answers for parents, but the BBC is here to enable - and we'll make links to partners and other parenting resources too.
Responding to feedback and requests from partners and industry, we'll be extending our role as trusted guide into the digital space too, and be at the forefront of child online safety and digital rights for UK children. We will play an active role in industry, charities, audience groups and more – wherever we can use our influence for the good of children.
Alongside all our digital media, we'll develop simple tools that give parents the power to choose what their children are ready for and when, and help to build children's knowledge and confidence as they take their first digital steps. 
Reflecting And Promoting the UK in all its technicolour glory
The BBC is for every child in the UK.
We live in a rich, diverse and vibrant country. Our ambition is that every child sees someone like them in our content - reflecting and celebrating their lives, the lives of their community and helping them make sense of the world around them.
We're also here for the UK Children's creative sector, and we're passionate about supporting a healthy and diverse creative supply base, and stimulating innovation – championing the best of British children's creativity aboard.  
To help maintain a transparent and open dialogue with all producers of children's content, we're building on our existing partnership with independent producers and introducing new 'guiding principles' for working with our suppliers.
All our plans come together to create an exciting new vision for children.
That's the end of our plans today - we have a big ambition for our British, Bold, Children - it will take us several years to deliver all that I have talked about this morning.
But the journey starts here and now. I'm delighted to be able to tell you - hot off the press - that next year we will be launching a dedicated children's version of BBC iPlayer. 
It will be their very own BBC iPlayer app making it easy and fun for children to find their favourite CBBC and CBeebies shows and discover new BBC programmes in a safe environment that's designed just for them.  
Parents can also be confident that the app only contains content suitable for children. So, whether it's in the back of the car on a long journey with a tablet or on the bus to school on a mobile, kids will be able to watch their favour shows wherever they are, whenever they want to.  
And given how much children love BBC iPlayer, I can only imagine how popular their version will be! 
Thank you.
Related BBC Links
Tagged: