James Harding and News Group Board - presentation to BBC News staff
Presentation given by James Harding, BBC Director of News and Current Affairs, and the News Group Board, to BBC News staff at the BBC Radio Theatre on 17 July 2014.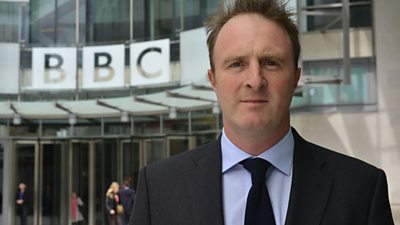 JAMES (Director of News):
Today, the News Group Board and I will present the cost savings and investment plans for BBC News and Current Affairs.
In 2010, the BBC and the Government agreed a financial settlement that froze the licence fee at £145.50 for six years and required the BBC to take on hundreds of millions of pounds in new obligations. The BBC was, in effect, asked to do all that it does for a lot less – over the course of the licence fee period, it is, to be precise, 26 per cent less. Today, we are going to set out how BBC News will make the necessary cuts to live within that reduced budget between now and the end of this licence fee period. We are also living through a period of extraordinary change in news media. BBC News led the way first in radio, then in television and then online. Now, digital technologies offer us the opportunity to lead a fourth revolution in news. So, as well as setting out our savings plan this morning, we are also going to announce proposals to restructure news and target investments in our future - in the digital transformation of BBC News, in our own original and distinctive journalism, in making this a better place to work.
The savings programme we set out today is substantial. We are announcing £48 million a year in savings across the whole of the News Group. We have sought to find as many ways as possible to save money that don't involve cutting jobs. Roughly half of the savings are not jobs related. But people represent 70 per cent of the budget of News and Current Affairs and, therefore, savings are going to have a heavy impact on jobs and the people who work here.
This programme will result in the closure of about 415 full-time posts. I recognise that there is a difference between full-time positions and the number of people who fill them: given that we are an organisation where there is a high degree of job sharing and part-time working, I expect that closer to 500 people may be affected by these job closures. The redundancy process itself will mean pools of people are put at risk. I appreciate that this means an even larger number of people face uncertainty over the coming weeks. I would also stress that all of the changes are subject to consultation in the coming weeks with both the unions and the individuals concerned.
The investment programme means we will also be creating new roles. We expect to create about 195 new positions. These will, to some extent, offset the job losses. Our current estimate is that there will be a net reduction of around 220 full-time posts across News and Current Affairs. We will, as ever, make strenuous efforts to fill the new posts through redeployment. And we will welcome applications for voluntary redundancy. We cannot guarantee that we will always be able to grant requests but we will try to do so. In fact, I take some comfort in the number of people who have been sounding out the possibility of VR in the weeks running up to this announcement.
That said, we all share the distress, concern and anxiety that such a sweeping round of cost savings will cause. We are going to see colleagues that we respect leave the BBC. It will have an impact, directly and indirectly, on a great many people inside the organisation. We are going to go through a very testing time of uncertainty and change. Its consequences will be felt by audiences too: you cannot take tens of millions of pounds out of a news organisation that delivers so much to so many people every minute of the day and expect those losses to go unseen, unheard and unnoticed.
At the same time, the allocation of resources forces us to define our purpose and direction. Our priorities are made plain by investments. First and foremost, the story: we are investing to ensure the BBC can deliver even more distinctive, original journalism. And, second, the digital transformation of News. This is the last big set of changes we are going to make in this licence fee period, so it has to put us on a footing for the future. Our ambition is to see the BBC deliver news to all audiences on all devices, to see the BBC exploit new technologies in the ways we get stories and the way we tell them, to ensure the BBC keeps on renewing its reputation as the most innovative and most respected force in news in the world. So, we are also going to set out today plans for substantial investments in digital journalism and a significant restructuring of a large part of BBC News.
I'll return to that shortly, but now I am going to ask Richard Dawkins, the Chief Financial and Operating Officer for News, to talk through the financial reality that compels these savings. As we go through this presentation, I am going to ask my fellow members of the News Board to explain these savings in each of the biggest departments in News. First, though, Richard will provide the financial context for all that we are announcing:
RICHARD (Chief Financial & Operating Officer, News):
Following the Licence Fee settlement nearly four years ago, News committed to cutting £69 million – or 16 per cent of its budget – by 2016/17 as part of Delivering Quality First. It was accompanied by a commitment to £14 million in new investments. At the time, we announced between 700 and 800 post closures over the course of the five year programme. After the BBC Trust rejected some proposals, the savings target was reduced to £60 million per annum and around 170 post closures were avoided. Significant savings were made by all parts of News prior to the move to W1: in fact, we have already achieved well over half of what was required under DQF.
Today, we set out how we are going to find another £27 million a year of savings to live within the terms of the Licence Fee deal. In addition to that, we are making nearly £13 million in annual savings as part of the World Service Business Plan.
We are announcing today that, while significant cuts are being made across the BBC and BBC News, we are going to increase the budget for the World Service. It will rise from £245m this financial year to around £250m in 2016/17. It has not been easy to find the resources to do this, but we believe that the World Service is not only one of the best things about the BBC, but one of the best things about this country. But there will be savings needed from the World Service, too, to fund the three year, £13 million investment plan.
We are making nearly £3million of production savings in BBC World News and bbc.com to help offset the impact of lower advertising revenues than forecast last year. At the same time Global News Ltd is continuing to invest in content that will help offset other DQF savings in News – this amounts to £3.4m from next year.
Finally, we are making savings worth 5.3 million to ensure we can fund other future investments, bringing us to the total savings target of £48 million.
By the end of this financial year we expect to have saved £83m over three years through DQF and since 2011 in World Service following the Comprehensive Spending Review. That is a huge sum of money. But to put all this in context, the cut to BBC News' budget over the DQF period is much less than the 20% average reductions across the BBC as a whole.
As I said earlier, BBC World Service is actually going to see an increase in its budget. Over the full DQF period, English Regions budget is being cut by 8%. And most of those savings have already been made. So, BBC News is relatively protected, taking overall a 13.5% per cent cut from DQF, or 12% after factoring in the reinvestment. Indeed, we will still have over £600 million to spend on our services even after these savings.
The challenge, though, is how to make BBC News even better, despite having less money. Our priority is the story – getting it right, telling it well, understanding it fully. We need to do this more efficiently than ever before.
JAMES:
I think we all know that there is likely to be little sympathy for special pleading from the BBC when it comes to job cuts and budget reductions. We are not the only ones, either in publicly funded organisations or private sector newsrooms, having to live with austerity. But, equally, no one – either inside the organisation or outside of it – will be able to appreciate the impact of these savings if we allow the myth of the big bloated BBC to continue. When I came here just under a year ago, I was told I would find plenty of fat. I didn't. In fact, I found a news organisation that gets bigger bang for its buck than any other. We make the economies of scale work: while not compromising on quality, we believe we deliver news to more people per pound than any other news organisation in the country. For roughly 7p per household per day, we deliver tens of thousands of hours of news each year – from the Six and Ten to Breakfast and the One; from Today, WATO, PM and The World Tonight to Newsbeat and 5 live; we deliver the best and most popular rolling news channel in the UK, 24 hours a day we operate the leading and most trusted online news service; we serve communities with regional TV and 40 local radio stations; we examine and reveal our world from Panorama to Newsnight, Question Time and the Daily Politics, File On 4, From Our Own Correspondent to the current affairs films on The One Show. And we run the World Service, the world's best speech radio network, and news on a mixture of TV, radio and online in 27 languages. We reach over 80 percent of people in Britain a week and more than a quarter of a billion people around the world.
Taking nearly £50 million out of a well-run organisation that provides high quality news services that are trusted, relied upon and used by millions of people is an extremely difficult undertaking. And, given the weariness with salami slicing over the years within the BBC, we looked hard at whether we could simply stop doing something. But let me just give you a sense of the scale of the savings we face: we could save the real cost of the News Channel, close BBC Parliament and Democracy Live, end news programmes on 5 live, abolish Newsbeat, shut down four or five language services, end regional sub-opts in the UK and end all Radio Current Affairs specials and you would still be a long way short of our savings target. Worse, by doing such things you would rob people of programmes and services they love, you would significantly damage public support for the BBC and you would critically undermine the future of the BBC. The simple option – the "why don't you protect my part of the BBC by closing down something else" option – is not really an option at all. The savings we have to make are not easy because it's not true that BBC News and Current Affairs is fat and inefficient; and it's not easy because simply killing off a service would make too small a saving at too high a price for our audiences.
So how are we going to make these savings? I'm going to ask Fran Unsworth to set out the main drivers of the savings programme as well as the investments:
FRAN (Deputy Director of BBC News & Current Affairs):
We have looked at how we spend every pound in news and current affairs, taking into account our objectives – driving digital transformation, strengthening original journalism and making this a better place to work... a great many changes are needed to achieve the £48 million. But the big savings will be reached, broadly, by doing three things:
First, integration across News. We have looked at output and areas where we believe we can make savings and maintain or even improve the editorial offer to audiences by bringing them together. This includes convergence in some of the output of the BBC News Channel and BBC World News; bringing together the Radio Newsroom and the World Service news bulletins and summaries; and uniting The World Tonight and Newshour under a single editor.
We are going to introduce a multimedia planning and commissioning operation, including the existing Home and World Newsgathering teams and part of the Programmes Impact team as well as links with Online and World Service output. Commissioning budgets in output areas will reduce by 15 per cent, meaning we will have to work even harder to eliminate duplication and promote appropriate sharing of material. In total we believe the changes to planning and commissioning can save more than a million pounds a year.
And we are integrating our international bureaux across Newsgathering, World Service and BBC Monitoring to ensure that we exploit all the potential editorial and operational benefits of the World Service coming under licence fee funding. In particular, we have identified opportunities for co-siting bureaux or reducing floor space at a variety of locations. This will eventually save nearly 2 million pounds a year.
In Political Programmes we will make savings by moving the Andrew Marr Show from the Programmes Department into the Live Political Programmes team as well as making further reductions in our conference spend. And as a result of output changes, and greater co-ordination with the World Service Group, Production Operations will save £2.3 million a year.
Second, reducing non-editorial spend. This means maximising savings in technology, for example a change in our contract with one of our suppliers saves £5 million across News. We are reducing the spend in several HQ functions by over 30%; we have merged the financial management of the World Service and News.
Thirdly we have asked each department to deliver savings. We have not implemented a flat reduction across all departments, but sought to make savings taking into account what's already been done under DQF, audience impact, the need to improve our digital offer and sustain flagship programmes and the terms of our service licence agreements.
Today's announcements are intended to cover the next two years, seeing us into the next licence fee period. This means that this is a critical moment for us to make strategic decisions about the investment and organisation of News.
The money available for investment is limited but it is targeted as follows: Our stories – an £8 million investment in original, distinctive journalism: we have hired new specialist editors for China, Health and Education, we have a new disability correspondent and team in Salford and have expanded the Ouch team in London, we are going to create a small team to cover the underreported African-Caribbean community, we are going to increase the number of political reporters and city correspondents across England to enhance local coverage and we are focusing our funding on original journalism through the big stories fund in Newsgathering and by providing extra money for Newsnight.
Digital transformation of News: in addition to the MyBBC, iPlayer and Future Media investments, we are targeting £4 million at digital journalism to deliver for Local Live, News Labs, iPTV, data journalism, digital weather services, Touchcast, Business Live, the connected stories programme, social and mobile delivery.
JAMES:
Around us too, the world of news is changing and we are going to change.
We are restructuring BBC News and Current Affairs. This is the way we are organised editorially at the moment. We are going to change because the people running the Newsroom must have the time to drive the output of our biggest bulletins and programmes. Because Current Affairs is singularly important in defining the BBC, so we need to focus on it. And, most importantly, because the digital transformation of news is the challenge of our times, we need to invest in and organize for that wave of change.
So, this is the new shape of BBC News. The Newsroom and the Programmes Department will be reorganised into:
24/7 News, incorporating the TV News Channels and BBC Online, providing live and digital news to everyone, everywhere, now and pressing us to serve all audiences, innovate in news and develop services for the future.
Daily News Programmes, delivering the best stories, brilliantly told and expertly interrogated for the biggest audiences every day;
Current Affairs, defining curious journalism in the public interest, by investigating, exploring and explaining the world we live in.
The programmes department will be divided and recast. One part will include TV Current Affairs, Radio Current Affairs, Panorama, Newsnight and digital activity involving all these teams. This department will be called Current Affairs. Then, as I said, we are going to create two new departments based on our daily journalism. We will have one department focused on daily news programmes. This will include the 6 and 10, Today, The World At One, PM, World Service News and programmes and The World Tonight, the Radio Newsroom, BBC Breakfast and 5 Live. It will be called Daily News Programmes.
The 24/7 News department will be arranged in line with the thinking we've been doing about bringing our live and digital continuous news services together: UK live and digital: News Channel, the One and UK Online; World live and digital: World News and World Online; Digital Publishing and Development, which will include the Magazine, Datajournalism and Newslabs. Visual Journalism – reporting into 24/7, serving pan-News; Weather – ditto. And Newsbeat. The Controller of 24/7 News will also serve as the lead figure on the News Group Board on digital development across BBC News and Current Affairs. She or he will represent News on the Online Leadership Group.
We will seek to have implemented the restructuring by mid-October. Mary Hockaday will oversee the implementation of the Newsroom changes and savings and Jim Gray will do the same for Programmes and Current Affairs. So the period of uncertainty will extend to a number of senior figures in BBC News, putting several roles at risk. This means asking people to manage change, even when that change may affect them. I have no doubt that our most senior people will handle such pressures with professionalism and I'm extremely grateful to them It is also fair to say that this is an opportunity to enable change and movement within the ranks of BBC News management. It will offer senior people new career opportunities as well as giving others the chance to join the BBC's senior management. With that in mind, we will seek to interview for all of the senior vacancies and changed roles as soon as possible. While we should be open to outside candidates for senior management positions, our preference will be to recruit and promote internally. And I will talk later about how our plans actually lead to an overall reduction in the number of senior managers.
The expertise, skills and ambitions in one department have to operate in others too. We want a multimedia newsroom and journalists who can work across all platforms. The reason for making the change is that as well as being flexible, we must have focus. We want an organisation where departments are not too big to keep a meaningful eye on the output. We must respect the fact that audiences have different and particular demands, depending on the medium. External digital outfits are going to be competing for our audiences, we must be able to respond to the different challenges they offer. And, while digital media has not yet transformed broadcasting as much as other parts of the news business, that change is coming and we want to get a step ahead of it.
We are also going to introduce – or, perhaps, that should be reintroduce – a Controller for the World Service in English. World Service Radio is our biggest radio network with an audience of 42 million people. It has a growing audience of more than 2.3 million people in the UK. And it is becoming more than a network, it is also a brand: a provider of packages of audio news, ideas, arts and culture syndicated internationally. For people in this country, it is the shop window of what we do around the world. For tens of millions of people around the world, it is the shop window into this country. It is hard to think of anything more important in the BBC than the World Service and I'd like it to have a Controller who oversees its output in news and other programming, who is its editor, ambassador and champion. The Controller of BBC World Service (English) will report to the director of the World Service Group and will sit on the News Group Board alongside those responsible for World Service Languages and for both World News TV and BBC.com.
It is difficult, in a presentation like this, to get the balance right between setting out the changes with sufficient detail that they are meaningful, but with an adequate eye for the big picture so that they are relevant to everyone in the room. So I'm now going to ask the heads of the main departments to go through the main points in their savings programmes. Starting with Mary Hockaday and the Newsroom:
MARY (Head of Newsroom):
Here in New Broadcasting House we have built a world-class multimedia newsroom, bringing together for the first time the BBC's London-based domestic and global journalists. Now we need to make the most of the opportunities it offers us to be both more efficient and to support our digital transformation. The new structure will enable us to be brilliant at both.
Firstly, by bringing together the News Channel and One, UK Online, World News, World Online, Visual Journalism and Weather in a new 24/7 department we will create a powerhouse for live and connected news across all platforms, available on screens large and small. We will run an integrated multiplatform operation, with On Demand and UGC and Social roles placed at the heart of the operation. By co-ordinating "live" coverage across all these services, we will be able to provide a more connected response to the immediacy and story development demanded by audiences wherever and whenever they want news. News channels and big TV viewing have a long and important future ahead of them, but we also want to do more with the content we generate, whether on connected TVs, PCs, tablets or mobiles. Working with Newsgathering, we are already developing new forms of video reports, live streams and visual journalism which know no platform boundary. Many of you have worked on different platforms and we will provide training in multimedia skills and pilot new ways of working this Autumn. We believe this approach and the closer integration of teams will enable us to save around £1.3 million a year.
We have also looked hard at where we can bring output teams closer together, sharing content and stories and making significant savings. We will save a total of £3 million pounds a year by closer working between the BBC News Channel and BBC World News, developing some new joint programming and revising the News Channel's schedule. We will create a new international hour to be shown on both channels each evening, the shared overnight service will begin at midnight and there will be much closer working between production teams, especially at evenings and weekends. On the News Channel there will be more single-headed presentation, and there will also be new programmes including Victoria Derbyshire's new daily show and evening content oriented towards younger audiences.
Secondly, in the new Daily Programmes department, we will build a new family of programmes which will include the Six and Ten, BBC Breakfast and World Service News programmes alongside 5 Live News and the Radio 4 daily sequence programmes. We will combine the current Radio and World Service Newsrooms under a single editor, to create a centre of excellence for the craft, intelligence and intimacy of radio news. We will also be able to combine the teams producing Newshour for World Service and The World Tonight for Radio 4, again under a single editor. This will enable savings, though the team will continue to make two separate programmes with different presenters.
Other changes in the Newsroom include post closures as a result of the proposed closure of 60 Seconds on BBC Three in Autumn next year, and an increase in recorded weather forecasts overnight. In total the Newsroom savings are just over £11 million pounds a year, and are likely to lead to around 91 post closures, although we expect investment in digital and world service output which will offset some of this. I am very aware there is a lot to take in, so please be assured all the details are coming to everyone in the Newsroom by email and in team meetings today.
Now with details of the changes to Newsgathering, here's Jonathan Munro:
JONATHAN (Head of Newsgathering):
Newsgathering's total savings are just over six million pounds. We have tried to look strategically at how to make Newsgathering better, as well as more cost-effective. Overall Newsgathering's headcount will reduce by 53.5.
Our proposals will challenge some of the traditional dividing lines between home and foreign news. In a world where British citizens are involved in international jihad, and where the impact of diplomatic and financial events are felt globally and locally, the notion of a dividing line between domestic and international news can be unhelpful. So, we will bring together one team of Newsgathering Duty Editors, replacing the Home and World Duty Editor posts. On normal working days, there will still be dedicated shifts facing home and foreign, though fewer than now. Newsgathering Operations will be restructured to mirror these desk changes. The London-based reporting team will also be reconfigured. We will take the existing Correspondent pool and the World Affairs Correspondents to create one team of non-specialist News Correspondents covering home and foreign news. In the World Affairs Unit, we will retain specialist roles in Defence, Security and Diplomacy – indeed we are adding two roles here. But we will reduce the numbers covering the UK for global outlets. We will rely on our bureaux to cover the developing world, rather than London-based specialists.
There will be a reduction in business output with some post closures. The Arts team will have fewer staff dedicated to its Online Index. A number of on air specialist roles are also affected.
Overseas, all our foreign bureaux remain open. But, working ever more closely with the BBC's language services, we can reduce Newsgathering's numbers in some areas including South Africa, Afghanistan and Dubai.
Three Newsgathering producer posts in the English regions will close, but we will create a small specialist unit based in Birmingham reporting on Community Affairs, and there are three new producer and researcher jobs supporting our on air team.
For details of the changes to the English Regions, here's David Holdsworth:
DAVID (Controller, English Regions):
Our local and regional teams across the English Regions were asked to make their savings early in the DQF cycle and as a result nearly all the reductions outlined in October 2011 have now been made. Nearly 200 posts have been lost. There are no new budget cuts being announced today for local teams but as James has already said there is a big challenge in that we need to do much more to strengthen our digital offer This applies just as much to local output if we are to keep pace with the way audience behaviour is changing.
The key to success will be a shift to publishing first on digital platforms while continuing to cherish the traditional television and radio formats which so many of our audiences continue to use.
There will be some help. Within the next year we will have new tools which will make it much easier and quicker to publish video and audio online. Based on pilot work recently completed in the South West we are also confident that by being more co-ordinated across radio, TV and online we can release extra effort for developments like Local Live, already launched in seven areas.
Ongoing online savings, taking out a further 11 posts by the end of the licence fee period, increase the size of this task and we estimate that in all it will need the equivalent of 50 jobs to change over the next 2 years to deliver our digital ambitions.
We still intend to complete our roll-out of local political reporters, although we will expect new posts to serve digital platforms first. We also have an ambition to create a full opt-out service for the Cambridge region, to serve the fastest-growing region in the UK, although this is not going to going to be financially achievable within this licence-fee period.
Turning to the World Service Group, Peter Horrocks:
PETER (Director, World Service Group):
World Service Group needs to continue its digital transformation – essential to keep build towards the 500 million audience target. Overall spending on World Service will rise from 245 million pounds this year to 250 million pounds. And World Service is making savings of nearly 13 million pounds in order to release a similar amount of investments. These are mostly choices we are making to invest to innovate, not primarily because of central savings requirements. The changes will lead to a net loss of 34 posts across World Service.
The savings for World Service English network will reduce spend in other News departments. This will require changes in the schedule, especially at weekends, and sharing more content with domestic radio. In Languages, we will move to a more centralised production model particularly for our digital content, reducing the amount of duplicated material across Languages and moving some production overseas.
The overall more integrated approach between WS and News will also allow further savings in admin, support and facilities.
As James mentioned, we will recreate the post of Controller of World Service English, whose role will be to lead World Service Radio editorially. Overall reinvestments for World Service Group by 2016/17 include over £7 million for Languages, £3 million for World Service English and £2 million for Digital.
Our investments in English are based around content which can be used by partner networks and which will appeal to new younger audiences.
World Service Languages will focus on three key areas : digital journalism; the development of reach through TV and improving the department to make it a better place to work and more joined up with the rest of News. You will spot that many of the initiatives were outlined in the recent report by Howard Stringer.
These investments add to the innovations and new jobs we have already delivered this year - Trending, Outside Source, Burmese TV, the new Thai Facebook stream. With today's announcements World Service needs to go through more change, but the prize is that we will be able to continue this exciting story of innovation on behalf of our audience.
Now for a run through of changes in News Programmes, here's Jim Gray:
JIM (Acting Head of Programmes):
In News Programmes Department, it's true to say we've been a very extended and very variegated family housed together in a single department. That's about to change markedly. As part of the broader organisational restructuring already outlined by James, some of our programmes will remain together but within a smaller more tightly focussed grouping. And others will find new homes in other reshaped departments.
Most programmes also have savings to make too.
Across the whole department, the savings target is just over £3m over the next 2 years. To make those savings, there will be new types of collaboration - including between programmes that will sit in different departments; there'll be a further push on production efficiencies; and we are looking at 27 post closures across the department, including senior management positions.
It's important to stress what won't change. Wherever the programmes sit, they will serve their audience and their network with the same core aim - to be key drivers of original and revelatory journalism; to investigate, explain, and challenge; to enrich and add context to the news agenda; and to do so with distinctiveness and character and innovation.
TV CA, Radio Current Affairs, Panorama, Newsnight, and TV Features programmes (Hardtalk, Click, Travel) will remain grouped together. Along with Digital Current Affairs activity, they will form the Current Affairs Dept.
Most of the savings across that group will be borne by TV CA and Panorama, which have to find a combined sum of £650k over the 2 years. We plan to meet this through production changes, and post closures. At Panorama, those post closures include all 4 of the remaining London-contracted reporter positions; the programme will move to commissioning all of its reporting either on a freelance basis or from other BBC staff.
Everyone at TV CA will also recognise that as well as the savings we're announcing today, there is also a changing business landscape for in-house production, most imminently the proposed shift to digital commissioning by BBC Three.
Newsnight has a savings target of £200k to be met by production efficiencies and changed working.
The Radio 4 Sequences – Today, WATO, PM - will move into a new department, the Daily News Programmes Department, in recognition of the brilliant way they drive the daily agenda. They will collaborate with Radio Current Affairs by sharing some resources in a planning unit, which will include investigative projects. The aim is that through sharing we can punch harder and be more ambitious. And through closer working together, the elimination of duplication, and a reduction in casual spend we're looking also to deliver savings.
The Impact team has been an important means of ensuring the fruits of our journalism get as wide an exposure as possible. That remit remains, but the unit will be reshaped to meet a savings target of £0.5m. That will mean 7 post closures. There will be 3 areas of activity for the Impact team: some will be in the planning unit across R4 Seqs and RCA I just mentioned; others will work to the television outlets within the Current Affairs Dept; and Impact will also have people embedded within the new multimedia Planning and Commissioning hub in the newsroom.
5 Live also moves department, into Daily News Programmes, and will complete its original DQF targets by savings in staffing requirements following the schedule changes announced a couple of weeks ago.
Newsbeat is already embarking on a major and exciting repositioning as a digital offering to have a stronger presence where its audience is. Its new departmental home will be in 24/7 Digital News. We are looking for savings at Newsbeat, but given that change program we don't expect those till the second year.
JAMES:
In this presentation, we have only been able to give an overview of what these changes mean for different parts of BBC News. If we haven't mentioned your area, it does not mean it's not important. Equally it doesn't mean it's not affected by change. All departments will be holding their own briefings later today where you'll be able to find out much more about what the changes mean. There will be written details and briefings on Gateway. And we will begin consultations with the unions next week. Team briefings will continue over the summer and of course work is also underway on the longer-term Future of News project as we try to anticipate what BBC News should be doing beyond 2017 as we look ahead five to ten years.
There is much to discuss here and much to question. So, I'm going to invite questions and comments in a moment. But, before I do, let me try to anticipate some of the questions that may be on people's minds.
So, first, what do we say to people who ask: what about management jobs? As you may well have heard me say, I'm that unfashionable thing: I'm a fan of senior managers at the BBC. I believe that the BBC needs good, strong management. It is also true that across BBC News, senior manager numbers have fallen by nearly a third since 2009 - from around 150 to just over 100. In these savings, senior manager numbers drop further. And, while I think the focus on senior manager numbers is overdone, I know people will want to know, so our expectation is that we'll end up with at least 6 fewer senior management posts, i.e. SM roles will be reduced at a higher rate than our overall reduction in posts.
What do we say to those who ask: why cut News? BBC News, as Richard Dawkins explained earlier, has been relatively protected. Our savings targets are significantly lower than those in other parts of the BBC. But let's remember, the reason the BBC is valued, trusted and loved by so many people is that the Reithian trinity – informing, educating and entertaining – really works. The success of TV – its drama, comedy, entertainment – delivers the audiences that mean we really can provide public service journalism to the vast majority of people in this country. So, as much as we may wish that News could escape the financial realities that face the BBC, we can't – and nor should we.
And what do we say those who say: enough already, what are you going to do to fight for our future? We have been through many years of cost-cutting and it's not going to end, because we, the BBC, don't stand up to our critics and we are not taking on this point of view that, somehow, a further freeze of the licence fee would be fine.
And, to that I say, stand back and look: the battle for the future of the BBC has begun. Tony Hall has come back to the BBC, he has reminded us all why this is the place we can do the best work in our lives, set out a vision of where the BBC is going next, cleared up a bunch of problems left over from history, refuted the flimsy arguments that were bobbing around the licence fee, taken personal responsibility for getting to grips with diversity, put in place an efficiency drive through 'compete or compare', heralded the arts, celebrated drama, driven the World War One project, emphasised the importance of local services and been a champion of news and current affairs. So, yes, I know, you've had enough of job cuts. We all have. And we are going to fight for the future of the BBC.
We are going to fight for it, not because the BBC owes us a living, but because our audiences should get the best possible BBC. The BBC is one of the very best things about this country. It is trusted, needed and loved by the vast majority of people – and all they ask is that we keep on making it better. Delivering ever better value for money is part of that. Investing in getting and telling stories – in original, distinctive journalism – is part of that. And reorienting ourselves to lead the world of news into a digital future is part of that too. But it's only a part: the most important part, what will win it for us, is what we put on screen, on air and online – the news.
Thank you for listening. As you know detailed departmental briefings will follow but I will take general questions now.
Related Media Centre Links