Opera On 3
Ep. 4/4 - Wagner's Ring Cycle: Götterdämmerung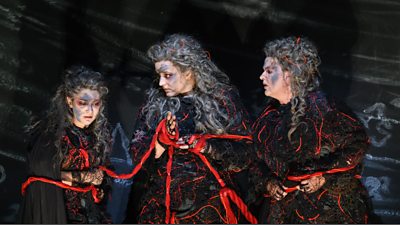 This evening sees the conclusion of Wagner's Ring cycle, recorded and first broadcast in 2018.
As Wagner's epic drama reaches its conclusion in the fourth and final opera, the love between Siegfried and Brünnhilde is torn apart by the malignant machinations and lust for the Ring of the blackhearted Hagen. Brünnhilde's revenge brings Siegfried's death, and ultimately the fiery destruction of the gods and Valhalla itself.
The Orchestra of the Royal Opera House and a stellar cast led by Nina Stemme as Brünnhilde and Stefan Vinke as Siegfried is conducted by Antonio Pappano in Keith Warner's acclaimed production. Presented by Tom Service, who is joined in the box by the Rev. Lucy Winkett.
Brünnhilde.....Nina Stemme (soprano)
Siegfried.....Stefan Vinke (tenor)
Alberich.....Johannes Martin Kränzle (baritone)
Gunther.....Markus Butter (baritone)
Gutrune.....Emily Magee (soprano)
Hagen.....Stephen Milling (bass)
Waltraute.....Karen Cargill (mezzo-soprano)
First Norn.....Claudia Huckle (contralto)
Second Norn.....Irmgard Vilsmaier (soprano)
Third Norn.....Lise Davidsen (soprano)
Woglinde.....Lauren Fagan (soprano)
Weilgunde.....Rachael Lloyd (mezzo-soprano)
Flosshilde.....Angela Simkin (mezzo-soprano)
Royal Opera House Orchestra & Chorus
Antonio Pappano (conductor)
Publicity contact: BBC Radio 3 Publicity
Date
Saturday, 20 February 2021