Nigella's Cook, Eat, Repeat
Ep. 2/6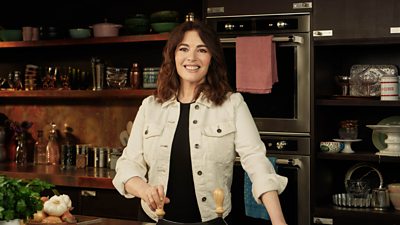 Starting with her recipe for a gorgeously fluffy white loaf that requires minimum effort, Nigella moves on to what can only be described as a crowd pleaser: a fried chicken sandwich garnished with some of her favourite condiments, including pickles and kimchi.
Nigella then shares two recipes that can be made in advance. First, a cheesecake ice cream which is popped into the freezer for later. Then her fear-free fish stew, which starts with a fragrant tomato base full of the warming flavours of mace, cinnamon and nutmeg, with the base made in advance so the fish can be dropped in minutes before serving.
To finish her meal, Nigella makes a simple yet daring dish of cherry flambé using frozen cherries and kirsch, which she serves up with the now frozen cheesecake ice cream.
Finally, in bright morning sunlight, Nigella uses up the final slices of her soft white loaf to make rum-spiked French toast.
Publicity contact: BDW
Date
Monday, 16 November 2020