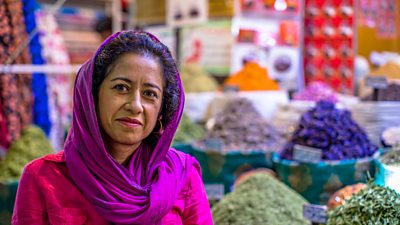 This is a story about a land known by two names. The first is Persia: ancient, mysterious, a place of adventure, of mighty temples and palaces built by powerful kings. A land of unimaginable beauty. The second is Iran: proud, isolated, defiant of outside interference.
But behind these names lies the story of a complex and fascinating people, culture and history. Iran's modern politics has obscured the glories of her Persian past, and the West's understanding of its people is now entirely driven by the Islamic revolution that turned the country into a byword for radical Islam.
From labyrinthine bazaars to Persepolis - the seat of Persia's ancient kings - to a temple where a holy fire has burned for 1,000 years, broadcaster and journalist Samira Ahmed takes viewers on a remarkable journey to places rarely seen. Along the way, she will tell an extraordinary story.
The Persians once ruled a vast empire from Egypt to Northern India, but their culture was very nearlylost. While the history of their ancient kings was almost forgotten, waves of conquering dynasties brought a new language and a new religion. But despite subjugation, blood and revolution, Persia's culture flourished. Iranians' sense of identity helped them weather the storms of conquest and their art and language became the weapons of resistance and defiance. 
Join Samira Ahmed on an unforgettable trip around Iran's rich and colourful past, as she walks through the ruins of an empire that very nearly forgot itself.
The Art Of Persia is a BBC Studios Production. The Series Producer and Director is Richard Downes. The Executive Producer is Matthew Springford. The series was commissioned by Mark Bell for BBC Arts and BBC Four.
Publicity contact: LdS
Updates
Confirmed for BBC Four on 15 June at 9pm to 10pm