Football, Prince William And Our Mental Health
Ep. 1/1 -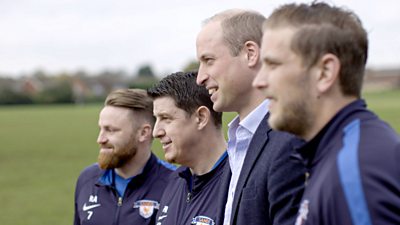 This film focuses on men's mental health through the prism of football, with access to HRH The Duke of Cambridge over the course of a year.
We're with The Duke as he meets players, fans and managers from grassroots to the elite as part of his efforts to start the biggest ever conversation on mental health, through football.
The film will also tell the stories of men from across the country who have been affected by, or are currently experiencing mental health issues. The men come from all walks of life, from former England goalkeeper Joe Hart, who has been forced to cope with a very public decline in his career and is now struggling to get into the first team at Burnley, to a group of bereaved fathers who use their local football team as a support network and safe space to talk.
Former Premier League footballer Marvin Sordell opens up about his struggles with depression and Aston Villa centre back and England defender Tyrone Mings talks about the pressures of living and performing in the public eye playing top level football. Chelsea manager Frank Lampard opens up to the Duke about how as a player he was "stuck in the stone age" when it came to mental health and how there's still a long way to go in how it's dealt with at clubs.
The programme will build on the conversation started in the BBC One film from 2019, A Royal Team Talk, where The Duke met with well-known faces from the world of football for an extraordinarily candid conversation about the importance of men's mental health and mental fitness.
Publicity contact: BDW
Date
Thursday, 28 May 2020
Updates
Confirmed for BBC One on 28 May at 8.05pm to 9pm