Lee Miller - A Life On The Frontline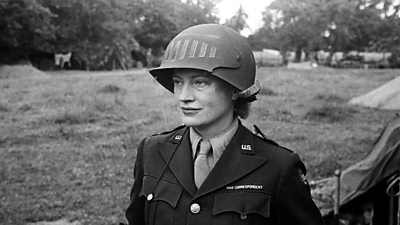 Lee Miller is one of the most remarkable female icons of the 20th century. A fashion model and surrealist muse turned photographer turned war reporter, Miller chose to live her life by her own rules.
Lee Miller - A Life On The Frontline follows the story of a fearless trailblazer, so often at odds with the norms of her day; a woman who refused to be subjugated by the dominant male figures around her.
This striking documentary follows Lee Miller's transformation from a supermodel into an internationally famous war reporter. She began by posing for her photographer father, then conquered New York for American Vogue before covering the liberation of Europe at the end of WWII.
She was a photographer with Allied forces when Dachau concentration camp was liberated, and the impact of what she witnessed added to earlier trauma in her life. It took a toll that meant she largely retreated from public life, struggling with addictions. Lee buried the record of her remarkable lives in boxes in the attic of her Sussex home. Only after her death was her son able to bring back to light the sheer range and scale of her achievements.
Modern-day artists - war photographer Lynsey Addario, supermodel Karen Elson and artist and model Jesse Mann (daughter of photographer Sally Mann), reflect on her groundbreaking work. They explore her radical spirit, celebrate her courage and willingness to break any taboo, both as an artist and a woman.
Lee Miller - A Life On The Frontline is a Ronachan Films/Erica Starling co- production for BBC Two. It was directed by Teresa Griffiths, the producer is Rachel Hooper and Exec producer Angus Macqueen. It was commissioned by Emma Cahusac for BBC Arts and BBC Two.
Publicity contact: JC5
Updates
Confirmed for BBC Two on 2 May at 10.30pm to 11.30pm