A Very British History
Ep. 3/4 -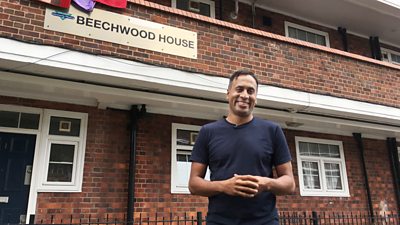 Episode three: British Bangladeshis.
Aminul Hoque, pictured, came to Britain in 1980 as a three year-old, from the young nation of Bangladesh.
He explores why thousands of families settled here in the 1970s and 80s, and how they faced hardships and racism while building a new life in Britain.
Drawing on rich film archive from the period, meeting those who settled in London and Luton, and through his own experiences growing up in East London, Aminul tells the stories of Bengalis who worked hard, fought racism and made their homes here over the course of two key decades.
As his children grow up in the UK, Aminul wants them to know about their own Bangladeshi roots. He takes the family back to where he and his dad came from, his home village in Sylhet province. Now it's up to his kids to decide if they want to keep the links with their homeland - but as British Bangladeshis.
Publicity contact: HD3
Date
Wednesday, 26 February 2020