Life Drawing Live!
Ep. 1/1 -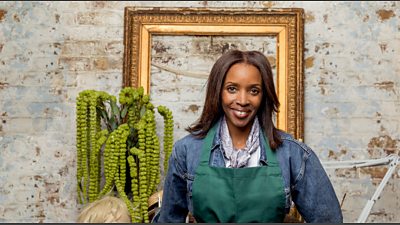 To coincide with the broadcast of Mary Beard's Shock Of The Nude on BBC Two, Life Drawing Live! will bring a group of artists together for a 120-minute art class with live models, guided by experts, whilst the audience watches in real-time as they create their work.
Presented by Josie d'Arby (pictured), Life Drawing Live! will offer a separate clear shot of the life subjects to encourage the audience at home to use a second screen and draw along, and experience a real-life drawing lesson alongside the six artists in the room.
The human form is one of the most challenging subjects, and life drawing has been at the heart of art history. Award-winning artists Daphne Todd OBE and Lachlan Goudie will be on hand to guide the participants through the class, providing helpful direction to those taking part at home, and offering tips and advice. All artists, both on screen and at home, will be encouraged to embrace a range of styles and materials.
The class will consist of a number of warm-up routines and opportunities to practice technique before everyone attempts to create their very own masterpiece, and several life models will move between poses during the class.
The presenting team will be looking at the artworks as they made, and both the artists in the room - as well as some participants at home - will have the chance to have their work evaluated. Audience members will be encouraged to send in their pictures so a selection can be shown on the programme.
The programme will also feature pre-recorded tips from artist Diana Ali (a mentor on Celebrity Painting Challenge) on various aspects of life drawing, from how to grapple with hands and feet, foreshortening, or how to give a sense of tone and texture, and there will be two short films on the historical and contemporary role of life drawing, looking at key works of art on display in UK galleries, presented by Lachlan Goudie.
Publicity contact: JH
Date
Tuesday, 4 February 2020
Updates
Confirmed for BBC Four on 4 February at 8pm to 10pm