Hidden History: The Lost Portraits Of Bradford
Ep. 1/1 -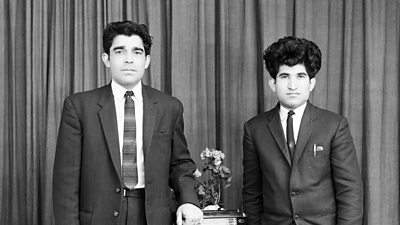 Thirty years ago, thousands of portraits from a small studio in Bradford were saved from a skip. They're a unique collection of photographs which record the changing face of a British industrial city in the middle of the 20th century.
Many of the people in the portraits were new arrivals from the Asian subcontinent, Eastern Europe and the Caribbean, attracted by the offer of work in wool mills. The names of these people are a mystery - only their faces survive.
A small studio in the middle of Bradford - Belle Vue - built a business on taking portraits of the newly-arrived migrants. Photographer Tony Walker used an old Victorian camera to take images of his customers, which were often sent back to relatives in the countries they'd left behind.
Working alongside staff from museums in Bradford, presenter Shanaz Gulzar identifies and tracks down the people in the portraits, and uncovers dramatic social change and the hidden stories behind the portraits.
Publicity contact: HD3
Date
Monday, 28 October 2019
Updates
Confirmed for BBC Four on 28 October at 9pm to 10pm