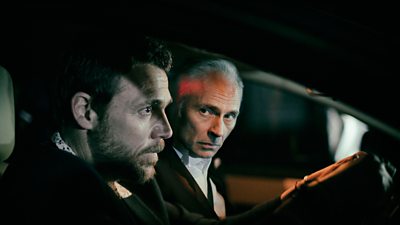 When brothers Max and Jake unwittingly run over and kill an old man, their attempts to cover it up trigger consequences neither of them could ever have imagined. Guilt is a new four-part drama from Scotland, with riveting plot twists and a strong vein of black humour.
In a residential street in Edinburgh, two disparate brothers, high flying lawyer Max (Mark Bonnar) and Jake (Jamie Sives), a record shop owner, accidentally run down an old man, Walter, on their way home from a wedding. Uninsured and under the influence, Jake is persuaded by Max to cover up their deathly deed.
However, their hopes that the death will be passed off as natural causes are dashed when neighbours and relatives begin to suspect Walter's death wasn't as innocent as it seems. The brothers find their lives rapidly falling apart as their actions begin to catch up with them.
Their increasingly desperate attempts to conceal their guilt leads them further into a world where everyone seems to have a hidden agenda and they discover they can trust no-one - including each other.
Written by Neil Forsyth, Guilt stars Mark Bonnar as Max, Jamie Sives as Jake, Emun Elliot as private investigator Kenny, Sian Brooke as Max's wife Claire, Ruth Bradley as Walter's American niece Angie and Ellie Haddington as Walter's neighbour Sheila.
Guilt is an Expectation and Happy Tramp North Production for BBC Scotland and BBC Two.
Publicity contact: JW4
Date
Thursday, 24 October 2019