Hold The Sunset
Ep. 1/6 -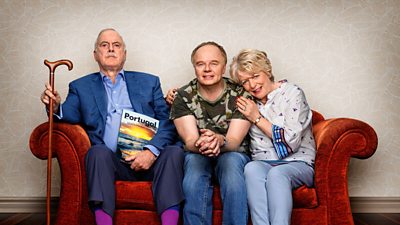 Episode one: The Sale. With Edith and Phil's sunset retirement waiting on the sale of the house, Phil begins to despair of it ever selling.
Queenie talks him into holding an Open Day - but she has ulterior motives.
Edith is heartened to find that her son Roger is earning some sort of a living - even if it's only busking with her old flame Bob the Burglar and performing a ventriloquist act with his toy crocodile Methuselah.
Edith is played by Alison Steadman, Phil is played by John Cleese, Roger is played by Jason Watkins, Queenie is played by Anne Reid, Bob is played by James Cosmos.
Publicity contact: MJ
Date
Friday, 2 August 2019
Updates
Confirmed for BBC One on 2 August at 9pm to 9.30pm