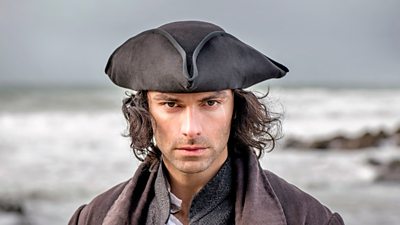 The Poldarks look forward to life together in peace, but a plea from Ross's old Army Colonel, Ned Despard (Vincent Regan), compels him to the capital.
As Demelza (Eleanor Tomlinson) manages their affairs in Cornwall she encounters disenchantment and a new opponent, Tess (Sofia Oxenham). George (Jack Farthing) meanwhile struggles to engage with the world after Elizabeth's death and it falls to Cary (Pip Torrens) to expand the family empire - as Valentine (Woody Norman) struggles to find his place within it.
Arriving in London, Ross (Aidan Turner) finds a city gripped with paranoia, and is determined to save Ned from the conspiracy that imprisoned him.
George enters into an alliance with the merchant behind Ned's imprisonment, Ralph Hanson (Peter Sullivan), whose business is in upholding the slave trade. Meanwhile, Geoffrey Charles (Freddie Wise) decides to follow in Ross's footsteps and enter the military - but also finds himself drawn to Cecily Hanson (Lily Dodsworth-Evans), Ralph's daughter.
As George's grief leads the Warleggans into uncharted and worrying territory, Ross discovers a grave plot and is urged to heroism, while Demelza is forced into action herself back at home.
Publicity contact: LV
Updates
Confirmed for BBC One on 14 July at 9pm to 10pm