The Importance Of Being Oscar
Ep. 1/1 -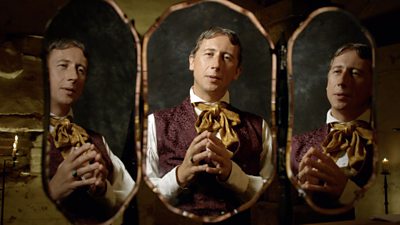 The story of Oscar Wilde's rise before his fall. With scenes from his greatest work and a star-studded cast including Freddie Fox, Claire Skinner and featuring Stephen Fry.
The Importance Of Being Oscar brings together a stellar cast to explore the Irish writer Oscar Wilde's illustrious career, controversial personal life and concluding fall from grace.
A complex and compelling characterisation, The Importance Of Being Oscar charts Wilde's success before his infamous end, providing a new perspective and shining a light on both the man and his inspiration.
BBC Two viewers are invited to join experts, enthusiasts and biographers as they step inside Wilde's life and career. Part-revelatory accounts, part-performance, The Importance Of Being Oscar features a leading, star-studded cast including Freddie Fox, Claire Skinner, Anna Chancellor and James Fleet, who perform excerpts from his greatest works, including The Importance Of Being Earnest, The Picture Of Dorian Gray and The Canterville Ghost.
Wilde experts and enthusiasts including Stephen Fry; Oscar Wilde's grandson Merlin Holland; author Ruth Robbins and his latest biographer Matthew Sturgis, discover how Wilde's glittering - and at times scandalous - career would inform both his work and his subsequent disgrace and exit from high society.
Oscar's Irish roots, his early career, his marriage, and the importance of women as well as men in his life, are explored to add flesh to the bones of a man who is too often caricatured.
Publicity contact: EF
Date
Saturday, 20 April 2019
Updates
Confirmed for BBC Two on 20 April at 9pm to 10.25pm