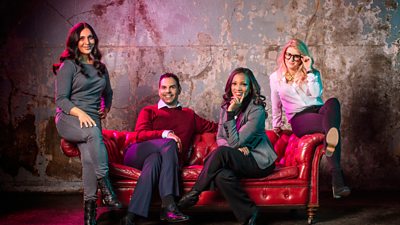 Sex On The Couch is a new six-part series for BBC Three, offering a unique and eye-opening insight into modern relationships and the pressures they face, by following real-life couples as they bring their sexual and emotional issues to a specially constructed clinic.
With the support of a team of four experienced sexual therapists, the couples will try to solve their problematic sex lives, discovering that to do this often means dealing with issues at the heart of their relationships.
Across three highly-charged sessions, the couples reveal their most intimate secrets, share their fears, face up to difficult truths and make vital breakthroughs together, experiencing laughter and tears along the way.
Away from the clinic they'll be given exercises to try at home as they try to revitalise their relationship or face a crunch point. Can they turn a corner? Or is it time to go their separate ways?
Surprising, shocking and uplifting, this series is packed with compelling couples whose stories parallel the experiences of young people in Britain today.
Sex On The Couch (6x45') is a BBC Studios production for BBC Three. The Executive Producers are Caroline Short and Rob Unsworth. It was commissioned by David Brindley, Head of Commissioning, Factual Entertainment and Popular Factual. The Commissioning Editor is Clare Mottershead.
Episode one
Rianna and Tanika arrive at the clinic to tackle their mismatched sex drives. They explore their sexual fantasies together for the first time, but what unfolds is unexpected for both of them.
Nick and Louisa have come for therapy because they've stopped having sex and their relationship is at breaking point. A massage designed to recreate the intimacy they've lost leads to an emotional revelation.
Episode two
Dana and James come to therapy desperate to recreate the spark that was there the first time they had sex - but reveal there's another major issue threatening the future of their relationship. Can a sex ban help this couple reignite the flame?
Also visiting the clinic are Tomiwa and Wumni. The couple have been together for five years and are waiting to get married before having sex. With the big day looming, virgin Wumni is worried about what sex will be like, while Tomiwa is keen to find out more about the female anatomy.
Episode three
Chloe and Tony find that their busy lives are stopping them having the sex they want. With three kids and jobs to hold down, intimate moments are few and far between - can therapy help them to find new ways of making the limited time they get more exciting?
New parents Joanne and Craig are struggling to get their sex life and relationship back to how it was before their baby was born. To get their love life back on track they need to answer some tough questions, but the answers aren't necessarily what either of them want to hear.
Episode four
Patrick and Barry arrive at the clinic seeking advice on how to maintain a rewarding sex life in a long-distance relationship. What soon becomes clear is that for their relationship to thrive, a bigger conversation is needed about their behaviour when they are together and apart.
Husband and wife Leah and Matt have seen their sex life dwindle since a bout of illness confined Leah to a wheelchair. Trying to reconnect sexually will mean both of them facing up to their fears.
Episode five
Childhood sweethearts Dani and Callum have stopped having sex and are hoping to reignite their passion for one another, but to do so will first mean confronting their past.
Kim and Phil arrive at the clinic blaming their lack of energy and sexual confidence for their non-existent sex life. What soon becomes clear is that one of them needs support to deal with a much deeper emotional issue.
Episode six
Student couple Matt and Asha would like to recreate the great sex they had on holiday, but struggle to have an honest conversation with each other about what they want and need from their relationship.
When partners Dale and Mikey try to tackle their differing sex drives it sparks a deeper conversation about the roles they play in the relationship, with dramatic consequences.
Pictured: Therapists Lohani Noor, Silva Neves, Dr Roberta Babb and Kate Moyle
Publicity contact: CT
Date
Friday, 26 April 2019
Updates
Available on BBC iPlayer as a 6-episode box set from 10am on Friday 26 April