Mimi On A Mission: Sex Ed
Ep. 1-5/5 -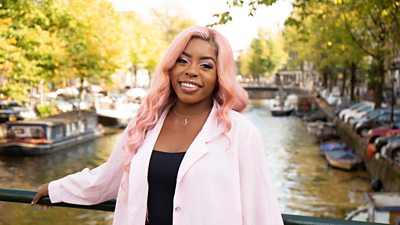 Mimi On A Mission: Sex Ed presented by YouTube star, Mimi Missfit, will get us all thinking and chatting about the weird and wonderful, sometimes mysterious and often cringey world of sex, love and relationships.
Mimi takes seven teenagers aged 14 and 15, from across Britain, on an eye-opening, fact-finding, week-long trip of a lifetime to the Netherlands. The team want to find out how the Dutch teach sex and everything related to it, from bodies to falling in love and keeping safe online.
It's a rollercoaster ride for the group (Joe, Logan, Finn, Alys, Lizzie, Munashe and Garthia) as the open and progressive Dutch attitudes encourage them to stop being embarrassed and start talking.
In episode one, First Love, we meet the group as they explore feelings and relationships, learn like Dutch primary school children, and take a sex IQ test at the NEMO Science Museum in Amsterdam, with some surprising results. Viewers get to know Joe, who has been in a relationship for over six months, and Logan, who is hoping to up his game when it comes to talking to the ladies.
In episode two, Safe Sex, the group learn about the importance of safe sex, take a secondary school sex ed lesson, meet a Dutch family with open attitudes, and are set the challenge to make condoms cool again. We learn more about host Mimi who had a very sheltered upbringing and meet her Mum - who won't even say the word sex!
Episode three, LGBTQ+, explores different sexualities. The group throws a party for National Coming Out Day, which is celebrated globally. Two married gay couples talk about their lives, and there's a special letter from home for Finn, who is out and proud, and Alys, who identifies as pansexual.
Episode four, Porn And Nudes, explores the challenges and temptations young people might face today living in the digital world. When the group talks about safety on social media, Lizzie thinks twice about having an open profile on her socials. Munashe's slogan, We Did The Same, Why Did I Get The Blame? is selected to go on a T-shirt, as he proves himself to be a real feminist.
Episode five, Self Love, celebrates the joy of us all being different in a unique and unusual art class. The group also raps from the roof-tops about the importance of consent and boundaries. Garthia bravely opens up to the group about her insecurities around her own body image. Back at home we follow the group as they passionately share what they've learnt with family, school mates and even experts at a sex ed conference.
Publicity contact: HH / JC4
Available From
Friday, April 5, 2019, 12:00 AM
Updates
Available as a box set on Friday, 5 April exclusive to BBC iPlayer